The War On (Some) Drugs Has Killed More Mexicans Than Fast & Furious
America's Drug War has caused more problems for Mexico than Fast & Furious ever will.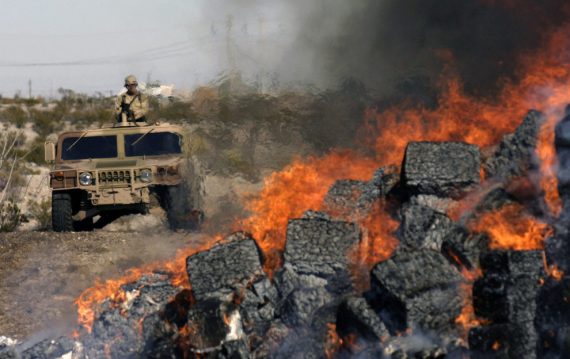 Conor Friedersdorf makes an excellent point:
Before Fast and Furious, I never recall the conservative movement giving much thought to dead Mexicans. But now that the body count can be attributed to a bureaucracy run by Democrats?

The right is invoking the tragic deaths of foreigners with great frequency.

Said Texas Governor Rick Perry, "We've had over 300 Mexican nationals killed directly attributable to this Fast and Furious operation, where they brought those guns into Mexico. A former Marine and a Border Patrol agent by the name of Brian Terry lost his life. With Watergate you had a second-rate burglary."

Mark Steyn brought up the body count while complaining about the liberal reaction to the investigation. "Insofar as they know anything about Fast and Furious, it's something to do with the government tracking the guns of fellows like those Alabama 'Segregation Forever' nuts, rather than a means by which hundreds of innocent Rigoberta Menchús south of the border were gunned down with weapons sold to their killers by liberal policymakers of the Obama administration," he wrote.

(…)

Since the 2006 crackdown on cartels that the United States urged on, between 35,000 and 40,000 people have been killed by drug violence in Mexico alone. The drug cartels are powerful enough to cause that kind of carnage only because Americans keep buying their drugs, even as U.S. politicians and voters back domestic policies such that all narcotics transactions take place on a black market that inevitably empowers murderous criminals. It's an unintended consequence, to be sure, but after all these decades is that really an excuse anymore?

We all know that prohibition fuels violence.

When the prohibitionist worries that legalizing drugs would increase drug use and addiction, that U.S. productivity might fall, and that it would send a bad moral signal, their argument is effectively, "The harm legalization might do is worse than tens of thousands of foreigners dying, worse than decades-long wars with cartels, worse than whole regions being destabilized."

It's a very easy calculation to make when the dead people are mostly far away, in foreign countries or in bad neighborhoods you don't pass through.
Conor's argument is spot-on, of course. In fact, it's worth noting that the very gun running that Fast & Furious was, ineptly, designed to monitor is directly attributable to that same crackdown on Mexican drug gangs and, ultimately, to the fact that there are millions of Americans who continue to want to purchase things like marijuana and cocaine despite the fact that its illegal, or maybe even because of it.
This has happened before, of course. We all know the story of alcohol Prohibition and how a decade of alcohol prohibition helped organized crime, mostly dominated at the time by Sicilians and other Italian immigrants, gain a massive foothold in the United States thanks to the huge amounts of cash that they were able to make by the illegal importation, manufacture, and sale of alcoholic beverages. With that money, they were able to bribe politicians and gain influence that lasted long after our insane experiment was repealed in 1933 with the ratification of the Twenty-First Amendment.
Sadly, though, we have not learned the lessons of history very well and it still doesn't seem to occur to those in power, or indeed many Americans, that it is drug prohibition that is responsible for the violence and corruption we associate with drugs, and indeed that prohibition itself has led to the development of stronger, more easy to transport, drugs such as crack cocaine. The only significant difference with the Drug War is that most of the worst effects end up getting felt in foreign countries like Mexico where the cash generated by illegal drug sales in the United States goes a very, very long way and the drug lords become very powerful men with their own private armies. Colombia has only recently broken the back of some its worst drug lords, and that has occurred at a tremendous cost, what will it take for Mexico to do the same? More importantly, how can we possibly deceive ourselves into thinking that the violence on the other side of our Southern border, generated as it is by our own citizens, isn't going to have an impact on us at some point, and that it isn't , to some degree , at least partly our responsibility?
Many on the right who have continue to demand answers in the Fast & Furious matter bring up the fact that the weapons which the Phoenix office of the ATF irresponsibly let walk across the border have likely resulted in the deaths of countless Mexican citizens. This is certainly something we should be concerned about, and one of the reasons that the American people are owned a full account of what happened in this matter, why the policy was implemented in the first place, and what has been done to make sure it won't happen again. However, if you're really concerned about all that violence in Mexico, then you need to take a look at our own failed Drug Policies, because that's where the root cause of all of it lies.
So I applaud conservatives for being concerned about the impact of a bad law enforcement operation on the people of Mexico. Now, I encourage them to show some concern for the impact of our own failed Drug War on those same Mexicans.
Photo: A member of the  Mexican Army watches the incineration of fourteen tons of drugs in Ciudad Juarez, Mexico on December 2, 2008. (J. Guadalupe PEREZ/AFP/Getty Images)