Theme Park Business Booming
Despite a sluggish economy, Americans are flocking to theme parks and spending big bucks to stand in line.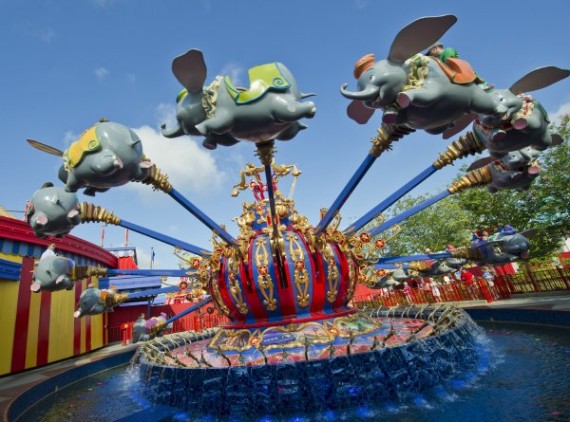 Despite a sluggish economy, Americans are flocking to theme parks and spending big bucks to stand in line.
BloombergBusinessweek ("U.S. Theme Park Revenue Is on Its Best Ride in Years"):
The opening-day line on May 24 took four hours to get through, as it weaved past the dolphin theater and looped twice around the seal habitat. The draw was Antarctica: Empire of the Penguin, the newest attraction at SeaWorld Entertainment's Orlando theme park. The promise of 6,000 pounds of faux snow falling daily and up-close encounters with 230 penguins persuaded thousands to queue up in the Florida heat.
Amusingly, I was across town at Disney World that day and was completely unaware that this rival event was going on. Certainly, it didn't relieve the crowds at the Magic Kingdom, which was jam packed despite 92-degree heat.
America's passion for amusement parks is white-hot these days, driven by elaborate new attractions, sophisticated pricing schemes, and a desire to get out of the house—but not too far from home. "You would think that a business whose proposition is selling entertainment that requires disposable income would not do well" just now, says SeaWorld Chief Executive Officer Jim Atchison. "The reality is consumers have found great value in these kinds of experiences."
The theme park business has recovered from the recession much faster than other leisure pursuits. Revenue in the $37 billion-a-year casino industry has yet to return to its 2007 peak. And the national average price of a hotel room, at $107 a night last summer, was still below its mark four years earlier, according to Smith Travel Research. Yet theme park sales, which fell 5.5 percent, to $11.6 billion, in 2009, have come roaring back. Revenue for U.S. parks is expected to break another record at $13.4 billion this year, a 2.8 percent increase from 2012, according to market researcher IBISWorld, and climb an additional 2.4 percent annually through 2017. That compares with 1.8 percent growth from 2007 to 2012.
Part of that comes from fair hefty price increases, at least at the major venues. Plus, there are ever-more new parks and attractions.
Attribute that in part to the Harry Potter effect. Attendance at Universal's Islands of Adventure park in Orlando jumped 66 percent between 2009 and 2011, to 7.7 million annual visitors, after it opened the Wizarding World of Harry Potter attraction. Providing guests entree to a world based on one of the planet's most popular book and film franchises proved a potent draw, even during a sluggish economy. Parks are now the highest-margin business at Universal's parent, Comcast, generating $953 million in operating cash flow on sales of $2.1 billion last year. Explains Tom Williams, CEO of Universal Parks and Resorts: "They buy their capes and wands and mementos of the experience. It's a way to get away."
It's pretty remarkable, indeed, that operating theme parks is a higher-margin business than charging $100-plus a month to send electrons down pre-existing cables, often to customers with no alternative providers.
Walt Disney, the world's largest theme park operator, is following a similar path. Disney tripled its investment in its resorts business between 2008 and 2012, spending a total of $9.2 billion to, among other things, refresh Fantasyland at its Magic Kingdom park in Orlando and build attractions such as Cars Land at its Disney California Adventure Park in Anaheim. The big investment on attractions featuring the popular Pixar characters turned the latter property around, with California Adventure now rivaling neighboring Disneyland in attendance. Visitors to Disney's domestic parks climbed 8 percent in the company's second quarter, and bookings are up 7 percent so far in the current one.
Disney, of course, its movies to capitalize on. The major new attractions at Fantasyland are a ride based on its still-popular "Little Mermaid" characters and an interactive feature with Belle from "Beauty and the Beast." Both, naturally, are part of the Disney Princess phenomenon. To say that Disney is the biggest of the theme park companies is a dramatic understatement: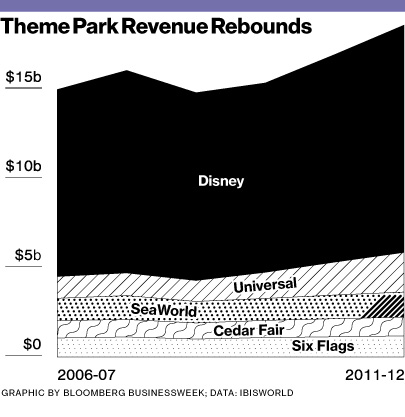 Indeed, eyeballing the chart, it would seem that Six Flags, SeaWorld, and whatever the hell Cedar Fair is have remained essentially flat; it's Universal and Disney that constitute the entirety of this phenomenal growth. Naturally, they're hiking prices:
The increasing demand has allowed operators to raise prices. Disney hiked the cost of its premium annual pass to Disneyland and California Adventure by 30 percent last year, to $649. (Daily Disneyland admission is $87 vs. $41 in 2000.) SeaWorld, eyeing the bump it would get from the Antarctica attraction, raised its Orlando annual pass price 24 percent, to $149, in January.
Judging from the crowds at Disney during the Memorial Day weekend period, prices are still too low. We went to the Magic Kingdom twice, Epcot, Animal Kingdom, and Typhoon Lagoon—all Disney properties—and they were all so packed as to severely sap the enjoyment of the experience. Some of the more popular attractions had two- and three-hour wait times; one was in excess of four hours. Outside the water parks, there's the ability to get a Fast Pass for some of these, but it requires advance planning and guesswork. And the water park was so crowded by the afternoon that some of the attractions were essentially unusable; you can't float down a lazy river when it's wall to wall with people.