There (Probably) Won't Be A Government Shutdown
If recent history is any guide, there won't really be a government shutdown next week. But, the zealotry of the "defund Obamacare" caucus could change everything.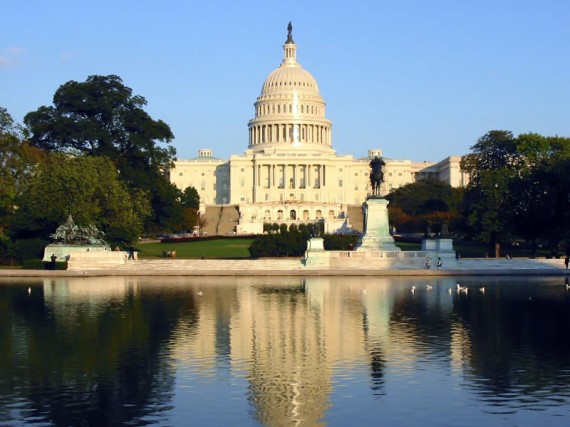 As we head into the last week of September, we're once again at the point where things are looking grim and the prospects of a deal in Washington seems to be close to zero. As Philip Klein reminds us, though, we've been here before and the script is a familiar one:
The nation now has more than two and a half years of experience with divided government during the Obama presidency. And each time there has been a major crisis, it's followed a familiar pattern.

The sides are far apart. It looks like the crisis may hit. Then, at the last minute, there's some sort of deal that's able to pass the Senate that Speaker John Boehner is able to get through the House of Representatives with a lot of help from Democrats.

Obviously, right now, it's hard to see a path to an agreement. But things aren't looking any more grim now than they were at this time leading up to the first government shutdown battle in early 2011, or the debt limit fight that summer, or the fiscal cliff showdown late last year.
Of course, as Klein notes, this could be the time that everything changes. It's certainly possible, but it really doesn't seem likely. The rhetoric of Ted Cruz and Mike Lee in the Senate and the Tea Party crowd in the House, which at most amounts to about 50 Republicans, aside, the fact of the matter is that the leadership and the Committee chairs know that a deal has to be reached, and they're the ones who will be negotiating that deal. Yes, it's true that Boehner and Company threw a bone to the Tea Party last week when they voted on a Continuing Resolution that defunded Obamacare, but they did so knowing that the CR has absolutely no chance of passing in the Senate. Once that actually happens, the real negotiations will begin. While I tend to doubt that the GOP will be able to get a deal that includes everything I outlined yesterday, the most likely outcome at that point is that some kind of deal will be made, and we'll continue to limp along as we have for the past several years with Continuing Resolutions rather than actual budgets determining how the government spends its money.
There is, of course, another possibility. We could actually end up with a shutdown, and the reason for that may end up being the fact that those leading the "defund" movement actually seem to think a shutdown would be helpful for them:

Believe it, or not, some conservatives leading this fight believe that a government shutdown is actually a necessary ingredient for ultimate political victory. They have convinced themselves that Obama will be blamed for a government shutdown — and when things get bad enough — he will finally cave.

As National Review's Robert Costa reported, "There is a widespread, [Ted] Cruz-inspired consensus among many conservatives that [Obama] will cave, if only pushed by grassroots."
Based on past experience, it seems rather clear that Cruz and others are misjudging Obama completely and that there's absolutely no chance that the President is going cave on the signature piece of legislation from his first term. If that happens, and if the GOP leadership in the House and Senate is unable to cobble together enough support for a deal that excludes the support of Cruz and his supporters, then we very well could be headed for a shutdown by this time next week.