Things not to Celebrate: Secession
Roughly 150 years ago, the CSA was born. Is this something worthy of celebration?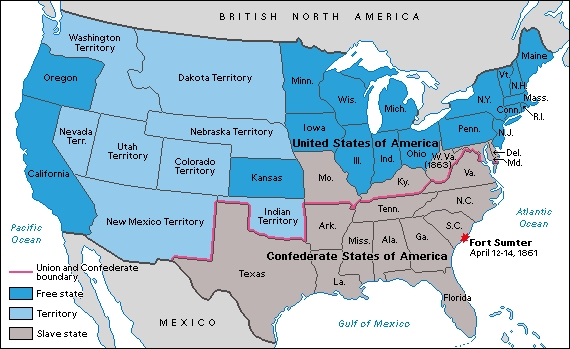 The NYT remind us that we are about to hit the sesquicentennial of the secession of the South from the Union and the start of the American Civil War.  Strangely (but not surprisingly, unfortunately), there are those who see this as anniversary worthy of celebration:  Celebrating Secession Without the Slaves
The events include a "secession ball" in the former slave port of Charleston ("a joyous night of music, dancing, food and drink," says the invitation), which will be replicated on a smaller scale in other cities. A parade is being planned in Montgomery, Ala., along with a mock swearing-in of Jefferson Davis as president of the Confederacy.

In addition, the Sons of Confederate Veterans and some of its local chapters are preparing various television commercials that they hope to show next year. "All we wanted was to be left alone to govern ourselves," says one ad from the group's Georgia Division.

That some — even now — are honoring secession, with barely a nod to the role of slavery, underscores how divisive a topic the war remains, with Americans continuing to debate its causes, its meaning and its legacy.

"We in the South, who have been kicked around for an awfully long time and are accused of being racist, we would just like the truth to be known," said Michael Givens, commander-in-chief of the Sons, explaining the reason for the television ads. While there were many causes of the war, he said, "our people were only fighting to protect themselves from an invasion and for their independence."
I can't imagine that most people, in the south or not, will be commemorating secession.  I will, however, state that many of these sentiments are held in at least a vague way by a lot of people in the Deep South.  To wit:   the notion that the war was about "states rights" and self-defense.  I, for one, think that that is a lie that many Americans tell themselves* about the war because they don't want to fully face up to the notion that the most fundamental right in question was the right for one set of human beings to hold another set of human beings as property.   There is a great deal of pressure to want to find some mental gymnastics to allow for pride about one's heritage, and it is far easier to cleave to the notion that one's forbearers were principled about the rights of their states than it is to admit that they were defending a specific political economy that required slave labor.  If anyone has doubts that slavery was central to secession, I would point the reader to a post I wrote on this topic earlier this year:  Confederate Heritage and History Month.  It really is impossible to argue from the facts that the main reason for secession was anything other than slavery.
I will further say this:  there is far too little shame associated with the CSA than there ought to be.  The continued popularity of the Confederate Battle Flag as an adornment on automobiles and clothing attest to that fact.  Or, for that matter, the notion that many politicians still extol things like Confederate Heritage Month and the aforementioned battle flag.**  Certainly I know plenty of people, including students and people I know in various walks of life, who adhere to the notion that there is a "real history of the South" that is not properly taught.
One of the weirder aspects of all of this discussion to me is that the South is also the part of the country that considers itself the most patriotic vis-à-vis the United States of America and which venerates the US flag and the Constitution as near sacred items.  As such, one would think that such deep belief in exceptional nature of the USA would translate into some reevaluation of the meaning of secession and the Civil War.***  Indeed, one would think that any given Southern patriot would look back on the history of 150 years ago and have a profound sense of relief that the entire CSA experiment failed.  And, further, that the notion of dividing the United States was a horrible idea.  And yet, I don't think much thought goes into it.
Update:  I think that following quote is worth including as well from Jeff Antley, a member of the Sons of Confederate Veterans and an organizer of the Charlotte ball noted above:
"Many people in the South still believe that is a just and honorable cause. Do I believe they were right in what they did? Absolutely," he said, noting that he spoke for himself and not any organization. "There's no shame or regret over the action those men took."
——
*Indeed, as one born in a former Confederate State (Texas) with family from several others (Alabama, Georgia and Louisiana), it was a lie a I told myself as a young man into adulthood until I really gave it some thought.
**Or other symbols.  The lack of shame in question is well illustrated by the fact that when Georgia finally got rid of a state flag that contained the battle flag that they then modeled their new flag on the first official flag of the CSA (the "Stars and Bars").  In so many ways this a profoundly weird thing to do:  incorporating a symbol of a rebellious government to fly over a territory that is part of the USA.  What message is that supposed to send in terms of general politics?  Further, what specific message to it send to the roughly third of its population of African American descent?
**For example, if one goes to the Sons of Confederate Veterans web site, one is greeted with a video in which it is claimed that secession was about going to war to protect the rights of the southern states under the US Constitution.  Now, not to quibble too much about historical facts:  but the creation of a new country under a wholly new constitution strikes me as an odd way to claim one's constitutional right under the US Constitution.  Indeed, this myth (i.e., the war was about states' rights under the US Constitution) is a clear example of the mental gymnastics that many engage in to allow them to venerate an act of rebellion against the US Constitution.