Third Republican Debate: CNBC Loses, Rubio and Christie Win
The worst-moderated debate thus far may have reordered the field.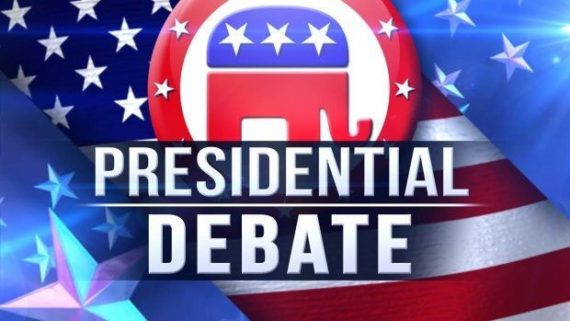 Last night's third Republican debate was the worst-moderated (and that's saying something) and perhaps most interesting thus far. Not all of the attention went to the clowns, allowing several candidates who could plausibly govern the country a shot a making a case for themselves.
Viewers who tuned in on time were forced to watch twelve minutes of drivel from a panel that made the Fox & Friends crew look like PBS. And they were better than the rotating CNBC announcers who competed with one another to ask the most tendentious and stupid questions. The network is simply an embarrassment to television journalism.
For whatever reason, though, Donald Trump didn't suck all the oxygen out of the room this time. Indeed, as an ABC News analysis notes, "For 28 full minutes — from 8:32 to 9:00 — the Republican frontrunner for the last three months didn't utter a word. And apart from a brief battle with John Kasich early on in the debate, the real estate mogul didn't cause many fireworks on the stage."  One might say that Trump was "low-energy."
Ben Carson, the closest challenger in the national polls and frontrunner in Iowa, continued to come across as a really nice guy who doesn't have the first clue about how government works. I'm clearly not his target audience, because I simply can't understand the appeal.
Carly Fiorina, who debated herself off the undercard the first go-round and by most accounts dominated the second debate, didn't make much of a splash last night. The moment that most stuck out at me was her suggestion that the Federal government had no role in encouraging the set-up of 401(k) retirement plans, which were created by the Federal government and take their name from their section of the tax code.
Neither of my favorites, Jeb Bush and John Kasich, did anything to elevate themselves out of the single digits.
Bush's attack on Marcio Rubio for missing Senate votes while campaigning for president was both poorly aimed (he needs to be fighting the top contenders, not the also-rans) but easily parried (Bush didn't complain when John McCain did the same thing). Despite my defense of Bush's chances earlier this week, I'm coming to agree with Josh Marshall that "the window is closing on the Bush campaign. And it may already have closed." He's had three shots now to distinguish himself as the main not-Trump in the race and his missed each time.
Kasich aimed his fire, if somewhat obliquely, at Trump and Carson but just came across as an angry old man who doesn't understand these kids today. I fully endorse the substance of his attacks—he has real governing credentials and the frontrunners have no idea what they're talking about—but they came across as peevish. Given a nominating electorate that seems very much in the mood for someone who isn't part of a system that they've given up on, emphasizing his credentials in that system isn't a winning strategy. Rather, he needs to argue that he's different—someone who's got a record of accomplishment but also of keeping faith with conservative values.
Rubio had his most impressive performance thus far. While I remain unconvinced that he has sufficient experience for the presidency, he finally flashed the natural political skills for which he's long been touted. In addition to easily turning Bush's attack against him, he deftly won over the crowd—and one suspects the audience at home—by taking on the panel and the mass media in general.
Ted Cruz took that tack as well, with devastating effect. "The questions asked in this debate illustrate why the American people don't trust the media," Cruz said. "This is not a cage match. Donald Trump, are you a comic book villain? Marco Rubio, why don't you resign? Jeb Bush, why have your numbers fallen?" Cruz added, "How about talking about the substantive issues?"
Cruz has previously struck me as something of a mad scientist, a rabid ideologue with no concern for the actual human beings impacted by public policy. For two hours, at least, he came across as a plausible political leader.
Mike Huckabee came across as a guy who knows he's got no chance at winning but is enjoying one more shot at the spotlight.
The biggest winner of the night, though, may have been Chris Christie. Relegated to an afterthought in the first two debates, he managed to get substantial air time and made the most of it. He brought down the house with his rant about the line of questioning involving fantasy football: "Wait a second, we have $19 trillion in debt, people out of work, we have ISIS and Al Qaeda attacking us and we're talking about fantasy football?" And he scored more points against moderator John Harwood: "No, John, do you want me to answer or do you want to answer? Because — I got to tell you the truth, even in New Jersey what you're doing is called rude."