This Is Why It's Good That It's Hard To Amend The Constitution
A new poll shows that Americans have some odd ideas about the Constitution, and how to change it.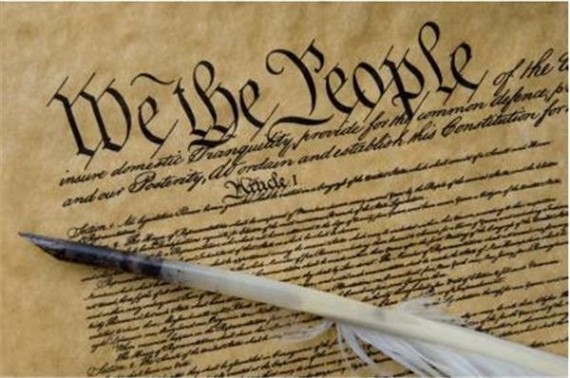 A poll conducted in connection with the recently concluded Aspen Institute conference shows that Americans have some rather alarming ideas about what should be done with the Constitution:
By a margin of 6 to 1 (61 to 10 percent) Americans believe that the Constitution should safeguard even more rights, and name gender equality as the right most deserving of constitutional protection. Majorities support guarantees of equality, of the right to privacy, of the right to own property and even the right to an education. 55 percent support the right to equality regardless of sexual orientation while 47 percent thinks the right to healthcare should be constitutionally protected as well.

(…)

When it comes to fixing to the system, voters zero in on the judiciary branch as most ripe for extensive changes. 69 percent call for a mandatory retirement age for Supreme Court justices and 66 percent favor term limits. Most significantly, by a margin of 51 to 34 the public favors popular election of Supreme Court justices, which follows the recent trend in some states that have chosen to elect their top justices. It is the most dramatic change to the system that the poll respondents favor.

74 percent agree it is time to abolish the Electoral College and have direct popular vote for the president. The public also favors by 49 to 41 holding national referenda for constitutional amendments.
As Matthew Yglesias notes, the idea of electing Supreme Court Justices is simply a horrible one. If there is one institution that should be insulated from the will of the majority as much as possible, it's the Judiciary, and the the experience of states that do popularly elect Judges (as well as the political circus that breaks out each time there's a Supreme Court nomination) makes it clear that such a system would be an utter disaster at the national level. As for the retirement age and term limits ideas, they do have merit but the lifetime tenure that the Founders put in the Constitution is in there for a reason; not only to shield judges from political pressure, but also to provide for a measure of consistency in the law. In the grand scheme of things, I don't think that lifetime tenure imposes sufficient costs to be done away with.
As for elimination of the Electoral College, the primary result of that "reform" would be that Presidential candidates would concentrate their campaigns in high population states like Texas, California, Florida, and New York and ignore smaller states and smaller venues. Moreover, direct popular election would potentially make election outcomes less certain by nationalizing vote-count errors and fraud allegations. In a close election, the fate of the Presidency could be in doubt for months, and while we may have been able to afford that luxury in 1800, we can't afford it today.
Instead of eliminating the Electoral College, it would be far preferable to reform it by adopting the District Method:
This method divides electoral votes by district, allocating one vote to each district and using the remaining two as a bonus for the statewide popular vote winner. This method of distribution has been used in Maine since 1972 and Nebraska since 1996, though neither state has had a statewide winner that has not swept all of the Congressional districts as well. Consequently, neither state has ever spilt its electoral votes.
Though I personally don't think that the current Presidential election system is as bad as people make it out to be, the District method not only makes sense, but would also make Presidential elections more of a nationwide phenomenon than they are today. Rather than ignoring a state entirely because it so heavily favors their opponent, candidates would have an incentive to concentrate on areas of the state where they would be able to win one, or more, Congressional Districts and thus pick up an Electoral Vote or two that could make the difference in the election.
And the final idea, amending the Constitution by national referendum, is perhaps the most misguided idea of all. The Founders made the Constitution difficult to amend for a reason, and most of them can be found in the results of this poll and the desires of a majority of respondents to make things like education and health care a Constitutional "right."