This Is Why It's Good To Have A Written Bill Of Rights
A case from the U.K. demonstrates why it's a good thing to have a strong, written, Bill Of Rights.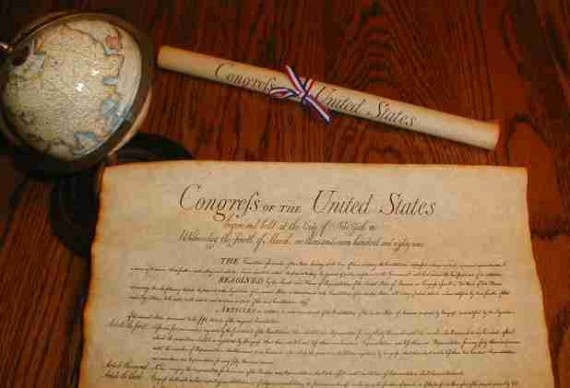 Rod Dreher is apparently upset over this case out of England:
A housing manager has been demoted, and his salary slashed, after he criticised a controversial new gay rights law.

Adrian Smith, a Christian, was found guilty of gross misconduct by his publicly funded housing association for saying that allowing gay weddings in churches was 'an equality too far'.

He posted the comment in his own time, on his personal page on the Facebook website, which could not be read by the general public.

But after a disciplinary hearing, he was downgraded from his £35,000-a-year managerial job to a much less senior £21,000 post – and avoided the sack only because of his long service.

(…)

Mr Smith has worked for 18 years for Trafford Council and Trafford Housing Trust, which manages more than 9,000 homes in Sale, Greater Manchester.

But he now finds his career in tatters over a comment he wrote on his personal Facebook page one Sunday morning in response to a BBC story headlined 'Gay church "marriages" get go-ahead'. The story referred to Government plans to lift the ban on homosexual couples holding civil partnerships in churches and other religious settings.

Mr Smith, whose Facebook profile identified him as working for the Trust as a housing manager, commented: 'An equality too far.'

A few hours later, one of his Facebook friends, a work colleague whose identity is not known to The Mail on Sunday, posted: 'Does this mean you don't approve?'

The following evening after work, Mr Smith, who attends an evangelical church in Bolton, responded: 'No, not really. I don't understand why people who have no faith and don't believe in Christ would want to get hitched in church.
Dreher comments:
Move along, nothing to see here. It didn't really happen, and if it did, this man, History's Greatest Monster, must have deserved it for his thoughtcrime.
There are a few things worth noting here, beginning with an excerpt from the article that Smith was commenting on:
Ministers are expected to publish plans to enable same-sex couples to "marry" in church, the BBC has learned.

Equalities Minister Lynne Featherstone is to propose lifting the ban on civil partnerships taking place in religious settings in England and Wales.

There are no plans to compel religious organisations to hold ceremonies and the Church of England has said it would not allow its churches to be used.

Marriage between people of the same gender is not legal in the UK but civil partnerships were introduced in 2005 to give couples the same legal protection as if they were wed.

(…)

Marriage between people of the same gender is not legal in the UK but civil partnerships were introduced in 2005 to give couples the same legal protection as if they were wed.

The proposals were welcomed by gay rights campaigners but may raise the ire of many churchgoers.

Mr Tatchell said: "Permitting faith organisations to make their own decision on whether to conduct same-sex civil partnerships is the democratic and decent thing to do.

"The current law prevents them from doing so, even if they want to. No religious institution will be forced to perform civil partnerships if they do not wish to do so."
So, no religious institution in the United Kingdom would be forced to perform same-sex civil partnership ceremonies, and at least part of the reason for the law appears to derive from the relationship between the government and the Church of England, which is far different from any thing we have in the United States. What Smith was disagreeing with, then, was a law that would permit churches to make their own choice on the issue.
Regardless of the merits of his position, though, he clearly has a right to express it. The difference is that, in Great Britain, Freedom of Speech doesn't receive the same protection it does here, due in no small part that they don't have an equivalent to our First Amendment. In this country, punishing a public employee for expressing a political opinion in a non-work forum would clearly be impermissible. Smith would be protected here, or at least he should be. As much as I support same-sex marriage, I would oppose any effort to fire someone his his position because they spoke out against it. That's not how a free society works. Of course, if Smith were a private employee, the situation would be completely different.
I've seen paranoia like Dreher's before, though I'm a little surprised to see it coming from him since he has typically struck me as a rather reasonable Christian conservative. Like many other opponents of same-sex marriage, though, Dreher seems to fear that letting two men or two women formalize their relationship will lead to some unprecedented assault on the religious and free speech rights of those who don't believe that civil marriage should be extended that far. There's no rational reason to believe that this would happen. For one thing, as I mentioned, the First Amendment would prohibit most of the government retaliation that Dreher seems to fear. No church in the United States will ever be forced to perform a same-sex marriage, for example. Similarly, an American citizen who expresses disagreement with same-sex marriage isn't going to be subject to the kind of retaliation that Smith suffered in England for comments that are, in the end, relatively innocuous.
This is the value of having a written Bill of Rights, and the reason why paranoia like Dreher's is entirely misplaced.