This Just In: Michele Bachmann Is A Complete Nutbar
Shocking news, I know.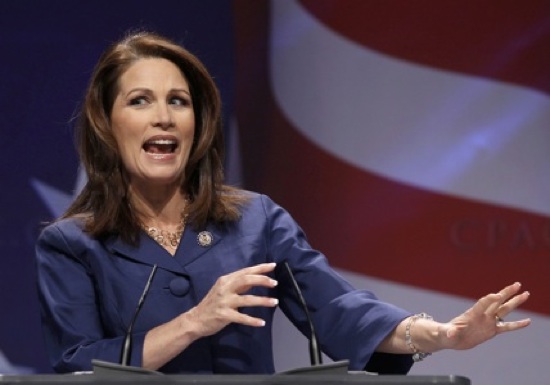 I was doing what all sane people who faced the choice between watching yet another GOP debate or Monday Night Football were doing last night: Watching football. So I apparently missed not only the highly-informative discussion of the plight of a hypothetical sick man but the biggest breaking news of the campaign: Michele Bachmann is totally deranged.
Shocking news, I know.
Look, this comes down, basically, to fringy anti-vax panic, plus the idea we shouldn't inoculate against STDs. People get weird about this.

But we're not vaccinating against STDs. If this were just HPV, no vaccine would have been developed, let alone put on the list of "mandatory" (with opt-out) list.

HPV is something that half the population has had. Most don't even know they've had it– you get it, most people don't even know they've gotten it, then it goes away.

It's a fairly trivial "STD," except for one thing: It causes 70% of all cervical cancer.

That's why a vaccine was developed — not to protect against a minor (and incredibly widespread) STD whose direct symptoms are fairly trivial, but to protect against the deadly cancer it causes late in life.

This is being demagogued as some "Pro-Sex" STD vaccination. But no one would have bothered to make a vaccine for it all — it's pretty minor, as far as primary effects — except for that "deadly cervical cancer" part.

It's an anti-cancer vaccine. Period.

And apparently, in some quarters, this is now a riotously controversial initiative.
RTWT. Ace recounts the unethical, dishonest roots of the autism/vaccine hoax. And then proceeds to open up with both barrels on Bachmann, who apparently decided last night to up the ante on her already well-established loopiness by declaring herself a member of the certifiably-insane fringe.
There's room in the population for a small number of unvaccinated free riders. A small percentage of people who don't get their children vaccinated because of religious objections or simple ignorance won't have an especially deleterious affect on the rest of us. But the rise, since The Lancet's execrable autism lie, of the anti-vaccine crusaders has already begun to push us past that point. Chief anti-vaccine loony toon Jenny McCarthy actually says she's fine with some diseases coming back if it means we'll start making "safe" vaccines. Despite the total and complete lack of any causal connection ever having been established between vaccines and autism–except in her own delusions.
McCarthy's just a celebrity best known (before her anti-vaccination activism) for peeling off her clothes. But now we have a woman who thinks she should be President of the United States who subscribes to this criminal stupidity. I realize that she's getting desperate now that her boomlet is collapsing. It was always obvious that it eventually would, so I've mostly ignored her up to now. Even so, and despite my usual preference for avoiding the so-and-so-said-something-silly cycle of blog posting, this is simply beyond the pale.
The last of the air can't finish leaking out of that balloon soon enough. How is it even possible she's still getting invited to debates while guys like Gary Johnson and Thad McCotter aren't?!?