Six Observations on Immigration Reform
Some points on the immigration debate that need constant (it seems) reinforcement.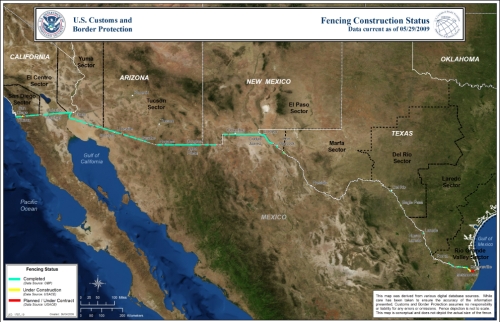 None of this is new, but every time I read or hear a discussion on immigration reform, I feel the need to point these things out:
1.  This is a Permanent Issue.  No immigration policy will solve the problem once and for all.  I read people make assertions about enforcing the law or border security in particular (but also form proponents of reform) who speak as if there is a way to end the issue of undocumented persons being in the country or that it is possible to find a means by which to stop all illegal entries.  This is nonsense. The goal shouldn't be solving the issue once and for all (the only way to do that, by the way, is to eliminate borders and citizenship altogether), but rather the goal should be to figure out how to manage the fact that human beings are going to move around.
Indeed, I would suggest that some need to readjust their thinking about what policy ought to look like.  If one thinks that there is a way to solve, once and for all, the issue, I would submit that that individual doesn't understand the issue nor the way public policy works.
2.  Visa Over-stayers.  Roughly half of undocumented immigrants in the US did not cross the border illegally.  They entered with visas and did not leave when they were supposed to.  Regardless of what one thinks of these persons and what should be done to them, this fact underscores something rather important:  the "danged fence" will not solve this issue.  The fact that many anti-reform types focus on the border itself and often seem oblivious to visa over-stayers underscores that they don't understand even the basics of this debate.
3.  Secure Borders=More Over-stayers.  One element of the policy debate that many anti-reformer miss is that the more secure the border is (i.e., crossing is made more difficult), the more likely that undocumented immigrants are to stay once in the US.  (I discussed this phenomenon in a post about a year ago).
4.  Enforce über alles.  The mantra that we would solve the problems if we just "enforce current laws" and that we don't need new laws misses a rather fundamental fact:  the current laws are not working.  The system is profoundly broken.  When a system is profoundly broken, logic dictates that a new system is needed, not doubling down on the broken system.
Some will retort, no doubt, that we are not even trying to enforce all the laws.  Perhaps this is true, but this is because of a combination of a) the impossibility of enforcing all the laws, and b) the fact that the current laws are not adequate to deal with the scope of the problem.
5.  The Rule of Law!  A corollary to point number four is that all anti-reform types want to do is adhere to "rule of law" as if current laws are sacrosanct.  However, this position rather ignores that the current laws are not the laws we have always had on this subject and, moreover, laws can be changed.
6.  Human Beings.  Too much of this debate (at least from the anti-reform side) ignores that ultimately we are talking about human beings who live regular lives (have jobs, pay taxes, have kids, etc.).