Tim Tebow To Become The Fifth Quarterback On The Philadelphia Eagles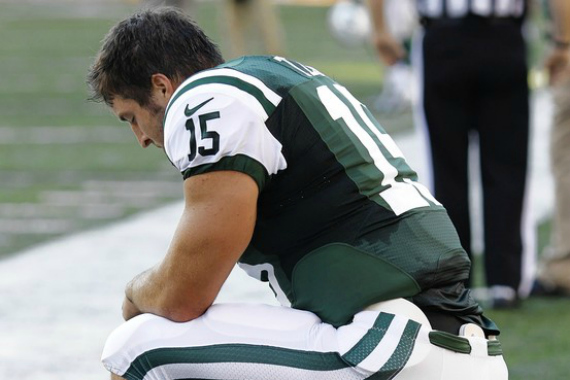 Tim Tebow, who hasn't played in a regular season NFL game since being released by the New York Jets at the end of the 2012 season, will be joining a Philadelphia Eagles team that is already top heavy with Quarterbacks:
Reports that the Philadelphia Eagles are about to sign Tim Tebow raise a host of questions: How will Tebow fare after two years away from the game? What role does Coach Chip Kelly have in mind for him? Will he be embraced by the tough fans?

But the most conspicuous is this: Just how many quarterbacks do the Eagles need?

It is one thing to stockpile receivers or defensive backs. But teams can use only one quarterback at a time, and sometimes having even two candidates for starter can lead to a controversy that eats up a team. Now the Eagles have five quarterbacks, three of whom have started N.F.L. games.

But in another twist, precisely zero of the five could be considered proven, successful N.F.L. starters.

Tebow's signing is another of the curious, news-making moves made this off-season by Kelly, including letting go of the team's starting quarterback, best running back and best receiver.

The nominal starter at this point is Sam Bradford, acquired in March from the St. Louis Rams in a surprising trade for the Eagles' starter last season, Nick Foles.

Bradford was the No. 1 pick in the 2010 draft out of Oklahoma. His rookie season was a success, as he led a team that had been 1-15 to a 7-9 record and, crucially, played all 16 games. After two weaker seasons, Bradford began to sustain injury problems and played just seven games in 2013 and none last year.

In his career, he has averaged 6.3 yards per pass attempt, ranking him at the back of the pack among active quarterbacks. Rams fans have been underwhelmed, and there was hardly an outcry when he was shipped to Philadelphia.

His status as starter there, and even his roster spot, may not be locked up. Though jerseys of the Eagles' other new acquisitions are readily available, Bradford jerseys were not in stock at local stores, NJ.com reported last week.

Backing up Bradford at this point will be Mark Sanchez. A No. 5 overall pick out of Southern California, Sanchez spent four years as the Jets' starter, putting up average numbers at best. The highlight was an 11-5 record and a trip to the conference finals in his second season, 2010. But things turned sour shortly after.

No matter what Sanchez accomplishes the rest of his career, he will be remembered for a play that joins Leon Lett's fumble recovery, Wide Right and the Miracle at the Meadowlands in infamy. In the so-called butt fumble in November 2012, Sanchez simply ran into his own teammate's backside, leading to a fumble recovery for a touchdown for the Patriots.
Sanchez actually did a fairly decent job at Quarterback when Nick Foles was injured last season, so his position as the chief backup is likely secure. Then, there's Matt Barkley, who hasn't had much of an NFL career, and C.J. Kinne, who has an even thinner NFL resume than Barkley. And now there's Tebow. Obviously, the Eagles aren't going to be going into the regular season with five Quarterbacks on the roster, so at least one of these five is going to have to go, and it's likely going to be Barkley, Kinne, or Tebow. In that respect, perhaps, Tebow does have an advantage over the other two and thus may make it onto the roster as a third stringer, but even that's not certain given the fact that his performance with the Jets was not impressive and that he didn't even make it out of training camp when he signed with the Patriots two years ago. In any case, though, Tebow will not be the Eagles starter and he won't be the primary backup. That's bound to disappoint his fans, but given his skill level he should probably just consider himself lucky that he has a job in the NFL at all right now.