Time For Bernie To Hang Up The Gloves?
After a heart attack that has kept him out of the campaign for a week, it may be time for Bernie Sanders to pack it in.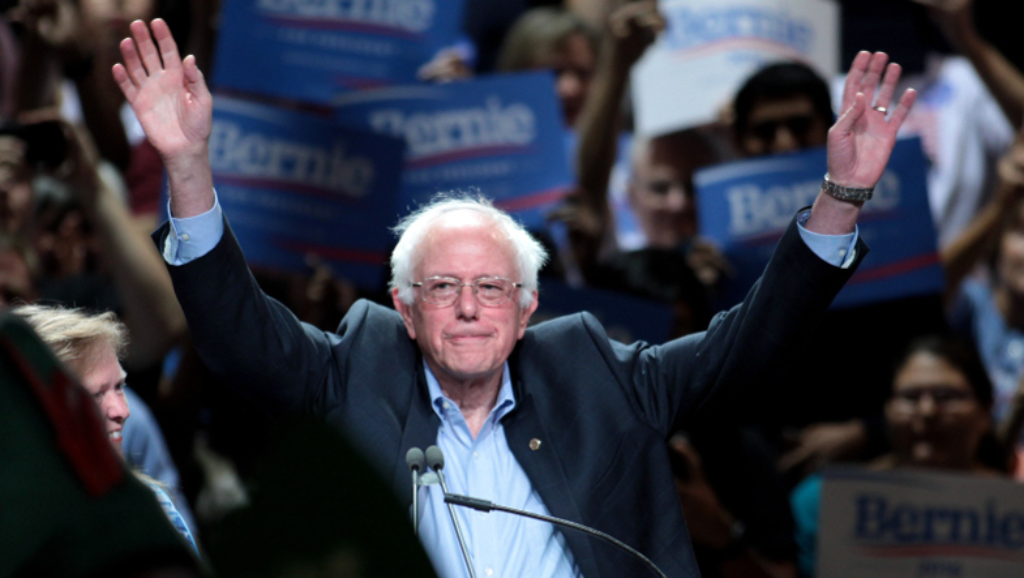 Just about a week after the cardiac incident that took him off the campaign trail, which his campaign later disclosed to have been a heart attack, Vermont Senator Bernie Sanders said that the incident will lead him to re-evaluate his approach to campaigning:
BURLINGTON, Vt. — Senator Bernie Sanders, in a striking concession for a leading presidential candidate, said on Tuesday that he planned to slow down his pace on the campaign trail after suffering a heart attack a week ago, and acknowledged that voters would likely consider his health when deciding whether to support him.

"I think we're going to change the nature of the campaign a bit," Mr. Sanders told reporters after a visit with a local cardiologist. "Make sure that I have the strength to do what I have to do."

Mr. Sanders's remarks stood in sharp contrast with comments in recent days from his campaign advisers, who have insisted that the Vermont senator was neither changing course nor easing his trademark intensity as a result of the heart attack.

Given Mr. Sanders's influential role in the Democratic race, not only as a top candidate but also as a driving force in policy debates, his decision to pull back campaigning injects new uncertainty into the contest — both for the future of Mr. Sanders's candidacy and the possible ramifications for other contenders.

(…)

Mr. Sanders has been campaigning almost nonstop when not carrying out his Senate duties in Washington, D.C., a pace that he pointedly noted on Tuesday.

"We were doing, you know, in some cases five or six meetings a day, three or four rallies and town meetings and meeting with groups of people," Mr. Sanders said. "I don't think I'm going to do that."
"I think we're going to change the nature of the campaign a bit," he added. "Make sure that I have the strength to do what I have to do.

Asked to clarify what he meant when he said the campaign would change, he replied: "Probably not doing four rallies a day."
Sanders was speaking outside his home in Burlington, Vermont where he had returned after spending several days in the hospital in Las Vegas and he acknowledged ignoring what were likely warning signs about his condition:
Sen. Bernie Sanders, off the campaign trail and resting at home until next week's Democratic debate, said Tuesday he had been "dumb" to ignore symptoms that might have foretold the heart attack he suffered a week ago and he urged others not to make the same mistake. He also admitted that he will have to reduce the number of campaign events he holds a day because of his health.

"During this campaign, I've been doing in some cases three or four rallies a day, running all over the state — Iowa, New Hampshire, wherever," Sanders told reporters outside his home in Burlington, Vt. "And yet I, in the last month or two, just was more fatigued than I usually have been. And I should have listened to those symptoms."

Sanders visited a cardiologist Tuesday morning, and when he returned, he told reporters, "We're gonna change the nature of the campaign a bit."

"Probably not doing four rallies a day," said Sanders, who had adopted a more furious campaign schedule than many of his much younger opponents.

Sanders, who has committed to releasing his medical records before the first primary votes but has not yet done so, said Tuesday he would provide the information at "the appropriate time." Former vice president Joe Biden and Sen. Elizabeth Warren (D-Mass.) — fellow septuagenarians who join Sanders at the top of most polls — have also committed to releasing their medical records.
In this first public statement since the heart attack, Sanders seemed subdued from his usual self, something likely attributable to both his continuing recovery and the apparent realization on his part that the grueling nature of a political campaign may be just a bit more than he can handle this time around. As it stands, the Senator is 78 years old and would be in his early 80s at the end of a hypothetical first term. Having a heart attack at what are still the early stages of the campaign could be a signal from his body that he's not really up for this. Additionally, the fact that he's had one heart attack puts him at significant risk of having another in the future. While one hopes that the Senator will have many more years ahead of him, the fact is that he is not a young man and this heart attack just brings that home.
There hasn't been enough time since we learned of his heart attack at the end of last week to know for sure what impact this will have on Sanders' campaign. Many of his most loyal supporters will likely brush it off and continue to cheer him on. Other voters, though, may start to question the wisdom of back Sanders when there are other comparable candidates who are basically part of the same progressive wing of the part that he is. The most obvious choice for Sanders supporters looking to change loyalties, of course, would be Massachusetts Senator Elizabeth Warren, who is 70 years old herself but who seems to have endless bounds of energy and no known health issues, Other candidates that these supporters could look to include Kamala Harris and even Pete Buttigieg, who is among the youngest candidates in the race. As I said, one wishes the best of health to Senator Sanders but this heart attack could be a sign that its time to hang up the gloves.