Time For Real Campaign Finance Reform
Mitt Romney made a suggestion about how to fix our campaign finance system. It's a good idea.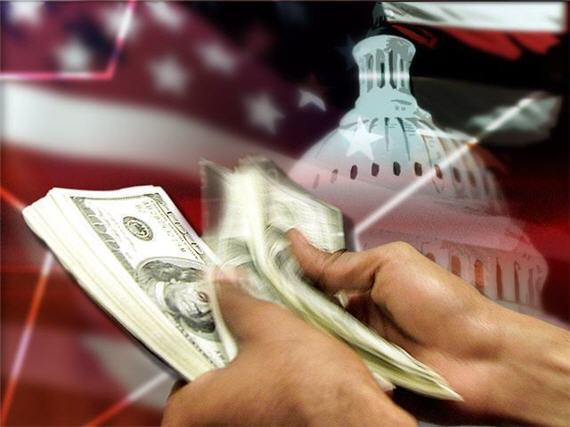 Monday's debate in South Carolina spent what I thought was an inordinate amount of time focusing on the details of SuperPAC ads and who was responsible for what, which at one point led Mitt Romney to make this comment:
ROMNEY: We all would like to have Super PACs disappear, to tell you the truth. Wouldn't it nice to have people give what they would like to to campaigns and campaigns could run their own ads and take responsibility for them. But you know what, this campaign is not about ads, it's about issues.

BAIER: So governor Romney, in the general election, if you are the nominee you would like to see Super PACs ended?

ROMNEY: Oh, I would like to get rid of the campaign finance laws that were put in place McCain-Feingold is a disaster, get rid of it. Let people make contributions they want to make to campaigns, let campaigns then take responsibility for their own words and not have this strange situation we have people out there who support us, who run ads we don't like, we would like to take off the air, they are outrageous and yet they are out there supporting us and by law we aren't allows to talk to them.

I haven't spoken to any of the people involved in my Super PAC in months and this is outrageous. Candidates should have the responsibility and the right to manage the ads that are being run on their behalf. I think this has to change.
Romney made a similar comment yesterday, and he has received unlikely support from Washington Post columnist Richard Cohen, who is by no means either a conservative or a Republican:
Sheldon Adelson is supposedly a bad man. The gambling mogul gave $5 million to a Newt Gingrich-loving super PAC and this enabled Gingrich to maul Mitt Romney — a touch of opinion here — who had it coming anyway. Adelson is a good friend of Gingrich and a major player in Israeli politics. He owns a newspaper in Israel and supports politicians so far to the right I have to wonder if they are even Jewish. This is Sheldon Adelson, supposedly a bad man. But what about Howard Stein?

The late chairman of the Dreyfus Corp. was a wealthy man but, unlike Adelson, a liberal Democrat. Stein joined with some other rich men — including Martin Peretz, the one-time publisher of the New Republic; Stewart Mott, a GM heir; and Arnold Hiatt of Stride Rite Shoes — to provide about $1.5 million for Eugene McCarthy's 1968 challenge to Lyndon Johnson. Stein and his colleagues did not raise this money in itsy-bitsy donations but by chipping in large amounts themselves. Peretz told me he kicked in $30,000. That was a huge amount of money at the time.

That sort of donation would now be illegal — unless it was given to a super PAC that swore not to coordinate with the candidate. And until quite recently, even that would have been illegal — the limit being something like $2,400. Many people bemoan that the limit is no more, asserting that elections are now up for sale, as if this was something new. They point to the Adelson contribution and unload invective on the poor right-wing gambling tycoon. I understand, but I do not agree.

Back in 1967, a small group of men gave McCarthy the wherewithal to challenge a sitting president of the United States. The money enabled McCarthy to swiftly set up a New Hampshire operation and — lo and behold — he got 42 percent of the popular vote, an astounding figure. Johnson was rocked. Four days later, Robert F. Kennedy, who at first had declined to do what McCarthy did, jumped in himself. By the end of March 1968, Johnson was on TV, announcing he would not seek a second term.

My guess is that a lot of the people who decry what Adelson has done loved what Stein, Peretz and the others did. My guess is that they cheered Johnson's defeat because they loathed the Vietnam War and wanted it ended. My guess is that while they pooh-pooh the argument that money is speech, they cannot deny that when McCarthy talked — when he had the cash for TV time or to set up storefront headquarters — that was political speech at the highest decibel.

(…)

History was changed by the sort of political donations that are now derided. Lyndon Johnson stepped down. The Democratic Party was ripped right up the middle. Bobby Kennedy joined the race (and was assassinated in June), and nothing — but nothing — was the same afterward. McCarthy's quixotic campaign became so real that Paul Newman came up to New Hampshire, and so did throngs of kids with long hair and incredible energy. I was there, a graduate student-cum-cub reporter, eating off the expense accounts of soon-to-be Washington Post colleagues (My God, what a life!). So when the Supreme Court says that money is speech and ought to be protected, I nod because I was in New Hampshire in 1968 and I know.

Sheldon Adelson is not my type of guy. I don't like his politics. But he has no less right to try his own hand at history than did that band of rich men who were convinced the war was a travesty-tragedy — and they were right. Since 1968, my views have changed on many matters. But my bottom line remains a fervent belief in the beauty and utility of free speech and of the widest exchange of ideas. I am comfortable with dirty politics. I fear living with less free speech.
In today's world, the most that Stein would have been able to do for McCarthy would be to give money to a pro-McCarthy SuperPAC that would run ads against the an incumbent President in New Hampshire. Perhaps helpful, but not nearly as helpful as the direct campaign cash that McCarthy got in 1967 that allowed him to set up a campaign organization that was able to take advantage of the grassroots support he had in the Granite State and, to the surprise of everyone, bring down a President and change the course of history irrevocably. For all the talk about SuperPAC money today, it's worth noting that none it helped Newt Gingrich or Rick Perry or Rick Santorum accomplish something as simple as getting on the ballot in Virginia (indeed, it would have been illegal for a SuperPAC to fund a petitioning effort by the campaign). As Cohen notes, with that donation from Stein, there would have been no McCarthy campaign and there was little that a bunch of SuperPAC ads would have been able to do to make up for that simple fact.
Cohen correctly goes on to point out that the 1968 and 1972 elections did reveal the need for at least some form of campaign finance regulation. The Nixon campaign in both years in particular engaged in practices that were at the very least sleazy if not borderline criminal even in an era where there were very few laws relating to donations to politicians. Additionally, it was campaign finance issues that were, in part, behind the Watergate break-in and subsequent cover-up.
It was in response to these events that our modern campaign finance laws came into being and, in at least some respects, the laws were motivated by good intentions. For example, the disclosure of the identity of campaign contributors and the recipients of campaign expenditures strikes me as a good idea. The public good is served when voters are able to discover who donates to their leaders, and who receives campaign contributions. Additionally, laws that bar campaign dollars being used for non-campaign purposes protect people who do donate to campaigns from being defrauded. Additionally, if I donate to a political campaign, I'd want to know if the campaign was spending unusual amounts of money on services provided by companies owned by friends or relatives of the candidates. Each of these, along with other regulations designed to ensure the financial integrity of political campaigns serve legitimate public purposes.
Where the initial post-Watergate attempt at campaign finance reform, and all of the efforts that followed it, when wrong, though, was in placing limits on the amount someone could contribute to a campaign. The logic for these restrictions is probably best summed up in a Washington Post Editorial published today in response to the suggestions that Romney made on Monday. Ultimately though, I think those arguments are entirely unpersuasive. If there is a lack of confidence in "the system" as the Post claims, it's because the system itself has created a situation where the kind of back-door donations exemplified by the SuperPACs come into existence.
The only thing that four decades of laws restricting the amount of campaign contributions has accomplished is to create a system where donations come in the back door. It was the restrictions themselves that led to the creation of the myriad different forms of political action committees that now exist in this country, including SuperPACs. If individuals were free to donate as much as they wanted to a candidate there would be almost no need for political actions committees to being with, and at the very least these types of groups would play a much smaller role in campaigns than they do today. Instead of spending an inordinate amount of time in at least two debates now arguing over who is responsible for which SuperPAC ad, there would be no question who was responsible because the messaging would be coming directly from the campaigns themselves. Candidates wouldn't be able to say "Hey, that's not my, that's a SuperPAC and I can't legally tell them what to do," they'd have to take responsibility for the ad whether it was positive or negative. Isn't that the better way do things?
It's also worth noting that the individual donations themselves become something of a joke because they are so easy to evade. Examine the campaign finance report of your average candidate for Federal office and you'll eventually notices something very interesting. There will be multiple donations for the exact amount of the limit by people with the same last name living at the same address. Since individuals can each make their own contribution, a donation in the name of a father, mother, and any number of children is each subject to its own limit and it's perfectly legal to send in four or five different checks to the same candidates in each of their names. Everyone knows that this money typically only comes from one person, but the law allows it. Again, the law creates the ability to evade it and there's really no way that the law could be written that would make this particular form of "evasion" illegal.
We'd still need laws requiring disclosure, of course. In fact, I would suggest that our current system, where contributions only become part of a searchable public record every three months isn't strict enough. Perhaps it made sense in the 1970s and 80s when everything was done on paper, but in today's world even the most bare-bones Presidential campaign uses technology to track its finances, and even campaigns for the House or Senate have at least one employee or contractor whose sole responsibility is campaign finance law compliance. Given that, there's no reason that disclosure cannot be done on a more frequently basis. Monthly disclosures of at least the identity and amount of contributions seems entirely reasonable to me, but that's probably an issue that people who actually run campaigns for a living should be consulted on before we change the law. A phase-in period may be advisable, for example, to allow campaigns to get used to disclosure requirements that are more strict than what they've been used to. In any case, voters should be able to go online on a regular basis and find out who is giving money to the people seeking their votes, and how that money is being spent, and that information should be up-to-date.
Our current campaign finance system is broken. The solution, though, isn't more laws, or public financing,  or any of the other myriad of proposals you'll hear from the "good government" crowd. It's to admit that the central part of the campaign finance laws we passed after Watergate was a mistake, and to start over again.