Time To Put Defense Cuts On The Table
With just over a week to go before the 112th Congress convenes, battle lines are already being drawn in battle over the defense budget.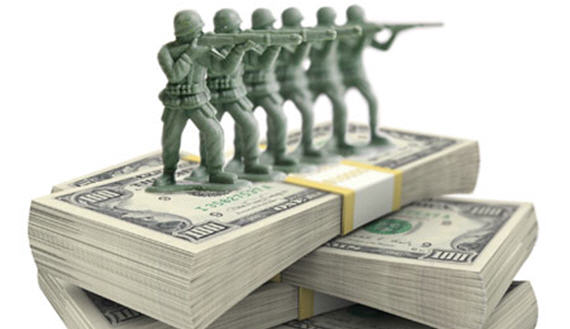 In a Christmas Day Op-Ed in The New York Times, Nicholas Kristof argues that it's time to look seriously at cuts in defense spending:
We face wrenching budget cutting in the years ahead, but there's one huge area of government spending that Democrats and Republicans alike have so far treated as sacrosanct.

It's the military/security world, and it's time to bust that taboo. A few facts:

• The United States spends nearly as much on military power as every other country in the world combined, according to the Stockholm International Peace Research Institute. It says that we spend more than six times as much as the country with the next highest budget, China.

• The United States maintains troops at more than 560 bases and other sites abroad, many of them a legacy of a world war that ended 65 years ago. Do we fear that if we pull our bases from Germany, Russia might invade?

• The intelligence community is so vast that more people have "top secret" clearance than live in Washington, D.C.

• The U.S. will spend more on the war in Afghanistan this year, adjusting for inflation, than we spent on the Revolutionary War, the War of 1812, the Mexican-American War, the Civil War and the Spanish-American War combined.

This is the one area where elections scarcely matter. President Obama, a Democrat who symbolized new directions, requested about 6 percent more for the military this year than at the peak of the Bush administration.
Moreover, as Kristof notes, there's a fairly decent body of historical evidence that massive military force isn't always the best answer to our problems:
After the first gulf war, the United States retained bases in Saudi Arabia on the assumption that they would enhance American security. Instead, they appear to have provoked fundamentalists like Osama bin Laden into attacking the U.S. In other words, hugely expensive bases undermined American security (and we later closed them anyway). Wouldn't our money have been better spent helping American kids get a college education?

Paradoxically, it's often people with experience in the military who lead the way in warning against overinvestment in arms. It was President Dwight Eisenhower who gave the strongest warning: "Every gun that is made, every warship launched, every rocket fired signifies, in the final sense, a theft from those who hunger and are not fed, those who are cold and are not clothed." And in the Obama administration, it is Defense Secretary Robert Gates who has argued that military spending on things large and small can and should expect closer, harsher scrutiny; it is Secretary Gates who has argued most eloquently for more investment in diplomacy and development aid
Of course, while the professional military men argue in favor of restraint, the armchair generals are already saying that even one cut in defense spending is tantamount to 1930s era isolationism. Take, for example, Mark Halperin in today's Wall Street Journal:
Based upon nothing and ignoring the cautionary example of World War II, we are told that we will never face two major enemies at once. Despite the orders of battle of our potential adversaries and the fact that our response to insurgency has been primarily conventional, we are told that the era of conventional warfare is over. And we are told that we can rest easy because military spending is an accurate index of military power, and we spend as much as the next however many nations combined.

But this takes no account of the nature of our commitments, the fading contributions of our allies, geography, this nation's size and that of its economy, conscription or its absence, purchasing power parity, exchange rate distortions, the military trajectories of our rivals individually or in combination, and the masking effects of off-budget outlays and unreported expenditures. Though military spending comparisons are of lesser utility than assessing actual capabilities, they are useful nonetheless for determining a country's progress relative to itself.

Doing so reveals that from 1940 to 2000, average annual American defense expenditure was 8.5% of GDP; in war and mobilization years 13.3%; under Democratic administration 9.4%; under Republican 7.3%; and, most significantly, in the years of peace 5.7%. Today we spend just 4.6% of GDP—minus purely operational war costs, 3.8%. That is, 66% of the traditional peacetime outlays. We have been, and we are, steadily disarming even as we are at war.
What Halperin's analysis leaves out, of course, is that, while the percentage of GDP devoted to defense spending has shrunk, the actual amount of spending has steadily increased, especially in the nine years since September 11th. The fact that we aren't spending 8% of our GDP on defense anymore doesn't mean we're neglecting anything, it means that we were a much richer country than we have been in the past and thus can afford to devote a smaller percentage of our resources toward defense. That's a good thing.
Former U.N. Representative John Bolton said pretty much the same thing as Halperin today during an appearance on Fox Business Channel:
Host: Can America cut its defense spending in a meaningful way?

Bolton: I don't think so. I think you've got to be just as much on the outlook for waste and fraud in defense spending as anywhere else. But the fact is that we are entering into a very uncertain period in the world. We've got a lot of threats out there that we're not ready for – not just nuclear proliferation, but chemical and biological weapons. We've got a Russia that's using it's oil revenues to upgrade it's strategic nuclear and conventional capabilities. Coming back to China they're expanding their blue water naval capabilities. They're upgrading their ballistic missile forces.

This is not the time to cut back. I understand there's a lot of pressure to get deficits down – I'm all in favor of it – but national security comes first, pure and simple, as far as I'm concerned.
This is the same argument we've gotten from the neo-con right, or whatever you want to call it. for years now. We can't cut defense spending one red cent because of the threats we face. whether it's al Qaeda, or Iran, or China, or Russia, or, you know, Upper Volta. As Daniel Drezner notes, though, the truth of the matter is that the threats aren't nearly as overwhelming as the fearmongers would have us believe:
When the closest great power rival to the United States has difficulties supplying an anti-piracy flotilla, I think it's safe to say that the gap in capabilities is not going to shrink all that dramatically anytime soon.

More, importantly, it's not the same threat environment as the Cold War.  If the Wall Street Journal is going to recycle the same tired argument about going back to Cold War era defense spending, then I'll just cut and paste what I said the first time this argument was made:

Terrorism and piracy are certainly security concerns — but they don't compare to the Cold War. A nuclear Iran is a major regional headache, but it's not the Cold War. A generation from now, maybe China poses as serious a threat as the Cold War Soviet Union. Maybe. That's a generation away, however….

I'm about to say something that might be controversial for people under the age of 25, but here goes. You know the threats posed to the United States by a rising China, a nuclear Iran, terrorists and piracy? You could put all of them together and they don't equal the perceived threat posed by the Soviet Union during the Cold War. And until I see another hostile country in the world that poses a military threat in Europe, the Middle East and Asia at the same time, I'm thinking that current defense spending should be lower than Cold War levels by a fair amount.
Part of the problem, of course, is that the fearmongers look at Russia, and China, and even Iran and they see a threat that is far beyond the ability of any of these nations to actually pull off. Russia's conventional military is a shadow of it's Cold War self, and the Chinese conventional threat is close to non-existent at this point considering that they are unable to project force far beyond their own borders and are at least decades away from even coming close to having the kind of naval capability that would make that possible. And, Iran ? Iran is barely a regional power at this point.
There is, of course, another part of this argument. The GOP rode to victory in November on a message of fiscal conservatism and bringing government spending under control. If they are really intent on reining in Federal spending and cutting the budget deficit, then nothing can be off the table, including the defense budget. To say otherwise while claiming the mantle of fiscal conservatism is to be a completely hypocrite and, if GOP takes the position that defense spending is untouchable, and similarly serious that other item of GOP gospel, that tax increases are out of the question, then they are essentially abandoning the effort to bring the Federal Budget under control before it has event started.
This isn't to discount the potential threats that we face in the world. However, to argue that there is no room to cut defense spending, or that we shouldn't question why we continue to provide blanket protection to nations like England, France, Germany, Japan, South Korea, and Australia is simply absurd. We aren't living in 1955 anymore, there isn't a superpower threatening engulf Western Europe, or any other part of that world for that matter. We can afford to cut back, let our allies start paying for more of their own defense, and concentrate on the real threats in the world rather than pretending the Cold War is still going on.