Timing Favors A Big Romney Win In New Hampshire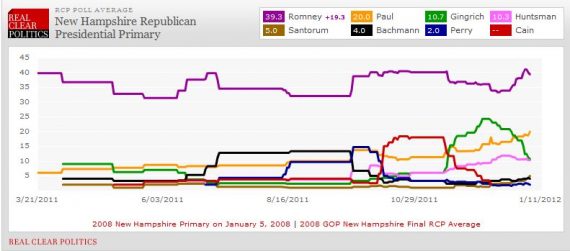 The first post-Iowa poll of New Hampshire is out and it shows Mitt Romney maintaining the huge lead there he's had for most of the race:
Manchester, New Hampshire (CNN) – Five days before the Granite State's first-in-the-nation primary, a new survey indicates that Mitt Romney remains the overwhelming front-runner.

According to a Suffolk University/7 News two day tracking poll, the former governor of neighboring Massachusetts has the support of 48% of likely Republican New Hampshire primary voters. Rep. Ron Paul of Texas is a distant second, at 18%.

The survey, released Thursday morning, was conducted Tuesday and Wednesday, meaning that about half of the people were questioned after Tuesday night's Iowa caucuses, where Romney edged out former Sen. Rick Santorum of Pennsylvania by 8 votes to won the contest.

The poll indicates that Santorum is at 8%, with former House Speaker Newt Gingrich and former Utah Gov. and former ambassador to China Jon Huntsman at 7%. According to the survey, a rather large 17% are undecided.

Romney has been the frontrunner in New Hampshire polling for over two years. He is well know in the Granite State, thanks to his years as Massachusetts governor (most of the more populated southern part of the state is in the Boston media market). Romney also owns a vacation home in New Hampshire, and besides spending lots of time in the state campaigning for the White House over the last year and in the past presidential cycle, he's also made many stops in the state stumping for fellow Republican candidates.
As the chart above shows, Romney is so far ahead of his opponents, and so far ahead of Santorum specifically, that it seems unlikely that anything shocking is going to come out of the Granite State unless Romney himself makes a mistake in the upcoming debates that causes it to happen, which seems very unlikely given Romney's history this cycle of fairly well polished debate performances. As Ed Morrissey notes, with only five days of campaigning left there's very little chance that anyone can knock Romney off his perch:
If Republicans had a few weeks to campaign in New Hampshire, one or more of them might break through that and seriously challenge Romney, but the primary is five days from now.  Absent an uncharacteristic and game-changing error from Romney in the debates the next few days, the best that anyone can hope to do is change the order of finish below Romney.  Santorum could use a second-place finish above Ron Paul, but ten points is going to be a tall order this week.
This last point seems especially true given that Paul supporters seem to be rather single minded in their support of their candidate and unlikely to jump ship, especially to someone like Rick Santorum.
Larry Sabato also discusses the time, or rather lack of time, factor:
One other advantage for Romney is that New Hampshire is happening so quickly after Iowa — just one week later. The quick turnaround from Iowa to New Hampshire is the new norm, but, as illustrated in Chart 1, in 1980 there was more than a month between Iowa and New Hampshire. That allowed Ronald Reagan, who surprisingly lost Iowa to George H.W. Bush, to reset that race by clobbering Bush in the Granite State. With such little time, can Santorum and the others significantly cut into Romney's big polling lead? It's not likely, but it's not impossible either, particularly with two debates this weekend.
This chart that Sabato provides shows the extent to which the time between Iowa and New Hampshire has been compressed over the years: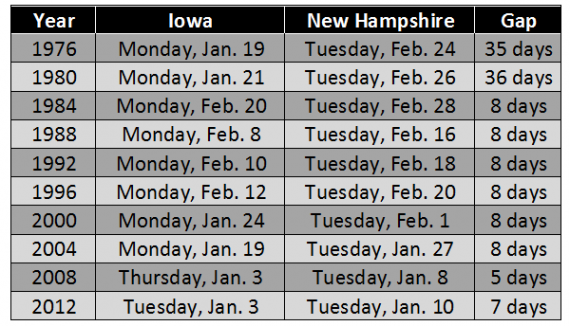 Would Ronald Reagan have been able to turn the tables on George H.W. Bush in 1980 if the gap between Iowa and New Hampshire had only been 7 days. Well, Hillary Clinton was able to pull off a victory in New Hampshire after losing in Iowa four years ago with only a 5 day gap some might say. Well, it's worth noting that Clinton was leading Obama in the Granite State prior to Iowa, the only question back then was whether Obama would get enough of a bounce there from his Iowa win to surge into first place. Initially, it seemed as though he might be doing just that but Clinton was able to pull off a win after all. In other words, Clinton was never really the "underdog" in New Hampshire in January 2008, it was more the fact that the state was a must-win for her if her campaign was to go on.
Santorum's situation is far more difficult. He is currently in single digits in a state where his primary constituencies, evangelicals and social conservatives, are in short supply. He's likely to get a bump of some kind from the combination of his Iowa win and Michele Bachmann's withdrawal but it's unlikely to be enough to put him anywhere near second place. But, of course, anything is possible. So let's see what happens over the next five days.