Tired Tropes: Kickin' that Can
The problem with the ever popular complaint about kickin' the can down the road.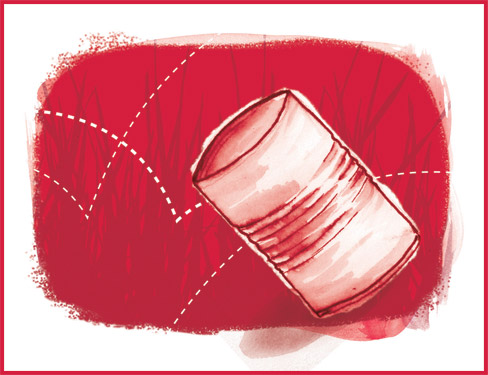 I keep seeing people criticizing various proposals on fiscal policy to be problematic because they "kick the can down the road" which means seems to mean that since many of the cuts/adjustments will take place in the future that they cannot be taken seriously. I have no problem with skepticism, but I would make a simple observation: since it is impossible to do everything right now, any plan will have to be predicated on future adjustments. As such, can kicking is inevitable.
Indeed, let's say that our goal is to actually pay down the national debt. Even if we had a credible plan to do so, it couldn't be done immediately. As such, can meet foot and then meet road.
Of course, part of the reason for the dislike of can-kicking is the not unreasonable concern that the can will be ever kicked on and on, down the road where it began and never, well, be picked up and recycled (or whatever it is one does with cans once the kicking stops).
Recognizing that anything set up for the future can be changed (pretty much by definition) as a current congress is limited in the ways it can bind future congresses. Indeed, ultimately, an existing congress cannot forestall a determined future congress from undoing whatever is passed in the now. Of course, current congresses can make it difficult for future congresses to act. If a current congress creates a situation that it knows will be politically difficult for a future Congress, it may well bind (or limit) future activity.
Two easy examples:
1) Entitlement programs. The basic design of our entitlement programs have been long-established and the basics of the program are more or less automatic in nature—i.e., they do not require annual votes. To change that process requires specific legislative action (to redefine, for example, who qualifies for Food Stamps or Medicaid). Since these tend to be politically difficult votes, current congresses tend to abide by what past congresses have mandated.
2) The Bush tax cuts. The very design of the Bush tax cuts contained a sunset provision (i.e., they automatically expired after a decade). Now, this meant that Congress at the end of that legislative rainbow would be accused of raising taxes if it let the Bush cuts expire. And, what happened in 2010 when the cuts were about to go away? The Democratically controlled congress extended them, so as not to be "raising taxes in a recession." Similar logic will accrue when they next hit their expiration date.
As such, while it is technically true that current Congresses cannot fully bind their future colleagues, it is possible to heavily influence their behavior.
And, moreover, since the debt (or, even, annual deficits) were not created overnight, and therefore no solution (even the bestest of ones) will not unfold overnight.
I will say this, the can not even being kicked (i.e., is mostly being ignored by the political class*) is health care inflation as that is where we have real future problems. That and the notion that one can deal with long-term fiscal problems by focusing non-defense, discretionary spending .
One more general observation on the can-kicking issue: the logic that one cannot trust current deals because they might be altered in the future applies to all laws, if you stop and think about it. However, no one argues that well, why bother passing law X, because some future Congress could come along and change it. However, this is always the case.
—
*Perhaps no one is even kicking that one because it is currently one big can of fiscal whoopass.