Today in "Asked and Answered" (NPV Edition)
How close to success is the National Popular Vote initiative? (Spoiler alert: not close).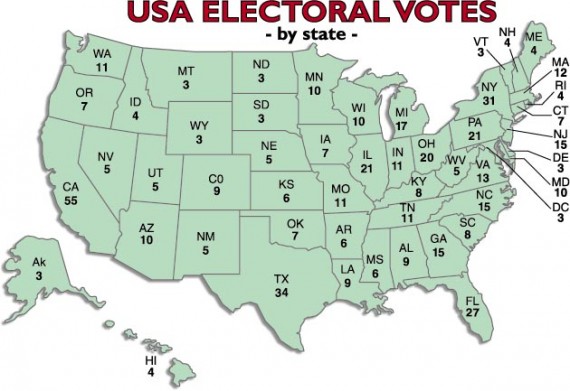 Asked, via Salon:  Why doesn't anyone know we're incredibly close to replacing the Electoral College with the popular vote?
Answer:  because we aren't close at all, that's why.
The article is about the National Popular Vote initiative that is trying to obviate the EC by getting states to pledge that they will give their electoral votes to the candidate who wins the national popular vote.  The goal is to create an interstate compact wherein states with 270 or more electoral votes would agree that their method of electoral vote allocation would be linked not to who won a plurality of votes in their state, but rather to the candidate who won the popular vote nationally.
This is all constitutional.  Article II, Section 1 clearly gives the states the power to determine how electors are appointed:
Each State shall appoint, in such Manner as the Legislature thereof may direct, a Number of Electors, equal to the whole Number of Senators and Representatives to which the State may be entitled in the Congress: but no Senator or Representative, or Person holding an Office of Trust or Profit under the United States, shall be appointed an Elector.
The notion of an interstate compact derives from clause 3 of the Tenth Amendment:
No State shall, without the Consent of Congress, lay any duty of Tonnage, keep Troops, or Ships of War in time of Peace, enter into any Agreement or Compact with another State, or with a foreign Power, or engage in War, unless actually invaded, or in such imminent Danger as will not admit of delay.
As Ballotpedia notes, these used to be rare, but have become more common:
Unlike today, compacts were quite a rarity in the early years of the nation's history. Specifically, only 36 compacts were ever approved by the states between 1783 and 1920; those that were accepted dealt almost exclusively with boundary issues with neighboring states. Nowadays, however, there are over 200 such arrangements in existence and each state averages an involvement in 25 interstate compacts.
Now, as a matter of principle, I certainly prefer the NV proposal to our current system.   However, the article is overly optimistic about this process.  Currently the NPV has been approved by 11 states accounting for 165 EVs.  And while it is true that it has passed one chamber in a number of other states, that doesn't mean anything at all, since in almost all of those cases at least one election has taken place since passage, so the reset button in those states has been pushed. The odds of getting this passed in enough states to guarantee 270 EVs are low, in my opinion.
As such, the Salon headline writers (and the author of the piece) need to take a deep breath:
So far 165 electoral votes from 11 states have been secured. Of the remaining 105 required, 82 are seriously in play, having passed at least one legislative chamber in 10 states. Optimistically, we're 23 new electoral votes away from ridding ourselves of the Electoral College. It's something that could be managed through strategically pressuring a handful of state representatives.
Optimistically is not the right word here, delusional is, since really all 105 are still in play.  The fact that, for example, the measure passed one chamber in North Carolina in 2007 is not indicative of being on the cusp of success (many of the passages noted here are at least half a decade old).  At this point in time, this may be the only way to shift us away from the democracy distorting elements of the EC, but let's not pretend we are closer than we actually are.
It would be very interesting to see how this would play out if the compact were secured.  I am sure there would be court challenges, although ultimately I think the proposal is on solid constitutional ground.