Today in Grand Irony
The same-sex marriage battle is on in Alabama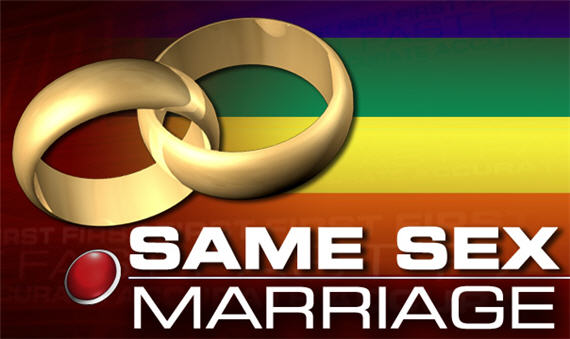 With the lifting of the stay on the issuing of same-sex marriage licenses in the state of Alabama by the 11th Circuit Court of Appeals, the state of Alabama's ban on same-sex marriage has been declared constitutionally null and void starting Monday the 9th of February.  This has evoked a number of strong reactions across the state, as one might imagine given the very socially conservative population therein.  Keep in mind that in 2006 the state's voters overwhelmingly voted (81%-19%) to add Amendment 774 (yes, we really like to amend our state constitution) to the 1901 Alabama Constitution which defined marriage as between a male and female and barred state recognition of same-sex marriages from other states.
An example of such reactions is popular radio personality Rick Burgess in support of county officials refusing to issue same-sex marriage licenses:
"I think probate judges who are Christians find themselves in a "Daniel" moment from the Bible that they claim to believe. God goes on record on how He created marriage in Genesis 2:18-24. He has never changed His mind. Daniel followed the law of the land until it asked him to go against God and the Bible tells us that Daniel had resolved in his heart that he would not worship the king, even though it was the law.

If you are a Christian and a probate judge do you condone a version of marriage that goes against God even though it's the current law of the land?   Martin Luther King Jr. in his letter from a Birmingham jail covered this when explaining to fellow pastors why he would continue to break "unjust" laws.

Christians have the same freedoms given to all people of this country to fight to raise their families in a society that best reflects their convictions. It's time to fight."
(Before getting to the religion angle, I must confess that the ongoing attempt to evoke civil rights leaders in this context to be problematic, if not offensive given that the civil rights movement was about expanding access to rights, not denial of rights to a class of citizens).
This point of view is shared by the probate judge in Pike County (wherein I work, but do not reside):  Allen: Pike probate office 'out of marriage licensing business'
Rather than be forced to violate his religious beliefs by facilitating same-sex marriages, the Pike County Probate Judge said Friday he will no longer issue marriage licenses or perform marriage ceremonies.

Pike County Probate Judge Wes Allen's statement comes three days before a ruling legalizing same-sex marriages takes effect. Anticipating a statewide response by same-sex couples seeking to wed on Monday, Allen said removing his office from the marriage licensing business allows him to follow the law and adhere to his Christian beliefs.
Allen is not alone:
At least five probate judges have said they won't issue marriage licenses to same-sex couples on Monday. Two, in Clarke and Pike counties, say they won't issue any licenses, even to opposite-sex couples. One, in Marengo County, says the forms will be available but she won't sign them. And probate judges in Washington and Covington counties say they won't issue to same-sex couples.
Probate judges in other counties have said that they will comply with the federal court rulings.
There is a lot to be said about this topic, and much, indeed, has already been said (after all, Alabama is rather late to this debate).  However, what I can't help but find amusing in this discussion is that the citizens of Alabama also passed another amendment to the constitution in 2014 that is relevant to this discussion:  another overwhelming victory (72%-28%) to ban the application of "foreign law" in Alabama.  Specifically, it
prohibit[s] the application of foreign law in violation of rights guaranteed natural citizens by the United States and Alabama Constitutions, and the statutes, laws, and public policy thereof…
This was, of course a superfluous notion driven by irrational fear of Sharia law being applied in the state.  What I find amusing about it in this context however, is that the Bible is of foreign origin* and, therefore the attempt by state officials to appeal to it in this context violates at least the spirit of this amendment (which, I suspect, the individuals in question wholeheartedly supported).
Beyond any of that, I do say that I simply do not see a legitimate argument that allowing same-sex marriage harms Christians in any substantial way.  Despite what some have claimed, churches are not going to be forces to perform same-sex marriages, so that isn't in play.  I do understand that there is a somewhat thorny conversation to had over certain marriage-related services.  However, I remain unconvinced that asking a baker to bake a cake is a violation of the baker's rights–especially since I don't see a huge moral code being deployed by these individuals for their other customers.   Indeed, any business that refuses to provide services to individuals who have violated some Biblical precept would soon be out of business (especially if one takes the Sermon on the Mount seriously).
I would even go a step further:  not all Christians interpret the Bible the way the typical Southern Baptist might, and therefore even conceding a "Biblical" view on this topic is to give opponents too much ammunition.
Of course, beyond all the silliness of the above:  it is not the job of public officials to decide on an ad hoc basis which laws they personally find acceptable.  Moreover, in a democratic government the preferences of the majority are not enough to violate human rights, and therefore there are times (e.g., 1954) that courts have to thwart the will of the majority.  (But even if we are going "majority will" here, the national view on this subject is actually pro-same-sex marriage, a fact that I think will, among other issues, heavily influence SCOTUS later this year).
—-
*To give credit where credit is due:  the observation about foreign laws and Bible came up in an amusing Daily Show bit.  The notion keeps coming back to me, however, on this same-sex marriage issue (which broke after the bit aired).