Today's Counterfactual: Tea Party Incumbent Loses to Establishment Republican in House Primary
David Trott's victory in Michigan's District 11 Republican House primary marks the first time this year a Republican Establishment candidate has upset a Tea Party Incumbent.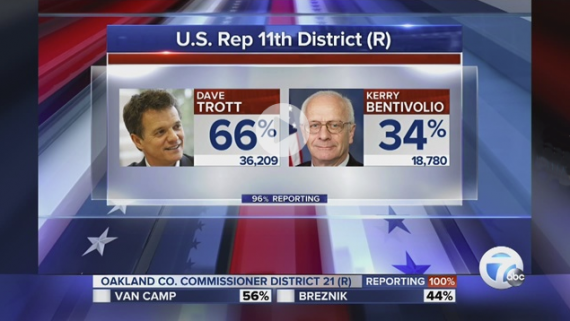 One of the ongoing discussions is the degree to which Tea Party challenges have actually led to the defeats of "Establishment" Republicans in recent primaries. Despite the recent high profile primary defeat of Eric Cantor by a challenger from his right, Vox contributor Andrew Prokop recently argued that statistics disprove the actual existence of such a trend. Now, we have another data point in the discussion: last night Establishment candidate David Trott beat the Tea Party Express endorsed incumbent Kerry Bentivolio in the Republican House primary for for Michigan's 11th District.*
Michigan Rep. Kerry Bentivolio, a Tea Party-backed candidate, was upset by a wide margin Tuesday in a GOP primary by attorney-businessman David Trott in the race for the state's 11th House District seat.

Trott received almost twice as many votes as Bentivolio out of the over 58,000 ballots cast.

Despite Congress' abysmal approval ratings, only three incumbents have lost this election cycle — Bentivolio and fellow Republican Reps. Eric Cantor of Virginia and Ralph Hall of Texas. Bentivolio, a former teacher and reindeer farmer, was elected in 2012 after a Republican incumbent was knocked off the ballot due to fraudulent petition signatures.

[Source: Fox News]
What this data tells us is very much up to personal interpretation. Bentivolio's initial win in 2012 was "non-standard" to say the least. Bentivolio became the Republican candidate for 11th's district's seat after OTB favorite Thad McCotter failed to secure (or forge) enough signatures to qualify for the 2012 ballot.
Likewise, it's difficult to say that, beyond the endorsement of the Tea Party Express, Bentivolio was/is a Tea Party member. For example, he isn't a member of the Tea Party Caucus. That said, Bentivolio was one of 114 Republicans who voted against ending the 2013 Government shutdown.
However, while one can be a debate of how "Tea Party" Mr. Bentivolio is, it's clear that his challenger David Trott has the support of the Michigan Republican Establishment and Establishment organizations like the Chamber of Congress.
There are still more primaries to be held this year and only time will tell how many more upsets there will be in the approximately 230 primaries involving House Republican incumbents. But, for those keeping count, of the three Republican Incumbent defeats this year, two can be chalked up to successful challenges from the right (Cantor and Ralph Hall in Texas). This one, however, goes to a challenger from the center.
(h/t to OTB commenter Trumwell for pointing me to the Vox article)