Today's Lesson In Christian Religious Tolerance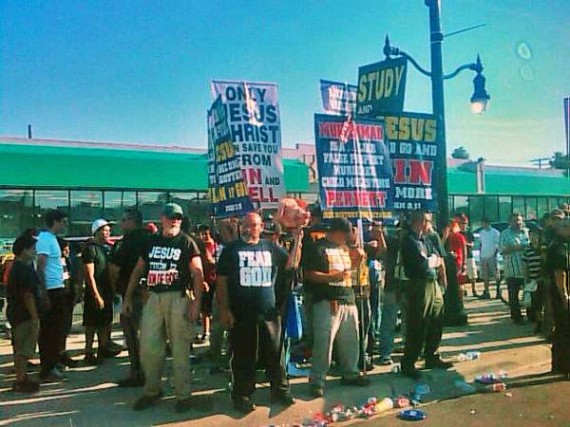 I'm an atheist, and I've got to say I would never even think about disrepecting someone's religious beliefs in this manner:
Tensions flared Friday evening at the annual Arab International Festival in Dearborn as members of some Christian missionary groups — including one called the Bible Believers — taunted Arab Americans with a pig's head and signs that promoted hatred of Islam.

"You're gonna burn in hell," one missionary shouted at a group of young Arab-American boys listening to him speak on Warren Avenue, where the festival takes place.

The festival continues today in Dearborn, but the members of the Bible Believers won't be there because they'll be protesting a gay festival in Ohio, said Arab Festival organizers.

The three-day festival is the largest public gathering of Arab-Americans in the U.S.; it has drawn Christian missionaries for years, but in 2009, some become more aggressive, leading to arrests and legal feuds. Dearborn has the highest concentration of Arab-Americans in the U.S., many of them Muslim, making it a magnet for some Christian missionaries.

The Bible Believers also protested at last year's Arab Festival, holding up both anti-Muslim and anti-Catholic signs and causing one Arab-American Muslim girl to cry.

About a dozen with the group stood facing the festival on Friday with signs that made bigoted remarks about Islam and its prophet, Mohammed. One of the missionaries had a pig's head mounted on a pole that he displayed in front of his group. Muslims don't eat pigs because their faith teaches that the animal is unclean.

Some of the signs the missionaries held read: "Islam is a religion of blood and murder" and "Muhammad (Islam's prophet) is a … liar, false prophet, murderer, child molesting pervert."

Wayne County sheriffs tried to keep the peace; a few times, three officers on horseback rode by, trying to keep the young Arab Americans at a distance from the Christian missionaries.

At one point, some kids started throwing water bottles and pop cans at the missionaries. Others chanted "Allah-U-Akbar" (God is the greatest). One of the Christians shouted in response "Jesus Akbar."
I'm honestly not even sure what to say about something like this. It's disgusting, for sure, and it certainly doesn't bode well for the future of interfaith relations in the United States. The funny thing is that, technically, these people are all worshiping the same God.