Todd Akin Controversy Exposes Rift Inside The GOP
The fallout from Todd Akin's rape comments on Sunday has exposed a rift in the Republican Party.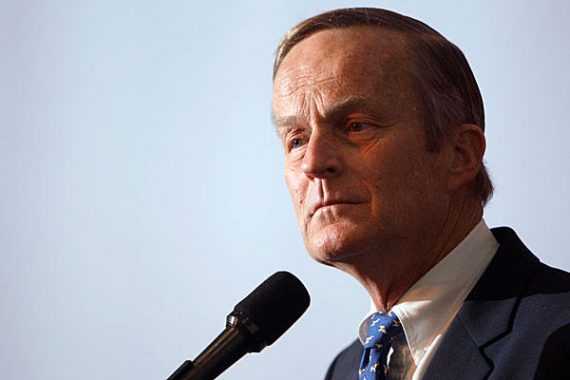 More than any other race this year, or indeed in quite some time, the Todd Akin controversy has exposed a rift between the evangelical/social conservative wing of the GOP and it's more pragmatic conservative win. Indeed, the Akin debate in the GOP isn't even really about "conservative" Republicans v. "moderate" Republicans, because many of the people that have called upon Akin to drop out include some of the heavyweights of conservative punditry such as Michele Malkin, Mark Levin, and Ann Coulter. While Rush Limbaugh has mostly been silent about his opinions on what Akin ought to do, Sean Hannity has been fairly open in expressing the opinion that Akin is harming the party by staying in the race. The one group that has remained loyal to him, and is rallying behind him now, are evangelicals who apparently see the attacks on Akin as an attack on their no-exceptions position on abortion, even in the case of rape and incest (most of these people do at least seem to concede the propriety of abortion if it is necessary to save the life of the mother.) As a result, the internal battle in the GOP over the Akin controversy is a microcosm of the broader tension between religious conservatives and the rest of the GOP.
For his part, Akin shows absolutely no signs of changing his mind about staying in the race, despite having dropped some hints on Wednesday that seemed to indicate this option was on the table. Yesterday, after a day of meetings with evangelical leaders in Tampa, Akin announced again that he was staying in the race, claiming that he was standing up for principles before politics:
Rep. Todd Akin held a news conference Friday afternoon in Missouri to say what he's been saying all week: He's staying in the race.

"There are some people who are having trouble understanding our message," he said. "We are going to be here through the November election and we are going to be here to win."

A source close to Akin said the congressman felt boosted by support from former Arkansas Gov. Mike Huckabee and conservative leaders he met with at a Council for National Policy conference in Tampa, Fla., earlier in the week.

Practically every national Republican has called for Akin to get out of the Senate race, fearing he will lose to incumbent Democratic Sen. Claire McCaskill. McCaskill is seen as having one of the most vulnerable seats in the Senate.

"I may not be the favorite candidate of some people within the Republican establishment but the voters made a decision and this is an election, not a selection," he said.

He reiterated that he managed to win the primary by six points after being significantly outspent.

Akin noted on Twitter he's also encouraged by his fundraising since the controversy erupted over his "legitimate rape" remarks. CNN reported Akin had raised $206,000 since he made the "legitimate rape" comment last Sunday. In an email to supporters Friday, the Missouri Republican said he wanted to raise $212,000 by midnight.
While pretty much the entire GOP Establishment, both in Missouri and nationwide, have repudiated Akin and called on him to drop out, the five-term Congressman is getting backing from a network of social conservatives and from Mike Huckabee:
Tampa, Florida (CNN) - Mike Huckabee participated in a conference call Friday night with hundreds of Baptist pastors and Christian talk radio hosts in Missouri that was organized to coordinate a robust defense of Rep. Todd Akin as he faces pressure from Washington Republicans to drop his Senate bid against Democrat Claire McCaskill.

Akin told reporters in St. Louis today that he would not quit the race.

Speaking harshly about establishment Republicans who have tried to force Akin from the Missouri race, Huckabee at one point compared the National Republican Senatorial Committee to "union goons" who "kneecap" their enemies.

The former Arkansas governor said party bosses were "opening up rounds and rounds" of ammunition on Akin and "then running over with tanks and trucks and leaving him to be ravaged by the other side."

"This is unprecedented, to see to this orchestrated attempt to humiliate and devastate a fellow Republican," Huckabee said of Akin, who has deep ties to the Christian conservative movement. Akin spent Thursday in Florida meeting with evangelical leaders and evaluating his political future.

Huckabee said he spoke directly with NRSC officials this week and was assured that they would begin to dial back their offensive against Akin. He said party officials specifically told him they would stop pressuring Akin's consultants and campaign vendors to drop the congressman as a client.

A Republican source provided CNN with the dial-in information for the call, which was convened by Don Hinkle, the editor of 'The Pathway,' a publication of the Missouri Baptist Convention.

(…)

Acknowledging the political damage done to Akin, Huckabee encouraged the pastors and radio hosts to aggressively defend Akin to their congregations and listeners.

"The poll numbers need to come back up," he said. "Todd needs to show that he can raise money and be competitive. That will be a game changer. If not, the pressure will still be there for Todd to exit the race and clear the field for somebody else."

A spokesman for the NRSC, Brian Walsh, took issue with Huckabee's comments Friday.

"We have a great deal of respect for Governor Huckabee and regret that we do not see eye to eye with him on this race," Walsh said in an email to CNN. "It's important to set the record straight though that the types of tactics he describes simply did not happen and further, no one at the NRSC has even spoken with the Governor this week."
Clearly, the evangelicals are united behind Akin, and Mike Huckabee has taken it upon himself to be a crusader against the leaders of his own party. In that context, the numbers on the ground are particularly important. I've already made note of the Rasmussen poll showing Akin ten points behind McCaskill in the wake of the controversy. Now, another poll shows that Todd Akin is now trailing Claire McCaskill in Missouri's Senate race, and that most Missouri voters don't really like him very much:
The beleaguered U.S. Senate campaign of Rep. Todd Akin (R-MO) was hit with another discouraging development Friday evening, with a new poll showing him trailing Sen. Claire McCaskill (D-MO) by 9 points while being viewed unfavorably by a majority of likely Missouri voters.

According to the survey, conducted by Mason-Dixon on behalf of the St. Louis Post-Dispatch and St. Louis-based CBS affiliate KMOV-TV, McCaskill leads the embattled Akin among likely voters, 50 percent to 41 percent. That's a sharp reversal from Mason-Dixon's poll of the race a month ago before the Republican primary, when Akin held a 5-point advantage over the Democratic incumbent in a hypothetical matchup.

McCaskill's newfound lead can be largely attributed to an enormous gender gap. The poll shows the first-term senator with a massive lead over Akin among women voters, 55 percent to 37 percent. A month ago, McCaskill held a mere 1-point edge over Akin among women.

(…)

Akin's favorability rating took a meteoric collapse in the poll, dropping to an anemic 17 percent, while a whopping 56 percent of likely voters have an unfavorable view. PPP and Rasmussen also showed large majorities of Missouri voters holding a negative view of Akin. In Mason-Dixon's late-July survey, before Akin won his party's primary and nearly a month before he gained nationwide attention for the "legitimate rape" comments, 24 percent viewed Akin favorably compared with only 11 percent who viewed him unfavorably — a reflection of his low name identification at the time.

Friday's poll shows that 47 percent of Missouri voters think Akin should withdraw his nomination, including 50 percent of his own supporters. Thirty-seven percent believe Akin should remain in the race. McCaskill supporters are divided on the question: 40 percent believe her Republican challenger should end his campaign, while 44 think he should stick it out.
The RCP Average is now at +6.0 in McCaskill's favor and, given the unfavorable numbers that Akin faces, one can only assume that the gap between the two will continue to widen.
What will be interesting to see is what happens when this race is over. If Akin loses, which seems to be the most likely outcome, then many in the GOP will blame the loss on Akin's extreme position on abortion. Evangelicals, on the other hand, are likely to blame it on what they'll likely see as Akin being stabbed in the back by the party leadership. Things will become even more complicated if Akin's loss also causes Mitt Romney to lose Missouri, a state that the GOP is counting on winning again this year if they are going to have any chance at all of beating Barack Obama in the Electoral College. In that case, the Akin disaster could end up being the starting point for a much more profound battle inside the GOP, such as the one that could have been had if Mitch Daniels's suggestion of a "social issues truce" had been taken seriously by his fellow Republicans.