Tom Friedman is Seeking a Second Party
Friedman shifts from calling for a third party, to calling on the GOP to get serious.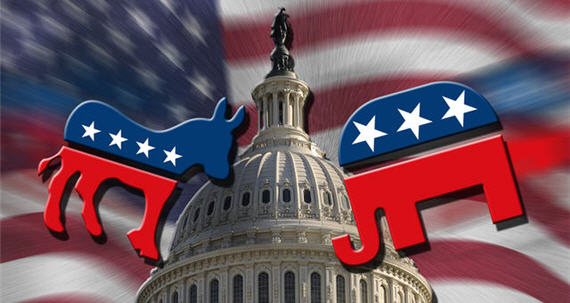 To use a phrase that I thought I had retired, Tom Friedman has a point (several, in fact) in his column today:  We Need a Second Party.
His thesis:
I've argued that maybe we need a third party to break open our political system. But that's a long shot. What we definitely and urgently need is a second party — a coherent Republican opposition that is offering constructive conservative proposals on the key issues and is ready for strategic compromises to advance its interests and those of the country.
This is, I think, a reasonable request as at the moment it does not seem that the Republican, as a coherent political collective, it especially interested in governing.  This is problematic because the nature of our system, one of separated powers and checks and balance, requires some degree of cooperation if governing is to take place.  This fact is further emphasized by the nature of the rules of the Senate.
Friedman focuses on three areas: globalization, debt and entitlements, and energy.
On globalization he is partially doing his Friedman thing, which is make bold assertions that ultimately sound interesting but at ultimately are more glittering phrases than useful analysis, i.e., "This is a world in which there will be no more "developed" and "developing countries," but only HIEs (high-imagination-enabling countries) and LIEs (low-imagination-enabling countries)."  This leads to a similarly good-sounding but largely void formulation:  "We need strong government, but limited government, which enables our companies and individuals to compete globally."
However, on debt and entitlements he hits the nail on the head:
The second of our great long-term challenges are our huge debt and entitlement obligations. They can't be fixed without raising and reforming taxes and trimming entitlements and defense. We absolutely cannot just cut entitlements and defense. That would imperil the personal security and national security of every American. We must also reform taxes to raise more revenues.

But when all the Republican candidates last year said they would not accept a deal with Democrats that involved even $1 in tax increases in return for $10 in spending cuts, the G.O.P. cut itself off from reality. It became a radical party, not a conservative one. And for the candidates to wrap themselves in a cartoon version of Ronald Reagan — a real conservative who raised taxes, including the gasoline tax, when he discovered his own cuts had gone too far — is fraudulent.
This is simply true:  serious efforts are needed and pretending like cuts alone will fix the problem is simply wishful thinking (at best).  Likewise, "cartoon" Reagan is about right.
On energy he is likewise right when he states "can't drill our way out of" the problem.  It sounds nice, but it ignores reality—this is especially true with, as he notes, "7 billion to 9 billion people by 2050, and more and more of them want to drive, eat and live like Americans."
Fundamentally, the conclusion is spot on:
Until the G.O.P. stops being radical and returns to being conservative, it won't provide what the country needs most now — competition — competition with Democrats on the issues that will determine whether we thrive in the 21st century. We need to hear conservative fiscal policies, energy policies, immigration policies and public-private partnership concepts — not radical ones. Would somebody please restore our second party? The country is starved for a grown-up debate.
Such competition is needed and is such a debate.  We aren't getting such at the moment.  And yes, as some will no doubt state, the Democrats are far from perfect.  This is not a post about the virtues of the Democratic Party and it should not be interpreted as such.  It is, however, about the copious vices of the GOP.