Tom Wolfe Dead at 88
The inventor of New Journalism has died of unknown causes.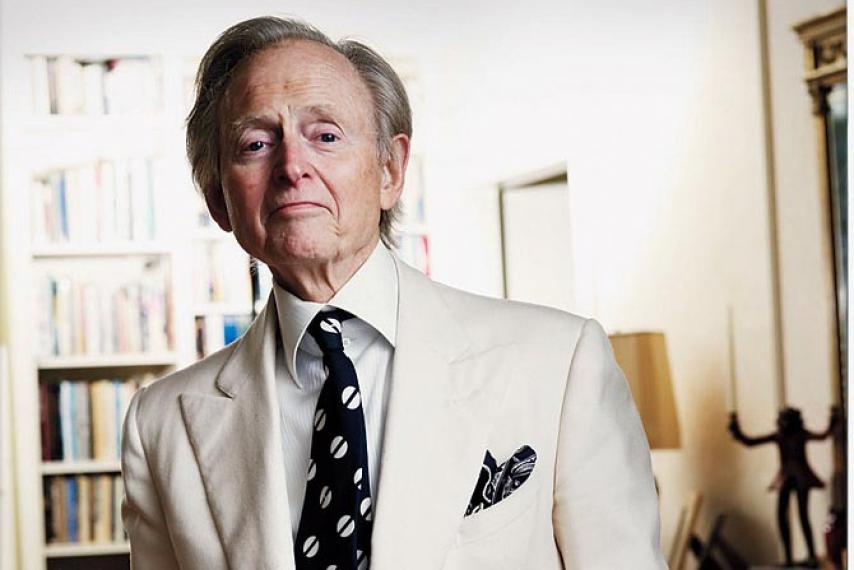 WaPo ("Tom Wolfe, apostle of 'New Journalism' who captured extravagance of his times, dies at 88"):
The birth of the literary movement known as New Journalism can be traced to one coffee-fueled episode in 1963: Tom Wolfe's all-nighter. He had been sent to California by Esquire magazine to report on a gathering of custom-car designers and casually cool teenagers.

Photos of lacquer-painted cars were laid out on the pages, and the magazine was about to go to press, but Mr. Wolfe wasn't able to complete his first assignment for Esquire. Finally, managing editor Byron Dobell told him to write up his notes as a memo, which the editors would shape into a story.

Mr. Wolfe began typing at 8 p.m.

"I wrapped up the memorandum about 6:15 a.m.," he later wrote, "and by this time it was 49 pages long. I took it over to Esquire as soon as they opened up, about 9:30 a.m. About 4 p.m. I got a call from Byron Dobell. He told me they were striking out the 'Dear Byron' at the top of the memorandum and running the rest of it in the magazine."

The story, "There Goes (Varoom! Varoom!) That Kandy Kolored (Thphhhhhh!) Tangerine-Flake Streamline Baby," was more than a dutiful report on the car convention. Mr. Wolfe had discovered an underground culture among the West Coast car designers, hailing them as the vanguard of a new form of modern art, not unlike Picasso.

"I don't have to dwell on the point that cars mean more to these kids than architecture did in Europe's great formal century, say, 1750 to 1850," he wrote. "They are freedom, style, sex, power, motion, color — everything is right there."

Seldom had journalism seen such an audacious display of observation, wry humor and go-for-baroque verbal dexterity. Mr. Wolfe invented words, wrote in the point of view of his characters and peppered his pages with ellipses, italics and exclamation marks.

Just like that, the legend of Tom Wolfe was born.

"It was like he discovered it in the middle of the night," Dobell told Vanity Fair in 2015. "Wherever it came from, it seemed to me to tap a strain of pure American humor that wasn't being tapped."

Mr. Wolfe, who had a transformative effect on journalism and later became a best-selling novelist, died May 14 at a Manhattan hospital. He was 88. His niece Hughes Evans confirmed the death, but no other information was immediately available.

In 1963, Mr. Wolfe was a little-known reporter at the New York Herald Tribune. Less than two years later, when his first collection, "The Kandy-Kolored Tangerine-Flake Streamline Baby," was published, he was one of the most famous and influential writers of his generation.

His books became best sellers, and his explosive, fast-moving prose was seen as the perfect vehicle for the times. He invented or popularized such phrases as "good old boy," "radical chic," the "Me Decade" (sometimes altered to "Me Generation") and "pushing the envelope."

Perhaps his most memorable coinage was the title of what is often considered his greatest achievement: "The Right Stuff." Published in 1979, the book was an epic account of the idea of American heroism, viewed through the exploits of military test pilots and astronauts.

Mr. Wolfe chronicled the rise of the hippie generation in "The Electric Kool-Aid Acid Test" (1968), mocked the pretensions of Manhattan liberals in "Radical Chic" (1970) and of the art world in "The Painted Word" (1975). He gleefully violated the city editor's dictum to trim each sentence to a sleek, understated nugget of news: For Mr. Wolfe, no verbal extravagance was too much.

"American journalism has never had a practitioner who combined the attributes of talent, audacity, learning, legwork, and pure observation as well as Tom Wolfe," author and scholar Ben Yagoda wrote in "The Art of Fact," a 1997 anthology of narrative nonfiction.

Mr. Wolfe was considered the leader of an ink-stained avant-garde that included Jimmy Breslin, Joan Didion, George Plimpton, Gay Talese and Hunter S. Thompson. Their personal, immersive style was imitated, with varying degrees of success, in practically every newspaper feature section in the country.

"The most important literature being written in America today is in nonfiction," Mr. Wolfe asserted in his 1973 anthology, "The New Journalism," which became the standard of prosaic rubric for his style of writing.
Wolfe was a colorful character, to say the least. He's been a staple of the American conversation my entire life. I haven't seen him around much of late, although I don't know if that's because he was fading away or a function of my changed television viewing habits.
While I enjoyed his writing in short form, I never made it through one of his novels. I couldn't get myself interested in The Electric Kool-Aid Acid Test and made it maybe a third of the way through A Man in Full before giving up. I did enjoy movies based on his works, especially The Right Stuff.