Transgender Rights And The Sudden Conservative Obsession With Bathrooms
The passage of a new law in North Carolina has revealed an apparent obsession among some on the right with who gets to use which restroom.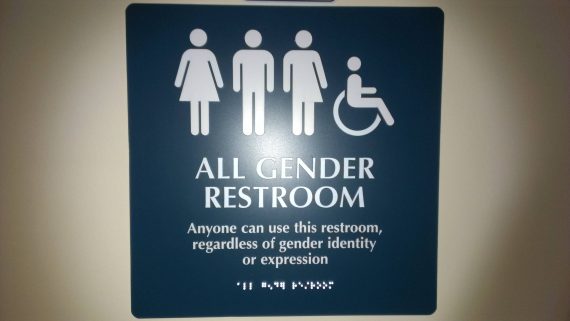 A North Carolina law that purports to ban trangender from using restrooms corresponding to their gender identity has become the latest "social issues" flashpoint in the race for the Republican nomination for President:
Transgender rights have become an unlikely and heated issue in the presidential campaign after North Carolina enacted a law that, among other things, mandated that people use the restroom that corresponds to the gender on their birth certificate.

Cruz has seized on Trump's assertion that the North Carolina law, which also rolled back other protections for gay, lesbian and transgender people, was unnecessary and bad for business — corporations including PayPal and Deutsche Bank scrapped plans to create jobs in the state after the legislation was enacted. Trump said there has been "little trouble" with allowing people to use the restroom they want, though he later said that states should have the power to enact their own laws. Trump also said he would let transgender reality-television star Caitlyn Jenneruse the women's restroom at his properties.

Ohio Gov. John Kasich said he probably wouldn't have signed the North Carolina law, while both Democratic candidates have condemned it.

"There's been a significant amount of conversation about it on the presidential level," said Cathryn Oakley, senior legislative counsel at the Human Rights Campaign, who said 50 anti-transgender bills have been filed nationwide this year. "In terms of it being new territory, the answer is yes."

Cruz's argument centers on the idea that allowing transgender women to use women's restrooms would lead to deviants dressing up as women and preying on young girls. His campaign released an ad accusing Trump of capitulating to the "PC police" and asking viewers whether a grown man pretending to be a woman should use a restroom with your daughter or wife.

"Donald Trump thinks so," the ad reads.

Cruz has woven his support of North Carolina's law into his stump speech. There has been some backlash: A woman holding a "Trans lives matter" sign protested outside of a stop Cruz made in Allentown, Pa., on Friday.

"As the father of two young girls, I can tell you it doesn't make any sense to allow adult grown men strangers to be alone in a bathroom with little girls," Cruz said at a rally here, drawing loud applause from the crowd.

He called Trump's views on transgender people "political correctness on steroids."

"Evil!" a woman in the crowd yelled.

President Obama weighed in on the issue Friday from Britain, which issued a travel advisory warning residents about the North Carolina law and another enacted in Mississippi that allows businesses to refuse service to same-sex couples on religious grounds.

"I want everybody here in the United Kingdom to know that the people of North Carolina and Mississippi are wonderful people," said Obama, who also took a question from a person who claims no gender. "I also think that the laws that have been passed there are wrong and should be overturned."

Democratic candidates Hillary Clinton and Bernie Sanders have forcefully condemned the laws, and Sanders said he would overturn them if elected president.

(…)

Cruz said that if the law allows for a man to enter "a little girl's restroom, and stay there and he cannot be removed because he simply says at that moment he feels like a woman, you're opening the door for predators."

Don Uber, a 69-year-old accountant from Apollo, Pa., agrees with Cruz. Uber, who has a 2-year-old granddaughter, said he is more concerned about male sexual predators dressing up as women and going into women's restrooms with girls than he is about predators using men's rooms near boys.

"They're going to have other men in there that can protect the boys," Uber said. "It's our duty as men to be protectors, and opening up [women's] bathrooms to men is failing our responsibilities."

Uber said he believes the law will just allow men to walk into women's rooms.

"You don't even have to cross-dress. You can go in in a business suit and say, 'I define myself as a female,' and they're okay with that," he said.
To a large degree, of course, the rhetoric we're hearing from Ted Cruz and others on this issue, which plays right into the paranoia expressed in Mr. Uber's idea that laws allowing the transgendered to use the bathroom corresponding to their gender identity to loiter in a women's restroom and sexually assault a woman or young girl, is simply the latest example of Republican pandering to the religious right and the GOP base on a social issue. Up until the Supreme Court's decision in Obergefell v. Hodges, the marriage issue and the supposed threat of same-sex marriage to "the institution of marriage" served the purpose of being the issue that Republicans would use to rally this particular part of the party, but with that issue basically off the table for all intents and purposes, they've been forced to move on to something else that can serve a a rallying cry for the "culture war" that has been a part of the rhetoric of the religious right since the days of the so-called "Moral Majority" and Jerry Falwell.
To some extent, the same-sex marriage dog whistles continue in the form of "religious liberty" laws that purport to give private businesses and, in some cases, public employees, exemption from otherwise generally applicable laws barring discrimination based on sexual orientation, but in recent months one can notice a decided trend on the right that seems rather bizarrely obsessed with the issue of which bathroom someone is using. One of the first signs of this came in Houston, where a group of ministers united to seek to overturn a law that barred discrimination based on sexual or gender identity. That campaign finally succeeded this past November thanks in no small part to a campaign that included utterly bizarre and paranoid assertions that the law would allow child molesters to follow little girls into bathrooms and put women at risk of being sexually assaulted. The fact that there appears to be little, if any evidence, of cases where attackers have claimed to be transgendered in order to gain access to an opposite sex bathroom suggests not only that this campaign is not based in reality, but that it is in fact based in paranoia, misunderstanding, and a refusal to accept the idea that transgendered people may simply be different from the rest of us somehow and that they deserve the same amount of dignity and respect as any other member of society. This includes allowing them to use the restroom that corresponds to the gender they identify with and around which they have built their lives, regardless of what it might say on their birth certificate.
In reality, of course, laws such as the one at issue in North Carolina are utterly silly and unenforceable. How, exactly, are authorities going to determine that everyone who enters the ladies room in a public building is, in fact, someone with a double-x chromosome? Will everyone in the Tarheel State be required to carry their birth certificate around in case the Bathroom Police need to verify their gender? Or, will their be mandatory genital inspections? The answer, of course, is that there really won't be any enforcement of this law because the law is inherently unenforceable. Instead, the major impact of this law is likely to be cause embarrassment to someone that people suspect might be transgendered, and to put transgendered people at risk of assault even if they try to comply with the law. Someone who was born male, for example, but is now a transgendered woman would have to use the men's room even though they look for all the world like a woman, and this could potentially put them at risk of physical assault. The same risk applies to someone who was born female but is now a transgendered male. How putting people at risk solves any problems at all is beyond me, but then it's clear that people on the right who consider this an issue worth fighting over don't necessarily care about those types of victims of their supposedly well-intentioned laws.
There is, admittedly, one area where the issue of transgendered people and access to restroom facilities is at least somewhat complicated, and that is when it comes to public schools. Last year,  the Department of Education took the position that a Chicago-area school district violated Federal laws when it denied a transgender student access to the girls bathroom and showers on the ground that they were still biologically and physically male and that doing so would make other students feel uncomfortable and unsafe. In reality, the state of the law in this area is nearly as clear-cut as the Obama Administration contends it is as Courts have ruled in the past that, among other things, current Federal laws such as Title IX may not apply to transgender students at all, meaning that changes would need to be made to those laws to provide them with the coverage that the Department of Education is claiming here. Just last week, the Fourth Circuit Court of Appeals ruled that a transgender teen who whose born female can proceed with a lawsuit against their local school board over the issue of bathroom access in a ruling that largely accepted the legal arguments that the Department of Education made in the Chicago case. This case will no doubt be appealed, though, and we could see a Supreme Court ruling on this issue within the next year or two depending on how long the rest of the appeals process lasts. Leaving the legal issues aside, though, there are obviously some concerns on both sides of the equation that need to be considered when dealing with this issue and how it impacts both the transgender child and their classmates, though. Politically speaking, though, it's cases like this involving children that are likely to exploited by politicians like Ted Cruz when they pander to the fears on the part of voters that are generally based more on fear and ignorance than anything else.