Translating Military Experience into Gibberish
Conveying military experience to civilian human resources departments is hard.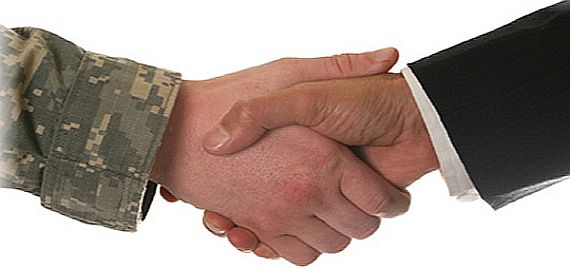 With so many veterans of our wars in Iraq and Afghanistan having trouble finding jobs in this economy, services are popping up to help them make the transition.
James Dao, NYT ("Fixing the Failed Elevator Pitch: Translating Military Skills for Civilian Employers"):
The failed elevator pitch. Kevin Schmiegel, a retired Marine Corps lieutenant colonel, had heard dozens of them from young veterans trying to sell themselves to prospective employers. Acronyms. Jargon incomprehensible to civilians. Puzzling explanations of military jobs. An inability, or unwillingness, to take credit for awards, specialized training or even leadership positions.

So he decided to do something about it. As executive director of Hiring Our Heroes, a U.S. Chamber of Commerce Foundation project that connects employers with veterans, Mr. Schmiegel organized a team to create a program that could help veterans translate their military experiences into easy-to-digest résumés.

The result was the Personal Branding Resume Engine, which Hiring Our Heroes is scheduled to unveil on Wednesday morning at its latest job fair, at the 69th Regiment Armory on Lexington Avenue in Manhattan.
Sweet. So how does it work?
Type in a military occupational specialty and the pull-down menu translates it for you. An 88m? A motor transport officer. But that's not all. It then offers a concise explanation of what that job entailed: "Operated wheel vehicles and equipment over varied terrain and roadways. Managed loading and unloading of personnel and equipment being transported."

The key to those translations – and there are hundreds of them in the program, one for every military specialty in all five services – are the action verbs, carefully chosen with the help of the human resources managers to break through to skeptical résumé readers, Mr. Schmiegel said.

Thus, a truck driver would not have simply driven a truck: he or she would have also "managed transport of supplies/equipment and performed planning and execution functions to support movement in Afghanistan."
Now, this is impressive résumé verbiage. But it's wildly inaccurate.
Unless things have changed wildly since I left the service, transportation officers don't operate vehicles and equipment at all, unless you count whatever data input and communications devices they operate. Very junior enlisted personnel do that.
And, in point of fact, truck drivers simply drive trucks. The description  "managed transport of supplies/equipment and performed planning and execution functions to support movement in Afghanistan" sounds like something someone in brigade operations staff–or at least a headquarters company motor sergeant–does.
Have we inflated our language so much that this sort of wild exaggeration of job responsibilities is now the norm?