Transparent Hypocrisy on Mail-in Voting
Hypocrisy, lies, and dangerous rhetoric from Trump and his allies on mail-in voting.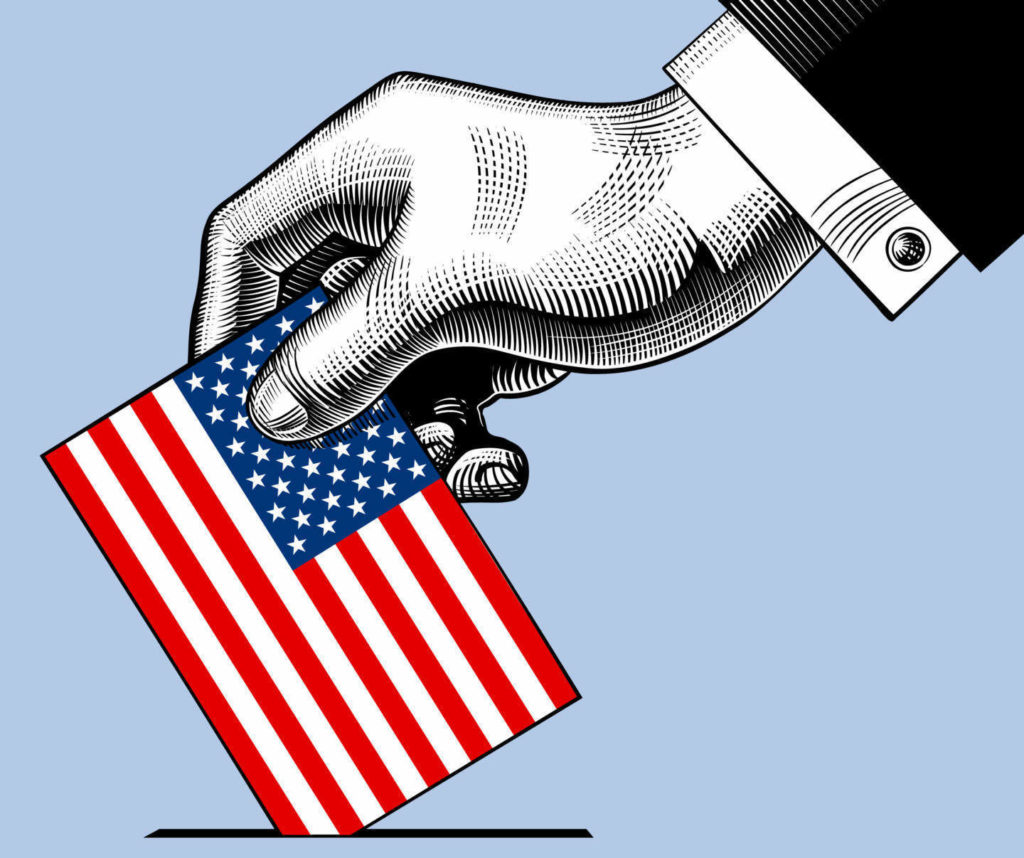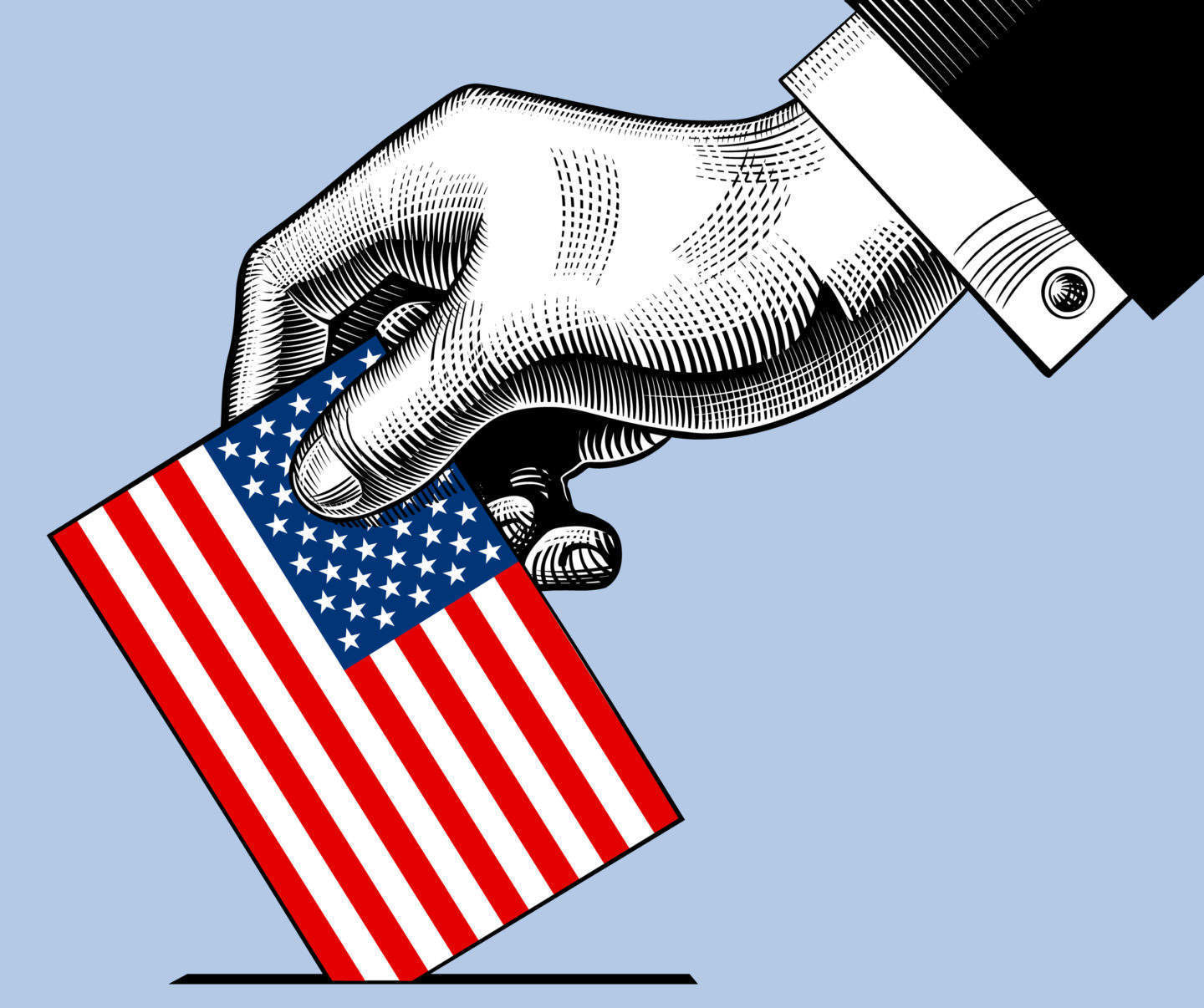 There is a lot that can be said (and needs to be said) about the current national discussion about vote-by-mail. One clear element is the truly brazen and transparent hypocrisy coming from the White House on this topic. It is literally "vote-by-mail for me, but not for thee."
As was already know, Trump himself has voted by mail in Florida elections. When asked about this back in April, he answered "Because I'm allowed to. Well that's called out of state — you know why I voted? Because I happened to be in the White House and I won't be able to go to Florida and vote."
An initial thought is: if voting by mail is such a problem, he could always register in DC and vote there in person.
But, of course, it gets better.
CNN reports: Trump could have voted in person in Florida this year but chose not to):
As President Donald Trump rolled to his West Palm Beach, Florida, golf course on the morning of March 7, his motorcade filed past a library where local officials were preparing for the first day of in-person early voting in Florida's presidential primary contest.

Trump didn't stop at that site or any of the 15 other early voting locations in Palm Beach County that were opening that day. By the time the library opened for voting at 10 a.m., Trump had already arrived at his golf course — whose main entrance is across Summit Boulevard from the library. When he departed the course hours later, he didn't stop to vote either.

Trump would drive past the library four more times that weekend without dropping in to cast a ballot. Instead, he voted by mail — the very option he has begun railing against as governors seek to expand remote voting amid the coronavirus pandemic.
So much for "I happened to be in the White House and I won't be able to go to Florida and vote."
More quotes from the CNN article:
"If you're President of the United States and if you vote in Florida, and you can't be there, you should be able to send in a ballot," he said last week at a factory in Michigan.

"If somebody has to mail it in because they're sick or, by the way, because they live in the White House and they have to vote in Florida and they won't be in Florida — if there's a reason for it, that's okay," he said on the White House South Lawn last week.

Earlier this month, his spokeswoman reiterated that the President's decision to cast a ballot by mail was based on his inability to vote in Florida.

"The President is, after all, the President, which means he's here in Washington; he's unable to cast his vote down in Florida, his state of residence," press secretary Kayleigh McEnany said. "So, for him, that's why he had to do a mail-in vote. But he supports mail-in voting for a reason, when you have a reason that you are unable to be present."
Quite frankly, if making time to golf instead of hassling to go to a physical polling place is a good enough excuse to vote absentee, then concerns about exposure to the coronavirus strike me as pretty legit.
For the record: I do think that making time to golf and voting by mail to avoid the hassle of going to a polling location is, in fact, a good enough excuse to vote by mail. The important part is the voting, not where you do it.
Speaking of Kayleigh McEnany, the Tampa Bay Times reported yesterday that Trump press secretary Kayleigh McEnany has voted by mail 11 times in 10 years.
In a statement emailed after the story published, McEnany said: "Absentee voting has the word absent in it for a reason. It means you're absent from the jurisdiction or unable to vote in person. President Trump is against the Democrat plan to politicize the coronavirus and expand mass mail-in voting without a reason, which has a high propensity for voter fraud. This is a simple distinction that the media fails to grasp."
But, what McEnany appears to fail to grasp (or is simply being purposefully dishonest about) is:
However, Florida does not have absentee voting. Anyone can vote by mail here without a reason. The Times asked McEnany if Florida should change its law to restrict voting by mail to those unable to vote in person. The story will be updated if she responds.
The story had not been updated as of my writing of this post.
Just to be clear, here is what the Florida Division of Elections webpage states "Except on Election Day, no excuse is needed to vote a vote-by-mail ballot."
Meanwhile, former Wisconsin Governor Scott Walker, tweeted the following yesterday:
This is correct in the sense that voters do have to request a ballot to vote by mail in Wisconsin, but like McEnany and Trump, he is muddying the waters on absentee versus mail-in ballots. Like in Florida, in Wisconsin you don't need a reason to vote by mail. From the Wisconsin Elections Commission: "Under Wisconsin law, voters do not need a reason or excuse, such as being out of town on Election Day, to vote absentee. Any voter who prefers to vote by absentee ballot may request one."
The notion that automatic state distribution of mail-in ballots is an invitation to fraud, while requested mail-in ballots are awesome, is an utterly false dichotomy designed to confuse the issue. It is an intellectually dishonest attempt to create misunderstanding and doubt in the public. This is also true of trying to pretend like "absentee ballots" are somehow different than mail-in ballots. The debate here is about whether to make it easier, or not, for people to get the ballots.
It is worth noting that three states have 100% vote-by-mail and 27 states had no excuse vote by mail by 2018:*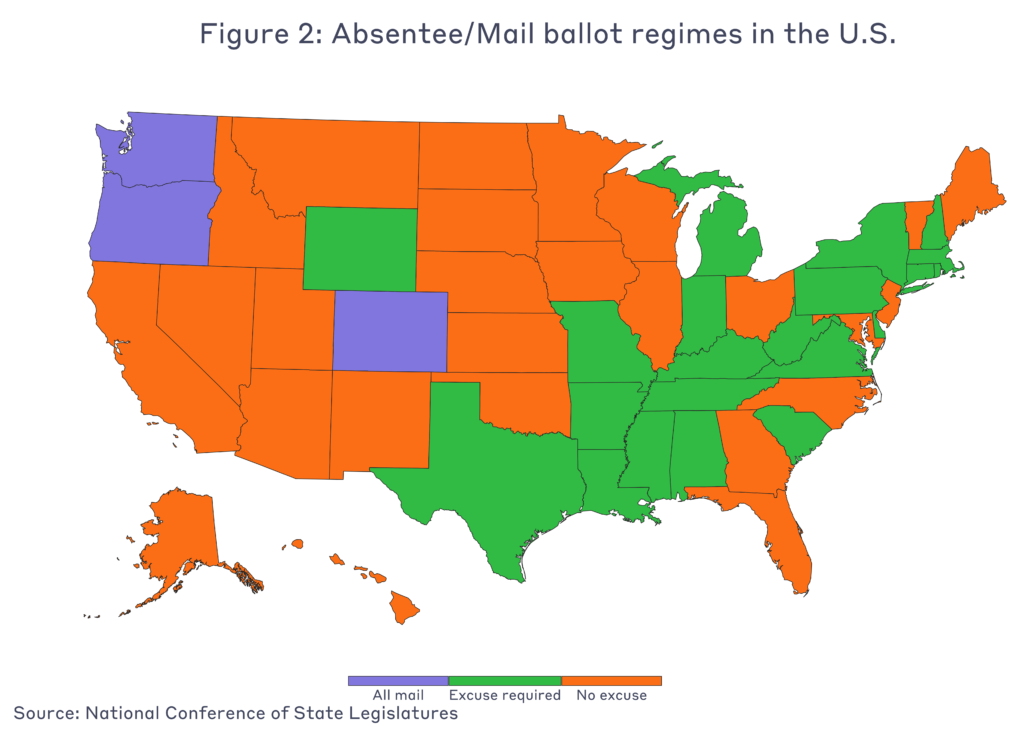 The three 100% vote-by-mail states (Oregon since 1998, Washington since 2011, and Colorado since 2013) are great places for Trump and company to find evidence of their concerns. But, of course, none of this is about evidence for them.
The issue, therefore, for the majority of states is primarily one of distribution. The main problem is really one of capacity, as the no excuse states are not set up to handle the potential volume that would be created if all eligible voters were mailed ballots.
The ongoing attempt to make it sound that vote-by-mail is an invitation to fraudulent elections is a serious and dangerous attempt to undermine confidence in the November elections. That is unbecoming of a run of the mill citizen of the United States and it egregiously irresponsible for any person holding a position of authority. It is, quite frankly, disgusting for the President of the United States to be doing it.
---
Side Note: This whole affair, with Trump and others splitting the difference between absentee and vote-by-mail fits perfectly into what I have been writing about of late. He, McEnany, Walker, and others are trying to exploit partisan frames in the public to create the perception in minds of those predisposed to listen to Republican elites that vote-by-mail is bad. The fact that the exemplar is Oregon, a blue state, helps push that partisan messaging and causes people with a partisan mindset to deploy motivated reasoning to accept Trump's arguments (the same thing happened with voter ID).
I suspect that polling on this question (which probably already had some partisan divide) will see increasing divergence. It will also become more and more a talking point in political media.
At the same time, I expect Democratically mind partisans to themselves becoming more supportive, if not adamantly so, about the value of vote-by-mail.
We are seeing a similar dynamic over mask-wearing. To many people, wearing (or not wearing) a mask in public is a partisan political statement.
---
*Update: a commenter notes the PA added it in 2019 and I have not researched to see if any other states have changed since the map above was constructed.