Trent Franks Is Latest To Resign From Congress Amid Charges Of Sexual Impropriety
Another one bites the dust.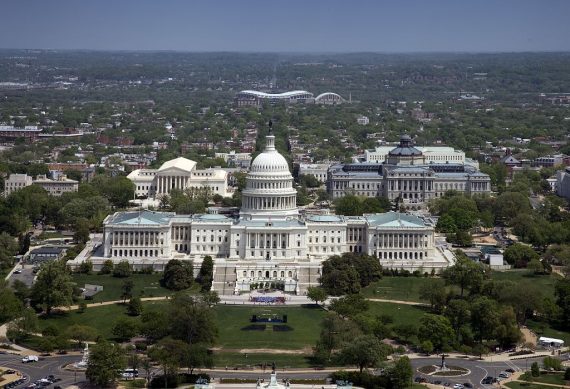 Arizona Republican Congressman Trent Franks is the latest Member of Congress to resign amid allegations of sexual impropriety, although the circumstances of his departure are slightly more bizarre than the other stories we've heard:
WASHINGTON — Representative Trent Franks announced Friday that he would resign from Congress immediately after accusations emerged that he had offered $5 million to a female employee to be a surrogate mother for his children, and that she and another female employee worried that the lawmaker wanted to have sex as a means of impregnating them.

Mr. Franks, Republican of Arizona and one of the House's most ardent social conservatives, had said Thursday that he would leave the House in January, and he admitted that he had discussed surrogate pregnancies with two employees. The House Ethics Committee had opened an investigation into his behavior, and the office of Speaker Paul D. Ryan said in a statement that Mr. Ryan had made it clear that Mr. Franks's actions were intolerable.

On Friday, Mr. Franks changed course and said he would leave immediately because his wife, Josephine, had fallen ill and had been hospitalized in Washington.

"After discussing options with my family," he said in a statement, "we came to the conclusion that the best thing for our family now would be for me to tender my previous resignation effective today."

But revelations about Mr. Franks's conduct made it clearer why the speaker had taken quick action. A House leadership aide confirmed that two aides in Mr. Franks's office believed the congressman was suggesting that he impregnate them sexually. Andrea Lafferty, the executive director of the Traditional Values Coalition, said that one of the women approached by Mr. Franks told her about the encounter last year, and said that Mr. Franks entreated her repeatedly to be a surrogate mother, at one point offering $5 million.

"She rebuffed him many times," Ms. Lafferty said.

According to the Center for Responsive Politics, a nonpartisan organization tracking money in politics, Mr. Franks's net worth sits at nearly $30 million, a figure based on required financial disclosures for House members. Mr. Franks's wealth derives primarily from stock in Trinity Petroleum, where he was chief executive before he ran for Congress.

In an interview, Ms. Lafferty said that she had encouraged the woman to go to Mr. Ryan after meeting her and hearing about the episode last year. Ms. Lafferty, who said she contacted Mr. Ryan's office about the episodes after the woman was "ready to go" with her story, was in Mr. Ryan's office when the Franks aide met with several members of Mr. Ryan's staff.

"I do think that they thought that she brought a credible story," Ms. Lafferty said, one "that they needed to look into."

On Thursday, Mr. Franks said in a statement that he had discussed surrogacy with "two previous female subordinates" because he and his wife, who have struggled with fertility, wanted to have a child, and that he regretted if those conversations had "caused distress."

He denied intimidating or coercing women, and blamed the media climate for what he felt would be an unfair investigation. Mr. Franks and his wife have two children, twins born by a surrogate.

Ms. Lafferty disputed the idea that Mr. Franks had not pushed one of the women to consider surrogacy.

"She is a strong person," Ms. Lafferty said, "and she can handle a discussion of surrogacy. This was not a policy discussion. This was a request with a $5 million payout."
While the details of the conversations that led to Franks' departure are unclear, it's obvious that they involve more than an innocent discussion of the infertility problems that Franks and his wife were having, which is what Franks said at first when he announced that his resignation would be effective January 31st. The fact that money was apparently involved leads to the obvious conclusion that Franks was basically proposing that one of the women involved become the surrogate for the Franks' child and that the offer was made with at least the implication that it would be accomplished not through In Vitro Fertilization, which is, of course, the normal process for such things, but through one of them having sexual relations with Franks himself. Whether or not this was a misinterpretation on their part is unclear, but the fact that Franks resigned seems to make it clear that it was at least interpreted in that manner and that it made the women uncomfortable. Most likely, Franks chose to resign rather than allow the details come out over the next six weeks, although they probably will anyway.
It's unclear at this point how Franks' seat will be filled. Either there will be a Special Election prior to the General Election next year or the seat will remain vacant until that day at which point the candidate who wins would be entitled to take office immediately in addition to being sworn in a full term the following January. Franks himself is, of course, finished in politics, which is notable both because he was a prominent member of Arizona's Congressional delegation who was slowly making his way up the ranks in House leadership and because there was speculation he could become a candidate for the Senate seat being vacated by Senator Jeff Flake. Now none of that will happen.
Franks departure, of course, comes amid a host of allegations of sexual impropriety that have struck the media, entertainment, and business worlds and have moved quickly into the world of politics. In addition to Franks, we've seen resignations by Congressman John Conyers, who was the longest-serving member of the House of Representatives, and Minnesota Senator Al Franken. Additionally, there are credible charges rendered against Texas Congressman Blake Farenthold,  who is now under an Ethics Committee investigation and being pressured to resign. California Congresswoman Jackie Spier, who recently shared her own story of having been sexually harassed in the past, stated that she is aware of at least two currently serving men on Capitol Hill, one from each party, who have been accused of sexually inappropriate contact toward female staffers or other women. In addition to this, there is, of course, President Trump, including both his comments on the infamous Access Hollywood tape and other harassment allegations that came out during the campaign. Finally, of course, Alabama Republican Senate candidate Roy Moore has been credibly accused of various improprieties of a sexual nature with teenaged girls. If the manner in which these allegations have swept through other segments of society is any indication, it's likely that this is only the tip of the iceberg and that we'll be hearing about additional political figures who will be accused of sexual harassment and perhaps even worse. This is clearly only the tip of the iceberg.
In addition to being yet another development in the ongoing sexual harassment disclosures, this latest departure marks a growing trend for the GOP in advance of the 2018 midterms that could prove troublesome. Axios noted yesterday that Franks is the sixteenth Republican to announce either their immediate retirement from office or their decision to retire at the end of the current session of Congress a year from now. This means that there will be at least sixteen Republican seats that will be open on Election Day 2018 or held by people who won those seats in Special Elections and thus have only limited connections to their districts and constituents. As the report notes, many of these retirements are in seats that are safely Republican and likely to remain so next year, but several are in seats that could end up flipping to Democratic control in a year that appears destined to be troublesome for the GOP to begin with. The "magic number," as Axios calls it, is 23. This is the margin by which the Republican caucus leads the Democrats and it's basically the number that Democrats need to shoot for if they are going to take control of the House next year. That task won't be easy, but a large number of open seats could provide them with an opportunity to increase their numbers in the lower chamber of Congress at the very least.