Truck and Bus Driver 'Shortages'
Working conditions rather than labor supply seems to be the issue.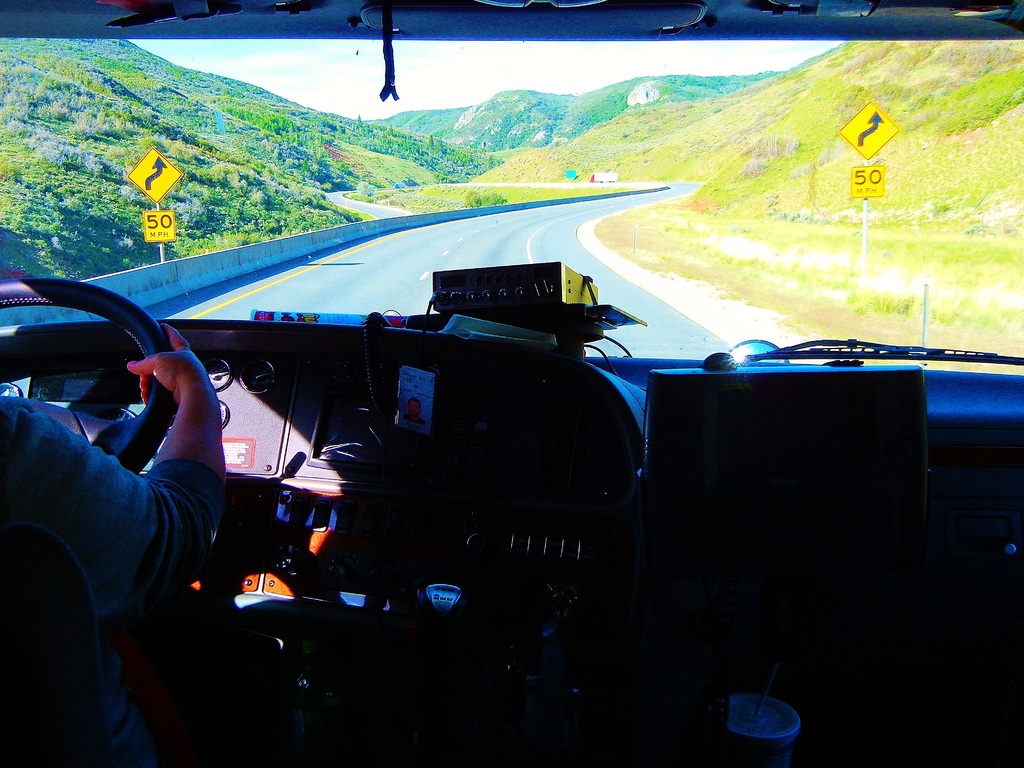 Two related stories go deeper into why we're having so much trouble meeting our demand for drivers.
Time labor columnist Alana Semuels declares, "The Truck Driver Shortage Doesn't Exist. Saying There Is One Makes Conditions Worse for Drivers."
As the U.S. contends with supply-chain problems that could make holiday shopping harder, one explanation comes up again and again: The country doesn't have enough truckers. "The Biggest Kink in America's Supply Chain: Not Enough Truckers," a New York Times story read this week. Where Are All the Truck Drivers? Shortage Adds to Delivery Delays, cried a Wall Street Journal headline the week before.

In reality, there is no shortage of people who want to get into truck driving, nor is there a shortage of people who have obtained commercial driving licenses (CDLs).
Now, in fairness, the NYT and WSJ pieces make this very clear even in the first paragraphs of their stories. But Semuels objects to characterizing the situation as a "shortage."
There's no trucker shortage; there's a trucker retention problem created by the poor conditions that sprung up in the industry in the wake of 1980s deregulation. Turnover for truck drivers in fleets with more than $30 million of annual revenue was 92% at the end of 2020, meaning roughly 9 out of every 10 drivers will no longer be working for that company in a year.

"​​There's no shortage of workers, that's the narrative that gets propagated by industry leaders," says Mike Chavez, the executive director of the Inland Empire Labor Institute, which is working on a partnership to create better recruiting and retention programs for drivers. "We still have a lot of positions that can't be filled because of the working conditions."
Now, again, both the cited stories make this quite clear. The opener of the NYT report:
Facing more than $50,000 in student debt, Michael Gary dropped out of college and took a truck driving job in 2012. It paid the bills, he said, and he could reduce his expenses if he lived mostly out of a truck.

But over the years, the job strained his relationships. He was away from home for weeks at a time and could not prioritize his health: It took more than three years to schedule an optometry appointment, which he kept canceling because of his irregular work hours. He quit on Oct. 6.

"I had no personal life outside of driving a truck," said Mr. Gary, 58, a resident of Vancouver, Wash. "I finally had enough."

Truck drivers have been in short supply for years, but a wave of retirements combined with those simply quitting for less stressful jobs is exacerbating the supply chain crisis in the United States, leading to empty store shelves, panicked holiday shoppers and congestion at ports. Warehouses around the country are overflowing with products, and delivery times have stretched to months from days or weeks for many goods.
The opener of the WSJ report:
Truck driver Chris Wagner pulled his big rig into a grain processing plant in Sidney, Ohio, on a recent afternoon to pick up a load bound for the Chicago suburbs. He'd lost his scheduled place in line because of delays at an earlier delivery, so it was 10:45 p.m. before the plant was ready to load his trailer.

By then, the clock had run out on his federally mandated 14-hour workday, so Mr. Wagner couldn't pull up to the dock. He slept that night in his truck on the plant's lot and left empty-handed the following morning, unable to reschedule the pickup.

"I sat overnight and still never got loaded," said Mr. Wagner, a 53-year-old retired Marine from Lena, Ill., who drives for Quality Transport Co., a small trucking operator based in nearby Freeport.

A critical, often-overlooked link in the supply chain is emerging as a stubborn choke point in the freight-backlog mess: trucking.

Trucks haul more than 70% of domestic cargo shipments. Yet many fleets say they can't hire enough drivers to meet booming consumer demand as the U.S. economy emerges from the pandemic.

The freight backup has intensified longstanding strains in the industry over hours, pay, working conditions and retention.
Both begin with sympathetic anecdotes and cite the crappiness of the jobs. Still, Semuels has a point:
In fact, there are so many truck drivers right now that brokers are able to pit them against each other and worsen conditions, says Sunny Grewal, a Fresno, Calif.-based driver. Grewal, 32, has been driving since 2010, and has a refrigerated truck, which he uses to haul fruits and vegetables. It costs him $1.75 to $2 to drive a mile empty, so any job that pays less than $3 a mile isn't worth it, he says. Yet as brokers see more drivers looking for jobs, they post more loads that pay less and end up requiring a lot of unpaid waiting around. "If they know there are a lot of carriers, they treat you like crap," Grewal says.

He's recently gotten jobs hauling loads of produce, only to arrive and be told the produce hasn't even been picked from the field. He has to wait until it's picked and packaged, and doesn't get paid for the first four hours he waits. There have been times when he's waited 27 hours to pick up a load. Truckers get paid per mile driven, so all that waiting means lost money, especially since federal regulations stipulate that he can only drive 11 hours out of every 24. He only gets paid $150 for a "layover day," which is a day spent waiting. He can't tell brokers he doesn't want to wait around, because they'll find someone who will take the load, especially because rates are high right now.

"If I refuse it, someone else will take it," he told me.

There are other frustrations—even when he has to wait for hours outside warehouses, he's not allowed to use their bathrooms, and he can't leave or he'll lose his place in line. Government regulations mandate that he takes a break every 14 hours (and can drive 11 of those 14 hours), there aren't enough places where he's allowed to park his truck and sleep. Truckers across the country have long complained that the lack of truck parking creates unsafe conditions; Grewal shudders when he hears stories of truck drivers killed while at remote locations.
It's hard to characterize these conditions as other than inhumane.
It's easy to see what attracts so many people to the business. Even $1 a mile is really good money for someone with relatively little education and training. Six hundred miles (10 hours at 60mph) a day for five days is $3000 a week. Do that 50 weeks a year, and you're making $150,000. That's good money even in the DC area, let alone in most of the rest of the country.
Of course, driving 10 hours a day is hard work and doing it day after day would get old quickly for most of us. Still, in an idealized version, there's no boss looking over your shoulder and you can listen to music, talk radio, audiobooks, podcasts, or other entertainment all day. And, again, it's hard to find another job paying that kind of money.
But if you're constantly being jerked around and forced to accept $150 for the day rather than $300—and treated as a subhuman while you're doing it—it quickly gets less attractive, indeed.
Semuels blames the Motor Carrier Act of 1980, signed into law by President Jimmy Carter.
Deregulation essentially changed trucking from a system where a few companies had licenses to take freight on certain routes for certain rates into a system where just about anyone with a motor-carrier authority could move anything anywhere, for whatever the market would pay. As more carriers got into trucking post-deregulation, union rates fell, as did wages. Total employee compensation fell 44% in over-the-road trucking between 1977 and 1987, he says. Today, drivers get paid about 40% less than they did in the late 1970s, Viscelli says, but are twice as productive as they were then.

Now that truck drivers are gig workers, the inefficiencies of the supply chain are making the jobs worse and worse, as Grewal has discovered. "So much of this is about the inefficient use of time. Is there a shortage of truck drivers? Probably not. But they are certainly being used less and less efficiently," Viscelli says. "That's the long term consequence of not pricing their time."

Ironically, the louder the narrative becomes about the "shortage" of truck drivers, the more resources pop up to funnel people into driving. In 1990, the trucking industry figured it needed about 450,000 new drivers and warned of a shortage; in 2018, before the pandemic, the industry said it was short 60,800 drivers.

During the pandemic, government money paid for even more people to attend truck driving school. California paid $11.7 million to truck driving schools in the state in 2020, up from just $2.4 million in 2019, primarily from federal money through the Workforce Innovation and Opportunity Act. The recently-passed infrastructure bill includes initiatives to grow the trucking workforce, including creating an apprenticeship program for drivers under 21 to work in interstate commerce. But the vast majority of the people who pay for truck driving school don't end up becoming truck drivers.
Oh, it gets worse:
Many people take out debt to get a CDL, or enter into what Viscelli calls "debt peonage"—essentially going to school tuition-free but promising to work for a certain trucking company to pay off their debt. But getting your CDL is just the first step, says Wood. After you get your CDL, most drivers have to get further training, where they team up with another driver and learn how to drive and maneuver a truck, by actually doing it on the road. These other drivers are often not specialized trainers—sometimes they only have a little more experience than the newbie driver. This model is especially detrimental to women, many of whom have filed complaints about being sexually assaulted by their partners, who are responsible for determining whether they get the final okay to drive. Long-haul trucking company CRST settled a lawsuit in May brought by a woman who says she was raped by the lead driver, terminated, and then billed $9,000 for her training.

It's during this stage that many people drop out, either because their trainers aren't helpful, or they get intimidated by ice on the road, or because they're not making much money as a team driver. But long-haul trucking companies move a lot of their freight through student-driver partnerships like these. When student drivers quit, the companies just has more trainees to sub in, fed into the industry by the myth of a trucker shortage. "Over-recruiting is the biggest part of the problem," says Wood.
Which is why Semuels dislikes the "shortage" narrative:
Blaming supply chain problems on trucker shortages enables trucking companies to recruit more people and charge them for school, only for the students to realize that trucking, as it exists today, is not a desirable profession.

"We need to find ways to attract, recruit and retain drivers," said Gene Seroka, executive director of the Port of Los Angeles, on a call about supply chain backlogs last month. " We're gonna have to think about new compensation models, benefits packages, etcetera. We want to make this a profession that folks want to come to."
Let's stipulate that Semuels is telling one side of the story and may well be cherry-picking especially egregious anecdotes. It's rather her beat. But, again, the NYT—and even the WSJ—reports she derides in her opener tell a less colorful version of the same story. People are attracted to the industry by the lure of big money and independence and then hit by a reality that is often quite different.
Clearly, a lot of people make driving a truck a long-term career. Doubtless, many of them are in fact doing quite well. But there's clearly a lot of exploitation of an information gap going on as well. The big money doesn't really kick in until you've been on the job for quite some time and most can't or won't put up with the travails long enough to get there. And it's really hard to blame them.
Now, I simply haven't studied this issue enough to have an opinion as to whether deregulation is the root cause of these issues, much less whether re-regulation would do more good than harm. But I agree with Semuels that calling well-qualified people who want to drive trucks but are unwilling to do so for low pay and shabby treatment a "shortage" mischaracterizes the problem and misleads more than it informs.
This is already rather long for a blog post but a related story that I find between tagging this one for commentary really needs to be part of this discussion. It's by FiveThirtyEight's Maggie Koerth and titled "Would You Manage 70 Children And A 15-Ton Vehicle For $18 An Hour?" It begins with some interwoven anecdotes that set it up nicely but that are too long to quote here.
As the [school] bus driver shortage continues, parents and drivers, often women on both sides, have been stretched to the breaking point as they try to do more with less — less time, less money, less help, less of a sense of safety and respect. "This problem existed before COVID, but nobody wanted to hear about it, especially the school districts," said Zina Ronca, a driver supervisor for DuVall Bus Service in West Grove, Pennsylvania, who has been in the industry for nearly two decades. There haven't been enough school bus drivers nationwide for years. But it took a pandemic to make that shortage visible and painful to more than just the drivers themselves.

And in that way, what's happening at Northport Elementary reflects an even bigger problem for schools nationwide. Across the country, reports have documented shortages of substitute teachers, school nurses, cafeteria workers and the paraprofessionals who help teachers manage their workloads and give kids more small-group attention. As with drivers, those shortages existed before anyone had ever heard of COVID-19. The problems were there, waiting, and then the pandemic came along and made them simultaneously more visible and more … just more.

All these jobs are about service and care, at pay scales that simply aren't competitive with jobs that use similar skills but don't require child care balanced precariously on top of other demands. And when the people who do those jobs quit, the effects get tangled up with other parts of the economy and other parts of society. Amid the pandemic, individual workers are making choices for themselves and their families that affect other people's families and jobs in ways nobody quite expected. The bus driver shortage isn't just a bus driver shortage — it's a knot nobody knows how to cut.
The situation is both similar to and different than the truck driver issue. These people do jobs that are essential to the functioning of the society or economy but that aren't much valued unless they're not getting done. Truck drivers get paid considerably more, when they're getting paid, but they're competing against other drivers for loads. School service workers don't get paid much and, because there are so many of them, the costs of changing that would be steep.
At year-round, full-time hours — the way the U.S. Bureau of Labor Statistics calculates an annual wage — the average school bus driver makes more than $39,000 a year. But school bus drivers don't work year-round, full-time hours. "We're only guaranteed four hours of pay a day," Steele said.

There are no paid holidays or sick days, she and other bus industry experts say. Benefits vary from company to company, and there's no guaranteed work at all in summer. "Spring break is all unpaid. Every teacher-compensatory day, every snow day, any time they cannot pay us they will," Steele said. She added that a recent, failed unionization effort among the Robbinsdale bus drivers started in part as a fight for snow-day pay.
I get why we wouldn't pay bus drivers during summer break. We technically don't even pay teachers or college professors for summers (we just stretch their 9-month salary over 12 months). But it's just outrageous to make people accountable for a bus route and then not pay them if school gets canceled for the day; their time was already committed.
Working as a school bus driver means, essentially, needing another source of income. This is part of why the job has long attracted women — particularly mothers — who were able to work while their children were at school. In 2020, the Bureau of Labor Statistics reported that 58.5 percent of all school bus drivers were women. The hours are predictable and short, with a gap in the middle of the day when your time is your own, during which some drivers earn money doing other jobs, like working as a mechanic for the bus company, or doing a different caregiving job in schools. And the job comes with unusual perks like the ability to take the bus home, turning the morning commute into a walk to the driveway. At some bus companies and school districts, drivers have the freedom to take their young children on the bus with them during their rounds — a chance to bring in money without adding to the ever-rising cost of day care.

But it doesn't pay enough to live on. For Steele, the job works only because her partner brings in a paycheck and benefits. Other drivers depend on a second job, performed between roughly 9 a.m. and 1:30 p.m., when they aren't on the clock. LaShawn Favors, a bus driver in the Minneapolis suburb of St. Louis Park, had a second part-time job as a paraprofessional in a school while his wife worked from home in the health-care industry. His route didn't overlap with where his own kids, who lacked reliable bus service, needed to go, so his wife and his daughter's boyfriend were stuck shuttling the kids to and from school while Favors rushed from one job to another and back to the first.
This isn't a new phenomenon, of course. The man who drove my school bus forty years ago, Mr. Green, was an elderly Black retiree who did a little farming on the side. But we're still running too much of the economy (and the school system, in particular) as though stay-at-home moms were the norm and a part-time job to supplement the breadwinner's paycheck was just some extra spending money.
COVID didn't make the job hard, it just made it harder.

Pay is the problem, and COVID made it worse by threatening the unique benefits that kept people driving buses, despite the low pay, to begin with. Older drivers suddenly had to deal with the increased risk of sickness and death, risks that haven't really been properly calculated anywhere. No one knows how many bus drivers are no longer in their jobs because they died from COVID-19 infections acquired on the job, because no one is keeping track.

Other drivers had no real choice but to find other work during the long months when schools were remote and had no need of them, while drivers who were mothers found themselves trying to juggle home and work in a job they'd taken precisely so they wouldn't have to do this in the first place. When schools moved to hybrid systems, the districts needed drivers every day, but those drivers' own kids' schedules may not have been in sync, said Erin Ducharme, vice chair of membership for the Women in Buses Council and an executive at Bloom Tour and Charter Services in Taunton, Massachusetts.
There's a whole lot more to the piece and I commend it to you.
In our long-running national debate over immigration policy, we have become accustomed to hearing about "jobs Americans won't do." But, of course, we're mostly talking about jobs Americans won't do for incredibly low pay, job security, and benefits under horrendous working conditions. We mostly decided that, in agriculture at least, we were willing to import cheap labor rather than change how we treated and compensated people.
In the COVID world, the category of "jobs Americans won't do" seems to have expanded markedly. It's hard to get a complete picture of the economy but it appears that a lot of people simply retired, many of them much earlier than they'd previously planned. And a significant number of second-earners finally realized the modest increase in household standard of living wasn't worth the sacrifice (compounded by erratic school schedules and the "bus driver shortage" making flexibility crucial). Clearly, too, some number of people who were in crappy jobs pre-pandemic have found other ways to make a living. And, again, I don't think we have a handle on the numbers for these categories.
We may not be that far from a future where our long-haul transports, school buses, and taxis are self-driving. That would alleviate the need for humans to do jobs that are inherently unsatisfying while creating the new problem of how those displaced from those jobs will make a living instead. In the interim, though, we're likely going to have to treat the people we need to do those jobs like humans.