Trump And Cruz Split 'Super Saturday' Wins While Rubio And Kasich Struggle To Stay Relevant
Donald Trump and Ted Cruz split the wins on 'Super Saturday,' while Marco Rubio and John Kasich continue to struggle for relevance in the 2016 race.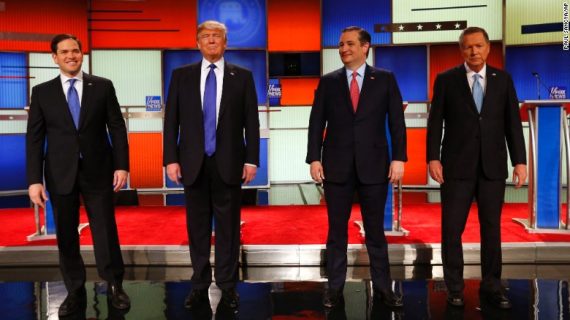 Ted Cruz followed up his win in the Kansas Caucus yesterday with another decisive win in the Maine caucus, but Donald Trump responded with wins in the Kentucky Caucus and the Louisiana Primary. Because of the size of his wins, Cruz picked up some net delegates on Trump, who continues to lead the GOP Delegate Count and who continues to still be on a path that would eventually lead him to a majority of the delegates needed to win the nomination. Nonetheless, last night's outcome showed that the pressure on Trump has indeed stepped up and that the ten days are likely to be crucial in determining the future course of the battle for the Republican nomination:
Senator Ted Cruz scored decisive wins in the Kansas and Maine caucuses on Saturday, demonstrating his enduring appeal among conservatives as he tried to reel in Donald J. Trump's significant lead in the Republican presidential race.

Mr. Trump contained Mr. Cruz's advances by winning in Louisiana and Kentucky. But the Texas senator's wins were sure to energize the anti-Trump forces who are desperately trying to stop Mr. Trump's march to the nomination, and they left little doubt that Mr. Cruz, who has now captured six states, is their best hope.

(…)

The biggest stakes were on the Republican side, and the voters sensed it; turnout in Kansas, for example, was more than double that of 2012. Mr. Cruz won 48 percent of the vote there, while Mr. Trump received 23 percent, Senator Marco Rubio of Florida won 17 percent and Gov. John Kasich of Ohio won 11 percent. The results were tighter in Maine, but Mr. Cruz still easily defeated Mr. Trump there by 13 percentage points. With Mr. Trump's victories coming by smaller margins, Mr. Cruz had the biggest delegate haul of the day, appearing to net at least 15 more than the front-runner.

"I think what it represents is Republicans coalescing, saying it would be a disaster for Donald Trump to be our nominee and we're going to stand behind the strongest conservative in the race," Mr. Cruz told reporters in Coeur d'Alene, Idaho, one of four states with Republican contests on Tuesday.

Boasting of his "breadth of support," Mr. Cruz suggested that it was time for Mr. Rubio and Mr. Kasich to consider dropping out of the race.

"We'll continue to amass delegates, but what needs to happen is the field needs to continue to narrow," he said. "As long as the field remains divided, it gives Donald an advantage."

The results on Saturday represented another stinging setback for Mr. Rubio. He finished a distant third in Kansas, Kentucky and Louisiana, and was fourth in Maine.

Mr. Rubio, who backed out of trips to Kentucky and Louisiana on Friday to make three stops across Kansas, has an increasingly narrow path and is confronting the prospect of a humiliating loss in his own state next week. He has won just a single state, Minnesota, and lags well behind Mr. Trump and Mr. Cruz in delegates.

"The states that voted tonight are states that quite frankly some of my opponents just do better in; we recognized that going in," Mr. Rubio told reporters in Puerto Rico, where he is hoping to find a win on Sunday.

Mr. Trump's losses underlined his continued vulnerability in states that hold time-intensive caucuses: He has lost five of seven such contests. He has performed far better in states holding primaries, which require less organization, and some of which also allow Democrats and independents to vote in Republican races.

Such voters, who can be receptive to Mr. Trump's anti-establishment message, have augmented Mr. Trump's support. But if Mr. Trump is not able to bolster his organization and start performing better in caucuses and states that allow only Republicans to vote, Mr. Cruz may be able to deny him the 1,237 delegates needed to capture the nomination before the convention.

A notably restrained Mr. Trump, addressing supporters and reporters in West Palm Beach, Fla., called on Mr. Rubio to withdraw from the race.

"I want Ted one-on-one, O.K." Mr. Trump said.

While congratulating Mr. Cruz for his two victories, Mr. Trump continued to refer to the senator as "Lyin' Ted" and drew laughs at his rival's expense. "He should do well in Maine, because it's very close to Canada," he said, referring to Mr. Cruz's Calgary birthplace.

Mr. Trump also used the event to warn Republicans against running a third-party conservative, arguing that it would hand the presidency to Mrs. Clinton and let her appoint "very, very, very liberal judges."

Mr. Trump's wins in Louisiana and in the Kentucky caucuses demonstrated the appeal of his mix of pugnacity and populism with working-class voters. But his poll numbers in the states voting on Saturday had forecast a better showing, suggesting that he may have lost votes during the course of the week.

The results suggested that a substantial number of Republicans were still uneasy about Mr. Trump: He finished above 40 percent in just one state. It was an indication that the growing campaign to deny Mr. Trump the nomination may not be a pointless exercise. The Stop Trump campaign was joined last week by Mitt Romney, who delivered a blistering attack on the Republican front-runner, portraying him as a threat to the party and the nation. And Mr. Trump reinforced questions about his candidacy at adebate on Thursday by making a barely veiled reference to his penis.
The fact that Trump didn't sweep the board last night seems to be guiding the media coverage today to suggest that his campaign may be entering a new, more difficult phase where victories will be narrower, delegate wins will be smaller, and the path to that 1,237 majority that he needs will become more difficult a time goes on. Perhaps that will all end up being true, but it strikes me that it's premature to start saying any of that and that it's more important to pay attention to what happens over the next ten days than put too much importance on the outcome of four contests on a Saturday in March. Donald Trump still leads the race for the nomination, and he still holds leads in the polling averages in important states such as Michigan, Ohio, and Florida. He's also leading in several others states that have primaries on March 15th, If he's able to keep up that momentum, then what happened last night would look like a minor bump in the road at the very worst. If, on the other hand, we start seeing signs that Trump's momentum is fading then it may be time to start discussing whether the #NeverTrump movement is having an impact at the polls. For now, though, it's far to early to say for sure either way.
As for the other big player last night, it was indeed a good night for Texas Senator Ted Cruz. He was able to score big victories in two more states, to add to his delegate total and cut at least a little bit into the lead that Donald Trump has on that end of the race, and to put more distance between himself and Marco Rubio. His wins also add further weight to his argument that, so far, he is the only candidate who has shown an ability to beat Trump more than once, a fact that will likely cause him to continue to make the argument that conservatives should unite behind him to stop Trump rather than continuing to divide the anti-Trump vote going forward. Indeed, the idea of a one-on-one fight is something that both Trump and Cruz are both relishing at this point, a fact that seems to be causing anti-Trump Republicans to think that Trump may be walking into a trap. For all of Cruz's success last night, though, there are some important facts about his candidacy that suggest that his appeal going forward may be limited and that he may not be the best candidate to take on Trump after all.
Aaron Blake explains why in The Washington Post, and he starts out by noting that, like Mike Huckabee in 2008 and Rick Santorum in 2012, Cruz in 2016 seems to be settling into a pattern where his wins are coming from two sources, wins in southern states, one of which is his home state, and in caucuses that are far less representative of the electorate as a whole than primaries:
Two categories. Like Santorum and Huckabee, Cruz is winning something. Given that Sen. Marco Rubio and Gov. John Kasich, well, aren't winning much of anything, that's good for him.

And as we noted late Saturday night, Cruz's performance will also likely give him a shot in the arm. That goes double because he appears to have done very well among Louisianans who actually voted Saturday — versus early voters.

But let's not confuse what Cruz has done so far with winning big states that portend future success. Cruz, to his credit, won Iowa. Since then, he has won a few small and less-emphasized caucuses. And he has won his home state of Texas and a neighbor with which it shares many of the same qualities, Oklahoma. Even his late but unsuccessful surge Saturday came in Louisiana — another state that borders Texas.

The difference between Cruz and Santorum/Huckabee, at least so far, is that they are winning different parts of the South. Indeed, if anything, Santorum and Huckabee were better Southern candidates than Cruz is, carrying three and two Deep South states, respectively. Cruz has lost all four Deep South states that have voted so far.

With the vast majority of the South now having voted, and with caucuses in small states offering limited delegate prizes, this is not a path that Cruz can ride to victory. He needs to win big-state primaries in different parts of the country. Maybe Saturday's results will spur some momentum elsewhere! Maybe they will lead Rubio and Kasich to drop out, thereby helping Cruz! Or maybe the takeaway is that Cruz can't even win in the South.

If nothing else, claiming several victories so far could help Cruz stake his claim to being the only candidate who can beat Trump. At this point, that's a fair and valuable argument to make — even if it's unlikely to get Rubio and Kasich out of the race before both their home states vote on March 15.

So while Cruz has proven he can win states, he hasn't yet proven he can win the kinds of states he needs to. And until he breaks out of the unsuccessful mold set by Santorum and Huckabee, the math will continue to be difficult for him.
Ted Cruz isn't the only Republican candidate with a question hanging over his campaign, of course. Florida Senator Marco Rubio once again went through a round of primaries where he came in a distant third place behind Cruz and Trump, in some case doing so poorly in a contest that he failed to pick up even a single delegate to the point where he is nearly 250 delegate behind Trump and 170 delegates behind Ted Cruz. With eighteen contests in the GOP race finished, he has only won one race so far, the caucus in Minnesota, and notwithstanding the fact that he is likely to win today's caucus in Puerto Rico, it's rather obvious that Rubio's campaign is in serious danger of being eclipsed and rendered irrelevant. Despite this, and the despite the fact that he's done no better than third place in the vast majority of contests, Rubio continues to contend that everything is just fine:
SAN JUAN, Puerto Rico — Marco Rubio brushed off his disappointing night Saturday after another round of losses and insisted his fortunes would shift on March 15, when states award their delegates on a winner-take-all basis.

"These states have a certain profile that other candidates do better in," he said of Kansas, Kentucky and Louisiana, all of which voted Saturday and went for his opponents, Ted Cruz and Donald Trump.

But he framed his losses in all three states — after a three-stop barnstorm of Kansas on Friday — as part of his overall strategy to amass enough delegates to make a play for the nomination in the long run.

"What you need to understand is that all of these states are awarding delegates by proportion. So tonight, we will have more delegates than we did last night."

He also said the states that have yet to vote will be more favorable for him going forward. "This map only gets better for us as we move forward in some of the other states," he said. "We're soon gonna be in the winner-take-all process…that's where we feel very confident as we move forward."

Rubio also insisted he had expected the setbacks he's faced in some of the recent primary states all along.

"We knew this would be the roughest period in the campaign give the makeup of the electoral map," he said.

But his losing streak — Rubio has won only one state out of the handful that have already voted, and both Cruz and Trump continued to widen their delegate leads on Rubio on Saturday night — ups the ante for him to win his home state of Florida, which votes on March 15.

It awards all of its 99 delegates to whomever wins the state, and Rubio's fortunes increasingly hinge on his success there. Rubio acknowledged this to the press before his Puerto Rico rally on Saturday night.
The problem for Rubio is that, right now, things aren't looking very good for him in Florida. Donald Trump continues to lead there by an average of 18.7 points according to RealClearPolitics and 15.5 points according to pollsters. More importantly, there are few signs of a surge toward Rubio happening, at least not yet. Given how he has done in other states, failing to win Florida outright would seem to be a massive failure on Rubio's part and would raise questions of whether he can or should proceed beyond there.
John Kasich, meanwhile, was mired in fourth place in all three races last night as he has been in most contests with the exception of New Hampshire and Vermont, but he's playing for time in the hope that wins in Midwestern states like Michigan and Ohio will boost his relevance going forward. As with Rubio, though, Kasich's firewall is less than meets the eye. In Michigan, Trump currently has a 17.5 point lead in the RealClearPolitics poll average and leads by double digits in polling released this morning by NBC News/Marist and CBS News/YouGov. Some people were jumping all over an ARG poll released yesterday that showed Kasich leading by two points in Michigan, but that now appears to be an outlier. The situation in Ohio is murkier because there hasn't been any polling there since mid-February, at which point Trump had a slight lead over Kasich in the Governor's home state. Kasich could perhaps survive a loss in Michigan, but it seems unlikely that he could survive losing a primary in his home state while he is the sitting Governor there. So, Kasich still very much has an uphill battle ahead of him.
So the big take away from "Super Saturday" is that Ted Cruz made some progress in chipping away at Donald Trump's delegate lead, but it doesn't seem like it was enough to truly stop his momentum. Additionally, Cruz has yet to prove that he can win anything other than southern states, which are mostly finished voting, and caucus states, of which there are not many remaining other than a handful that will hand out a small number of delegates. Marco Rubio, meanwhile, has yet to prove himself anywhere other than Minnesota and is increasingly looking like a long shot candidate who will likely be out of the race shortly after March 15th, and John Kasich is a candidate who could be viable going forward but must actually win some states in the next ten days in order to convince people that he has a viable candidate rather than just a flash in the fan who has shown some signs of strength in Northeastern states such a New Hampshire and Vermont. What all this tells us is that Donald Trump is still in the driver's seat of this race, and it seems like he's likely to remain there.