Trump and Hong Kong
Trump takes credit for stopping his "friend" Xi from attacking Hong Kong protesters.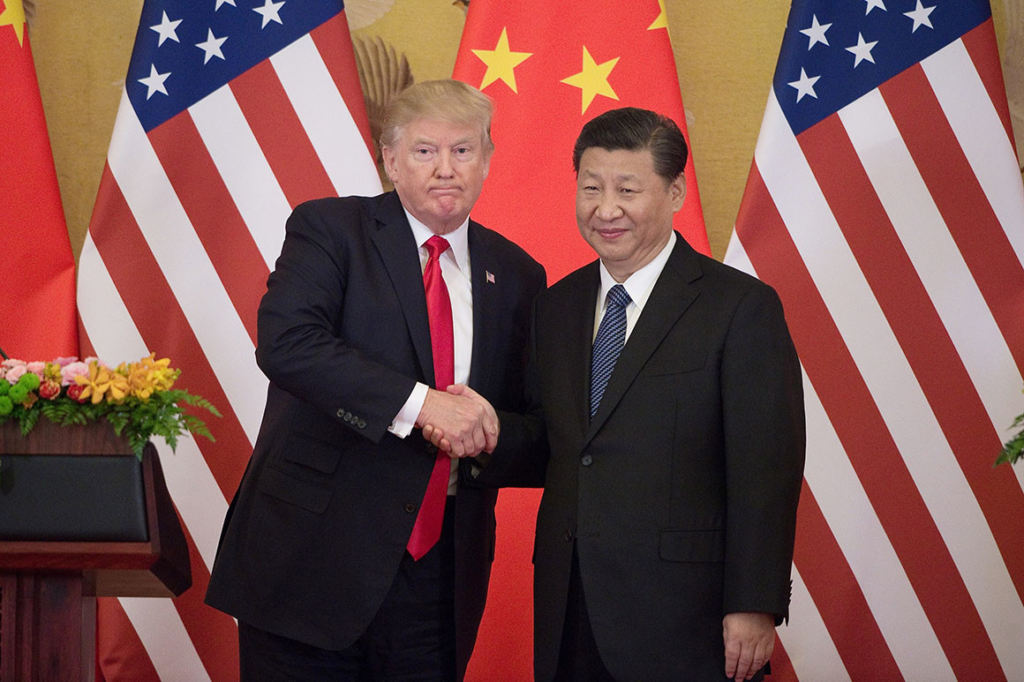 The following set of statements by Trump made (where else) on Fox & Friends are just, well, odd:
"We have to stand with Hong Kong, but I'm also standing with President Xi [Jinping]," Trump said on Fox & Friends. "He's a friend of mine. He's an incredible guy. … I stand with freedom, I stand with all of the things that I want to do, but we are also in the process of making one of the largest trade deals in history."

[…]

"If it weren't for me, thousands of people would have been killed in Hong Kong right now. And you wouldn't have any riots. You'd have a police state. … The only reason he's not going in is because I'm saying, `It's going to affect our trade deal, you don't want to do that,' " Trump said.

Source: "Ted Cruz vows that Congress will override Trump if he vetoes bill denouncing China's crackdown in Hong Kong," The Dallas Morning News.
First, I am not sure how one can "stand" equally Hong Kong and with Xi, although I will acknowledge the situation is politically fraught for the US. But, one thing is for sure: standing with Xi is not standing with freedom in this context.
Second, Trump calls Xi "a friend of mine" but he then stands "thousands of people would have been killed in Hong Kong" save for Trump's alleged intervention. So, his "friend" Xi, with whom he "stand[s]" would have killed thousands save for Trump's intervention? So, great guy to have as a friend and boy, someone really thinks highly of themselves.
Another version of the above:
"If it weren't for me, Hong Kong would have been obliterated in 14 minutes. He's got a million soldiers standing outside of Hong Kong that aren't going in only because I ask him, `Please don't do that. You'll be making a big mistake. It's going to have a tremendous negative impact on the trade deal,' " he said on Fox. Asked Friday afternoon at the White House whether he will sign the bill, he told reporters: "It's being sent over. We're going to take a very good look at it."
And, of course, he thinks it all is about the trade deal. Where are the words in support of freedom, democracy, and human rights?
Meanwhile, Congress is acting:
On Tuesday, the Senate approved the Hong Kong Human Rights and Democracy Act on a unanimous vote. The House approved it the next day 417 to 1.

[…]

The bill authorizes sanctions on Chinese and Hong Kong officials involved in human rights abuses. Chinese officials have denounced the measure as meddling in their country's internal affairs.

Trump's assessment that it would complicate trade talks is widely held. 
By the way, I am sure it will complicate the trade negotiations. But first, some things are more important than a trade deal. Second, can I point out that we wouldn't need to be negotiating at the moment had Trump not started an unnecessary trade war?
To Ted Cruz's credit, he noted:
In response to Trump's threat, Cruz vowed that Congress will override any veto.

"President Xi and the Chinese Communist Party cannot silence the United States Congress. In case they aren't familiar with how our Constitution works, the Hong Kong Human Rights and Democracy Act passed the House and Senate by overwhelming veto-proof majorities and it will become law. This was a true bipartisan moment and a clear signal to the rest of the world that political threats from corrupt regimes will not stand in the way of America supporting the millions of freedom fighters in Hong Kong," he said.

[…]

"The police brutality that we have seen and the Chinese Communist Party's larger assault on the people of Hong Kong has been shameful," he said, noting that last weekend police used tear gas and rubber bullets on university students "peacefully protesting that brutality," turning their campus into a "war zone, where no one was safe."
"Today," he said, "we have the opportunity to tell the world, these blatant human rights attacks and this campaign to bully Hong Kong into submission are not OK and America won't stand for it."
That Trump wants to underscore his friendship with someone that he thinks would order the deaths of thousands for the crime of pro-democracy protests, and that he is more worried about trade talks than human rights, is just another example of his unfitness for office. It certainly is yet another example of his indifference to global democracy and his willingness to support, indeed befriend, authoritarians.
It is worth noting that Trump is being nicer to Xi than he was to key allies at various G7 and NATO meetings.