Trump And Kim Jong Un To Meet Again Next Month
President Trump and North Korean leader Kim Jong Un will meet again in February, but it's hard to see why.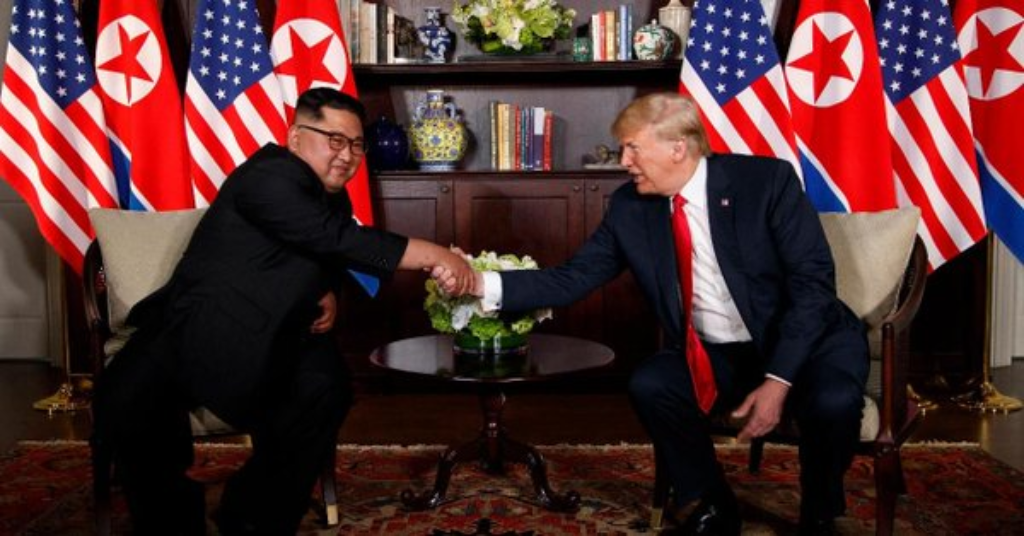 Late last week it was announced that President Trump and North Korean leader Kim Jong Un would hold a second summit meeting at some point in February:
President Trump will meet with North Korea's leader, Kim Jong-un, in late February, the White House announced on Friday, renewing a high-level diplomatic dialogue that has eased tensions with a rogue nuclear state but has shown no progress in eliminating its nuclear arsenal.

A White House official said the date and the location of the meeting would be announced later, suggesting either that the Trump administration was seeking concessions from the North Koreans before Mr. Trump committed to the meeting or that the two sides were still haggling over the site and other logistical details. Vietnam, Thailand and Hawaii have all been mentioned as potential settings.

The announcement came after a 90-minute meeting in the Oval Office between Mr. Trump and Kim Yong-chol, a former North Korean intelligence chief, who has acted as the top nuclear negotiator for Mr. Kim. Mr. Trump, who had made a celebratory appearance after a session with the intelligence chief last June to announce his first meeting with Mr. Kim, this time stayed out of sight.

But his press secretary, Sarah Huckabee Sanders, told reporters, "We've continued to make progress."

The United States, she said, will keep sanctions against North Korea in place until Mr. Kim agrees to surrender his arsenal. She added that the North had shown "good faith" in releasing imprisoned Americans.

Still, the very fact that Mr. Trump agreed to a second meeting with Mr. Kim — after North Korea's failure to begin dismantling its arsenal following their first meeting in Singapore last June — is a sign of how quickly the president has backed away from his initial insistence on swift disarmament by Pyongyang.

And it raised anew the question of whether Mr. Trump will enter a second summit meeting better prepared than he was in Singapore. While Mr. Trump emerged from that meeting brimming with optimism and declared on Twitter that there was "no longer a Nuclear Threat from North Korea," American intelligence officials have concluded that the country continues to produce nuclear fuel, weapons and missiles.

Mr. Trump has said in recent months that he does not expect the negotiations to produce a quick result, arguing that the halt in nuclear and missile testing by North Korea for the past 13 months — and his personal relationship with Mr. Kim — had taken the urgency out of the disarmament issue.

"I got all the time in the world," the president said in New York in September. "I don't have to rush it."

Mr. Kim, for his part, has balked at dealing with anybody but Mr. Trump. He rebuffed Secretary of State Mike Pompeo, whom Mr. Trump put in charge of the negotiations, and told the president in a letter that he preferred to deal directly with him.

There have been no substantive working-level negotiations between the two sides since last fall. While Mr. Pompeo emerged from a meeting with Mr. Kim in October declaring that the North Korean leader told him "he's ready to allow" inspectors into a nuclear testing site that the North had blown up, that inspection has yet to happen.

Larger issues of inspection will hang over the next meeting as well. One subject under discussion with the North, according to officials of several countries briefed on the talks, is whether the country would "freeze" its nuclear fuel and weapons production during negotiations, so that the country's arsenal does not grow while talks drag on.

"But that would require highly intrusive inspections, across the country," said Jung Pak, a former senior C.I.A. analyst now at the Brookings Institution. "Previous negotiations have fallen apart because of our insistence on those inspections. And who is going to take North Korea's word on whether it is truly freezing its program?"

Some analysts and diplomats said they worried that by agreeing so readily to another meeting, Mr. Trump was inviting the same situation as in Singapore — a press extravaganza that produces little in the way of concrete achievements.

"You have to be afraid that we are playing into North Korea's hands," said Joseph Y. Yun, a former State Department official who has negotiated with the North. "They want to wait, and have as much time as possible elapse when they don't do anything significant to denuclearize, and become accepted regionally and globally as a nuclear state."
Today, Bloomberg News is reporting that the second summit will take place in Vietnam, although both the exact location and the date have yet to be finalized:
Administration officials are planning for President Donald Trump's second summit with North Korean leader Kim Jong Un to take place in Vietnam, said people familiar with the plans.

The White House announced on Friday that Trump would meet Kim in late February, following a 90-minute meeting between the president and Kim Yong Chol, one of the North Korean leader's top aides. The pair discussed denuclearization and a second summit, the White House said at the time. Kim Yong Chol also met Friday with Secretary of State Michael Pompeo.

Trump and Kim held their first meeting in Singapore in June.

The February summit is likely to take place in Hanoi, the capital, but Danang, site of the 2017 Asia-Pacific Economic Cooperation meeting, and Ho Chi Minh City in the country's south have also been discussed as possible venues.

Neither the administration nor the North Koreans offered much else after Friday's meetings about what they'd agreed to and what would be gained from the planned summit.

That only raised more questions because so little progress has been made toward the U.S.'s ultimate goal — getting North Korea to give up its nuclear weapons — since the first meeting between Trump and Kim.

The prospect of another meeting with Kim, the enigmatic leader with whom Trump's struck an unlikely rapport, offered him a departure from the partisan stalemate over the U.S. government shutdown and the continued drip of investigations into his Russia dealings.
All of this comes some seven months after the historic first meeting between Kim and President Trump, which  the Administration and the North Koreans both hyped as a significant development even though it was clearly little more than a photo opportunity in which the two parties shook hands and signed off on a statement that ended up meaning far less than met the eye. While the President quickly claimed that North Korea was no longer a nuclear threat to the United States, the reality of what has actually occurred is far more complicated. On the positive side, I suppose, there's the fact that the two nations continued to meet with each other rather than hurl insults and heated rhetoric at each other via the DPRK's state television network and the President's Twitter feed. After all, as Winston Churchill once put it, it is better to jaw-jaw than to war-war. The main forum for those meetings has been discussions between Secretary of State Pompeo and Kim Yong Chol, a General who serves as the Vice Chairman of the DPRK's Communist Party, acting as the chief North Korean diplomat, and it was after one of those meetings in New York City on Friday that the North Korean representative was brought to the White House to meet with President Trump. Previously, though, the North Koreans had complained about what they referred to as a "gangster-like" attitude among Americans and it's difficult to point to any actual positive benefits that have come from those meetings between Pompeo and his North Korean counterpart. The one other positive development out of the summit is the fact that the North Koreans have turned over the suspected remains of more than 100 American and other soldiers who were killed during the Korean War and there have already been some successful identifications made from those remains.
When you actually examine what has happened since the summit, both in terms of the DPRK's actions and its rhetoric, it's clear that there was not nearly as much progress made at the summit as the Administration would like the public to believe. Immediately after the summit, for example, it became clear that there was no agreement on the part of the North Koreans to "denuclearize" in the manner that the United States understands it. Within weeks after the summit, for example, it was reported that North Korea was increasing production of the fuel needed to make additional nuclear weapons and that it was concealing the existence of ongoing nuclear weapons research at secret facilities well hidden from both surveillance and, most likely, the ability of the United States to take the sites out in a military strike. Additionally, it became apparent in the days after the summit that the much-publicized destruction of the DPRK's primary nuclear weapons test site, a much-hyped pre-summit event that was witnessed by American and other international journalists, was much less than met the eye and that the site could easily be rebuilt if needed in the future. Weeks later, we learned that the DPRK had also begun work on the construction of new ballistic missiles at yet another secret site.
So now here we are on the verge of a second summit between that two leaders and it's becoming apparent that the reality of what had been accomplished at the first summit did not meet the rhetoric. The actions that the DPRK as engaged in are not what one would expect from a nation that had agreed to "denuclearization" in the sense of giving up their existing nuclear weapons program. Additionally, analysts who have seen satellite images say that the DPRK has made a second large nuclear reactor operational. This type of reactor is capable of making plutonium which is, of course, one of the main fuels used in the production of nuclear weapons. This new reactor can reportedly make four times as much plutonium as North Korea's current reactor, which has been the source for the plutonium needed for its nuclear arsenal to date.
Finally, and most recently, the North Koreans have returned to some of the more confrontational rhetoric that we've seen from them in the past.
In December, for example, they once again made clear what they meant by denuclearization, and that it is far different from what the United States and even the South Koreans mean. When the United States talks about "denuclearization," it is principally referring to the idea that the goal of these current talks, indeed perhaps the only goal, is for the DPRK to give up its nuclear weapons, its weapons research program, and its ballistic missile program. Leaving aside the fact that the regime in Pyongyang is unlikely to do this simply because the existence of the nuclear arsenal they do have is perhaps the best deterrent available to guarantee the survival of the regime, this stands in stark contrast to what the North Koreans mean when they talk about "denuclearization." For them, it means the removal of all American troops from South Korea if not the entire region, including Japan, and the lifting of the so-called nuclear umbrella that the United States has in place which essentially reserves the right to use nuclear weapons in response to any attack on its allies in Seoul, Tokyo, or elsewhere in the region. The Trump Administration either seems to not understand it or, at least in its public statements, refuses to recognize this reality. Kim Jong Un drove this point home during his New Year's Day address earlier this month in which he stated that his country would move forward with its nuclear weapons program unless sanctions against his country were lifted.
Taking all this into account, it's hard to see what can be accomplished at a second summit meeting, especially since there's no indication that there is anything approaching a formal agreement between the two nations that could form the centerpiece of such a meeting. As I've said in the past there are things that could be accomplished if these negotiations were approached realistically. Tensions on the Korean peninsula, which have been on a razor's edge since the end of the Korean War and ramped up significantly during the tit-for-tat exchanges that took place between President Trump and the North Korean leader throughout 2017, have calmed down significantly over the past year. Additionally the relationship between North and South Korea appears to be better than it has been in several years during which the DPRK was engaged in provocative action such as firing missiles at a South Korean naval base and attacking a South Korean naval vessel. Making those changes permanent would be a good thing. Additionally, more formal negotiations aimed at bringing the Korean War to a formal end should be pursued, as should agreements designed to ease the conventional arms standoff across the Demilitarized Zone. However, as I have noted before (see here and here), if the United States continues to insist that the ultimate goal of these talks is the idea that North Korea will give up its nuclear arsenal, then these talks are doomed to fail. If this second summit moves talks in that direction then perhaps it might actually be a success. If all it does is end up being a repeat of Singapore, then it will once again be little more than a public relations stunt.