Trump and Latin America
Trump isn't going to win any regional popularity awards in LA.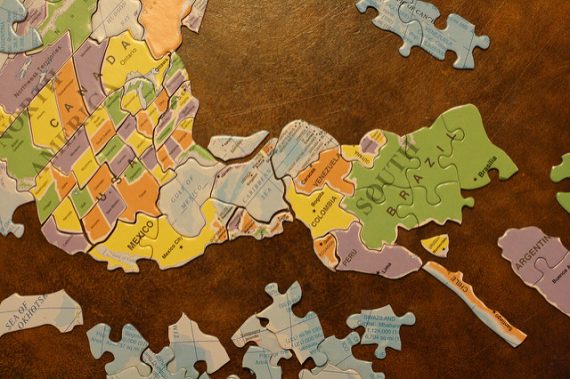 It is hardly an original observation that President Trump did not come into office as a front-runner for "Most Popular POTUS in Latin America." However, as I was preparing for a seminar on US-Latin American relations it struck me as to how historically anomalous this administration is vis-à-vis the region.  Most presidents for roughly a century have approached Latin America in one of two ways:  by explicitly criticizing the previous administration's treatment of the region/promising to do better during the campaign/early in the administration (see, e.g., FDR, JFK, Carter, George W. Bush) or basically ignoring the region in the campaign (e.g., Eisenhower, Nixon, Obama).  And there have been a number of presidents well-received in the region in terms of outreach, such as the aforementioned FDR and JFK, as well as George H.W. Bush.  Of course, all of these assessments are broad-brushed and would require significant further discussion and several caveats are needed.  I will further note that Latin America is rarely a major topic in a campaign, although relations with Mexico often do figure prominently. If anything, given the significance of the US in the hemisphere, every president has been consequential to the region (except, perhaps, Ford) whether they set out to be or not.
On balance, the following rhetorical pattern was not unusual:  criticize the old administration, promise change, and then get distracted by the rest of the world.
For example, here is the previous Republican President, George W. Bush, from the 2000 campaign:
Charging that the Clinton administration had neglected Latin America, Gov. George W. Bush pledged today to put those countries at the center of his foreign policy agenda and outlined a way of thinking about the region that placed it on a par with American interests in Europe and Asia.

 Mr. Bush's remarks, at Florida International University in Miami — a site chosen by his campaign for its cultural, ethnic and immigrant links to Latin America — were part of an indictment of the administration, which he said had pursued an aimless strategy in Latin America of "summits without substance."
From there, President Bush's first foreign trip:
US President George W Bush and Mexican President Vicente Fox have promised greater cooperation in trade, dealing with illegal drugs, and immigration.

[…]

Mr Bush, visiting Mexico on the first foreign trip of his presidency, said the two countries were "bound together by ties of history, family, values, commerce and culture."
But then, 9/11 happened.   (Indeed, Secretary of State Colin Powell was in Latin American when the attacks occurred).
Via the DMN:  Once solid, the George W. Bush-Vicente Fox partnership faded after 9/11
Via CNN:  After 9/11, U.S. left Latin America at the altar
Via the NYT:  Latin Allies of the U.S.: Docile and Reliable No Longer
Mr. Bush, who speaks Spanish and grew familiar with Latin American issues during his tenure as Texas governor, came into office promising to improve relations with the countries of the region. He began his presidency by emphasizing his friendship with Mr. Fox. Since Sept. 11, 2001, however, Mr. Bush's attention has been focused on other regions. One expert described the president's visit to Monterrey, Mexico, the site of the next week's meeting, as "a second coming out" in the neighborhood.

Latin American leaders say they are newly pragmatic in their relations with the United States. They are also unafraid to challenge Washington, even in the face of considerable pressure.

The most pointed example of such independence was the refusal of most Latin American nations to support the American-led war in Iraq. In the United Nations Security Council, Chile and Mexico opposed a resolution authorizing force in Iraq, and only 7 out of 33 Latin American and Caribbean nations supported military action.
To touch on some of the policy activity of that administration:  Bush did fail, on the domestic level, to get immigration reform through Congress.  His administration did continue to work closely with partners in the region on counter-narcotics (indeed, expanding the drug war in Colombia under the umbrella of the "War on Terror").  In terms of trade, CAFTA-DR was negotiated and passed and the free trade agreement with Panama enacted right before he left office.  His administration also completed principle negotiations with Peru and Colombia (but those would not be completed until the Obama administration).
Trump, however, neither promised positive attention to the region, nor did he ignore it.  Instead, who can forget this from the announcement of his candidacy?
When Mexico sends its people, they're not sending their best. They're not sending you. They're not sending you. They're sending people that have lots of problems, and they're bringing those problems with us. They're bringing drugs. They're bringing crime. They're rapists. And some, I assume, are good people.

But I speak to border guards and they tell us what we're getting. And it only makes common sense. It only makes common sense. They're sending us not the right people.
So, a big middle finger to our neighbors to the south, as well as an accusation that it was conscious policy on the part of Mexico to send drugs, crime, and rape.
He even generalized to the region:
It's coming from more than Mexico. It's coming from all over South and Latin America, and it's coming probably— probably— from the Middle East.
During the campaign he later added the phrase "bad hombres" to the political lexicon.  All of which was part of one of his major campaign promises:  the construction of a wall on the southern border (that, of course, Mexico would pay for).
In office he has promoted harsher enforcement of immigration rules, continued to promise a wall, is threatening to suspend DACA, and wants to renegotiate NAFTA.
Here are two tweets from just this week regarding policy on Mexico:
With Mexico being one of the highest crime Nations in the world, we must have THE WALL. Mexico will pay for it through reimbursement/other.

— Donald J. Trump (@realDonaldTrump) August 27, 2017
We are in the NAFTA (worst trade deal ever made) renegotiation process with Mexico & Canada.Both being very difficult,may have to terminate?

— Donald J. Trump (@realDonaldTrump) August 27, 2017
Not exactly trying to make friends to the south.
In regards to the rest of the hemisphere, the president isn't exactly winning plaudits, either. For example, he inexplicably said the following about the burgeoning crisis in Venezuela (via the NYT):  Trump Alarms Venezuela With Talk of a 'Military Option'
"We have many options for Venezuela, including a possible military option, if necessary," Mr. Trump said.
Not only is this, as I said at the time, nonsensical, it is exactly the kind of statement that would garner a very negative reaction in the region.  For example, the reaction by Colombia's Juan Manuel Santos, arguably the US' strongest ally in the region, sums up the situation:
Santos said no Latin America country would accept any form of U.S. military intervention in Venezuela and that it should never even be considered. Recalling more than a century of U.S. military action throughout Latin America, Santos said no Latin leader wants "that phantom" to reappear.
Indeed, any hint of intervention is a great way to cause concern, if not anger, in entire region, given the history of almost the entire history of US-LA relations.
As such, Vice President Pence's speech in Panama during his recent trip is worth noting.  In that speech he made an odd choice in term of presidential comparisons (emphasis mine):
And in President Donald Trump, I think the United States once again has a President whose vision, energy, and can-do spirit is reminiscent of President Teddy Roosevelt.  Think about it.  Then, as now, we have a builder of boundless optimism, who seeks to usher in a new era of shared prosperity all across this new world.  Then, as now, we have a leader who sees things not just as they are, but for what they could be.  And then, as now, we have a President who understands, in his words, "A nation is only living as long as it is striving."

And just as President Roosevelt exhorted his fellow Americans to "dare to be great," President Donald Trump has dared our nation to make America great again, and we'll do it with all of our friends in the world.
Theodore Roosevelt is not exactly well-loved in the region and was known as a major proponent of intervention.  Indeed, TR is know for adding the "Roosevelt Corollary" to the Monroe Doctrine (emphasis mine):
Any country whose people conduct themselves well can count upon our hearty friendship. If a nation shows that it knows how to act with reasonable efficiency and decency in social and political matters, if it keeps order and pays its obligations, it need fear no interference from the United States. Chronic wrongdoing, or an impotence which results in a general loosening of the ties of civilized society, may in America, as elsewhere, ultimately require intervention by some civilized nation, and in the Western Hemisphere the adherence of the United States to the Monroe Doctrine may force the United States, however reluctantly, in flagrant cases of such wrongdoing or impotence, to the exercise of an international police power.
This was a clear, public justification for US intervention into the internal affairs of Latin American states by the US.  And, indeed, the US was on the front end of a multi-decade period of intervening, which had included helping to engineer Panamanian independence from Colombia so the US could build the canal (which it would essentially annex for almost a century).
As such, having Trump talk about military options in Venezuela and then have Pence compare Trump to Roosevelt is not going to go over well in region.
Additionally, Pence made a common rhetorical mistake:  his exhortation about Roosevelt used the terms "Americans" and "America" in a self-referential, possessive sense to refer to just the US.  This rankles many Latin Americans who live in North America, Central America, and South America.  If Pence was going to drop MAGA in Panama, his speech writers probably should have at least talked about making the Americas great again.  The exclusive claiming of "America" (which yes, is part our name, but not exclusively so) is rhetorically problematic in context, especially, again, when citing Teddy Roosevelt as a model for US greatness.
To sum up:  Trump started his candidacy utterly deriding a key Latin American partner, as well as tossing the entire region under the proverbial bus.  At least two of his signature issues (the wall and NAFTA) represent double middle fingers to Mexico, and he is using rhetoric and posturing in a way to evoke American intervention in the region.  And he isn't even a full year into term.
I will grant, the likelihood of actual military intervention is low (hopefully nonexistent), and since Trump is unlikely to encourage coups in the region (à la Nixon) or fund civil wars (à la Reagan) he won't go down as the least popular US president in the region, but he is doing nothing to actually enhance US-LA relations, indeed, he is actively undermining them.
Still, the point here is to note the significant deviation from the norm that Trump presents in terms of policy direction and global understanding.  Further, he entered his campaign, and office, with unnecessary, active belligerence regarding our hemispheric neighbors.  Latin America, collectively, is hugely important as a trading partner, as a source of energy (check out the top source of oil imports here), and in regards to key policy issues such as illicit narcotics and immigration. A productive relationship with the region is in the interest of the United States.
I suppose the good news is that Trump is usually more talk than action.  Plus, he doesn't actually know how to execute his proposals (see, e.g., Mexico paying for the wall).  Damage, however, will be done in regards to trade (potentially in a huge way, if FTAs are abrogated)–which could actually make the immigration situation more complex if Mexico's economy is negatively effected.