Trump and the Baby Boomers
The President continues to enjoy enthusiastic support from the over-65 set.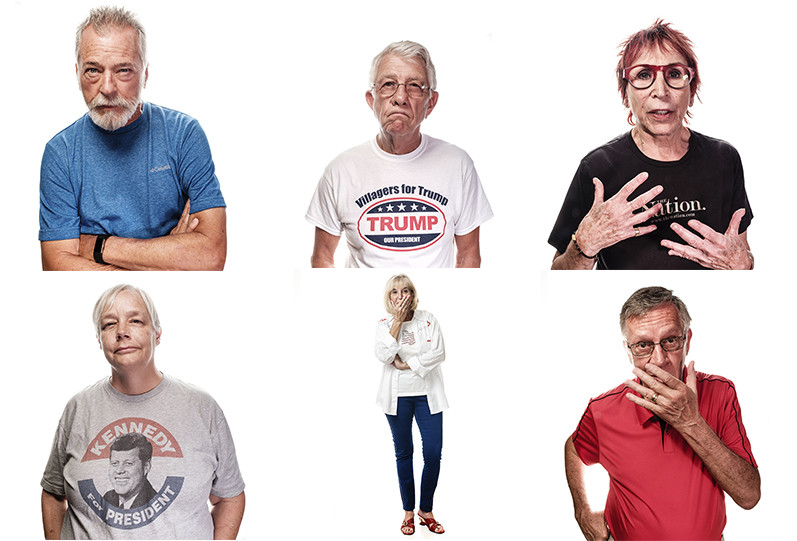 The key 'graph in a POLITICO piece of the changing demographics of the American electorate:
The Trump supporters who get the most media attention tend to be economically anxious laborers in economically depressed factory towns. But in Florida, economically secure retirement meccas like the Villages are the real reason Trump won in 2016—and why the state's Republicans, who have controlled Tallahassee for two decades, think they can avoid a blue wave in 2018 and help re-elect Trump in 2020. For all the hype about Puerto Ricans moving to the Sunshine State after Hurricane Maria, or high school students like the Parkland gun control activists turning 18 and registering to vote, any Democratic surge could be offset by the migration of Republican-leaning seniors who like Florida's balmy weather and lack of income tax. If midterm elections typically play out as judgments on the presidency, then Florida's upcoming contests will be a race between the usual laws of political gravity and the state's demographic destiny: Trump remains unpopular with younger voters, and Democrats have already flipped four Florida legislative seats in low-profile special elections this year, but the older voters who are most likely to vote in midterms are increasingly likely to move to Florida and support the president.
Of course, the flip side of that is that this would seem to be a zero-sum game: to the extent retirees are flooding Florida, they're leaving other states. Certainly, the flow makes it more likely Trump (presuming he's the GOP nominee in 2020) will carry the state's 29 Electoral Votes. But it also makes it less likely he'll win Pennsylvania's 20 Electoral Votes, Ohio's 18, Michigan's 16, and Wisconsin's 10 again.
There's a Census in 2020 but it won't be completed in time to impact the election. So, the math remains what it was the last cycle.  Still, Hillary Clinton received nearly three million more votes than Trump and Democrats will certainly be more energized this time around.
Trump had a decisive edge in 2016 with voters over 50 and a slight edge with those between 39 and 50. The article explains why:
Republicans outnumber Democrats by more than 2:1 here, and in interviews, they generally expressed support for Trump's tax cuts, as well as his hands-off approach to Medicare and Social Security. That has helped blunt the perennial Democratic pitch to seniors: Choose us, because Republicans are coming for your checks. But what really attracted them to Trump were issues that had little to do with their pocketbooks or their daily lives—like his opposition to sanctuary cities, or his insistent rhetoric about strength, or his attacks on Muslims, MS-13 and defiant black athletes. They feel like Trump is on their side in a cultural war against cop-haters, scheming foreigners, global warming alarmists, and other politically correct avatars of disorder and decline; they thought President Barack Obama was on the other side, standing with transgender activists, welfare freeloaders and Islamic terrorists. And when Trump vows to make America great again, they sense that he means more like The Villages.

"They want an America that's a little more like it was when they were growing up, and that's what Trump is offering," says Daniel Webster, the area's conservative Republican congressman. Dennis Baxley, the area's equally conservative Republican state senator, points out that The Villages offers that, too, with safe streets, light traffic, artificial lakes that provide a real sense of serenity, and hundreds of support groups for every imaginable malady or hardship. It's a throwback to when they were children in 1950s America, without actual children.
I have a lot of people like those who live at The Villages in my social media, particularly Facebook, feed because I know a lot of retired military officers and senior NCOs. They're disproportionately Trump supporters for those types of reasons. They saw the Obamas as detached and dismissive of "real America" and are willing to give Trump a lot of leeway in restoring an imagined past. Sure, there's some casual racism in the mix, but it's of the type typical of that generation. Even the handful of blacks and Hispanics in that cohort support the President, dismissing the notion that he's racist.
While Trump's disapproval numbers are better than they were six months ago, he's still at a 7.9 negative in the RealClearPolitics average. He's viewed negatively among every age group now except one: the over-65s. In the latest Economist/YouGov poll, for example, "Strongly Disapprove" is the plurality rating for every age category below 65 but it's reversed for the over-65s, where the plurality (42%) "Strongly Approve" of his performance and another 16% "Somewhat Approve," for a combined 68% positive. (Even there, 36% "Strongly Disapprove" and 4% "Somewhat Disapprove.)