Trump and the Governors
This isn't what leadership looks like.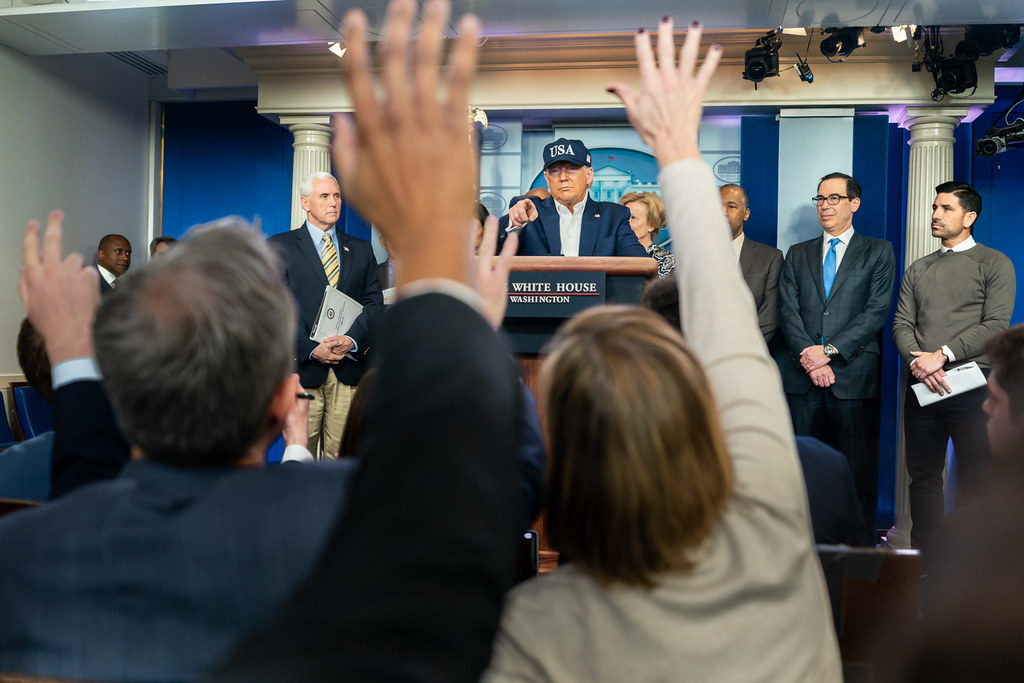 Along the lines of not surprising but still stunning and remarkable is the way that Trump is interacting with the nation's governors. There was calling Washington Governor Jay Inslee a "snake." And then the most recent example being an attack on the Governor of Michigan:
This made me think of this (the embedded video clip):
The notion that the relationship between the federal government and the states is some "two-way street" formed around niceness, credit, and lack of criticism (as opposed to, you know, efficacious governance) is bizarre and reprehensible. It utterly undermines the notion of a public servant, which is what the president is supposed to be.
Moreover, the idea that "they [the governors] have to treat us [Trump] well" as some sort of condition for aid is grotesque. It is Trump's job, as president, to work for the general welfare of the citizenry. And he should do so whether he gets praise or opprobrium.
I have nine departments that I oversee in my college. At this time of crisis (or, really, any time) it would be considered unprofessional of me to require the chairs to praise me if I provide them the resources that they need. Can you imagine me telling the school newspaper that it was a "two-way street" between my office and the departments? That they "have to treat me well" if they want the resources they need to do their jobs? Not only would my colleagues think me crazy (or, an asshole at a minimum) I likely wouldn't have my job for long.
That these kind of mafia don tactics are tolerated by the GOP is, quite frankly, disgusting.
Along these lines (via the AP): Flatter or fight? Governors seeking help must navigate Trump.
At first, Illinois Gov. J.B. Pritzker tried to play nice. He limited criticisms of the federal government's handling of the coronavirus pandemic and asked for medical supplies through official channels.

But nothing came, so he went on television. The first-term Democrat blasted the Trump administration Sunday on CNN for failing to help states obtain masks, gloves and other protective gear.

It got President Donald Trump's attention. After a Twitter feud and some mudslinging (Pritzker compared Trump to a "carnival barker"), the two got on the phone Monday, and Trump promised Illinois 250,000 masks and 300 ventilators.

Facing an unprecedented public health crisis, governors are trying to get what they need from Washington, and fast. But that means navigating the disorienting politics of dealing with Trump, an unpredictable president with a love for cable news and a penchant for retribution.

Republicans and Democrats alike are testing whether to fight or flatter, whether to back channel requests or go public, all in an attempt to get Trump's attention and his assurances.
That's no way to govern.
It's unusual to see a president and governors publicly feuding and name-calling while their country teeters on the brink of disaster. In past recent crises, presidents and state leaders have gone out of their way to show that politics plays no role in disaster response, and to project the appearance of cooperation. In 2005, as Republican President George W. Bush's administration received criticism for its handling of Hurricane Katrina in New Orleans, there was never a sense he was withholding help for personal reasons, said former Sen. Mary Landrieu, D-La.

"I never had to worry that President Bush would be angry with me, personally, so he wouldn't help the people of my state," she said. "I knew he wasn't a petty leader."
When the Katrina response is used as an example of how to be better, well that says a lot about the current moment.