Trump Announces 'Space Force.' Now What?
Seemingly out of nowhere yesterday, the Commander-in-Chief ordered the Pentagon to create a fifth service.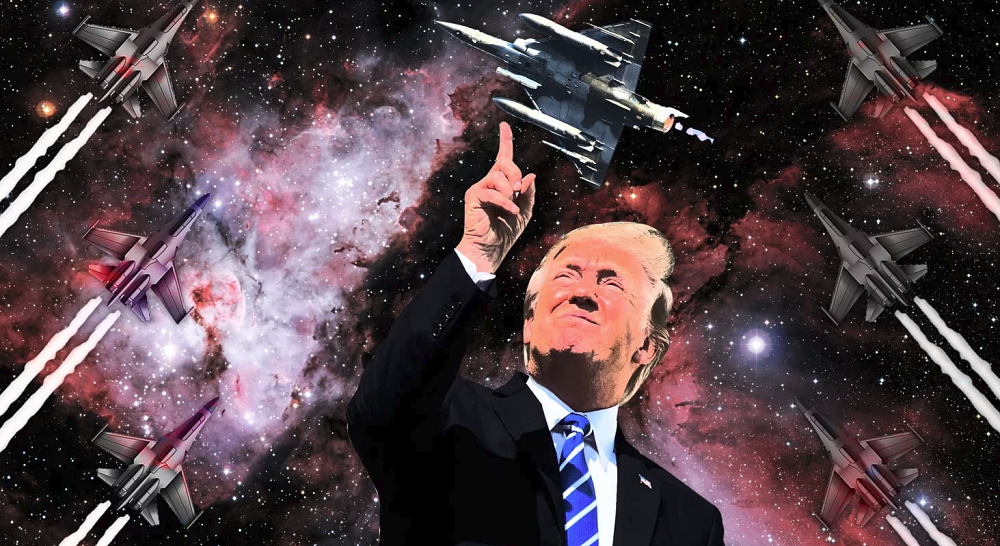 Seemingly out of nowhere yesterday, the Commander-in-Chief ordered the Pentagon to create a fifth service. He doesn't have the authority to do that. So what happens next?
Defense One's Marcus Weisgerber and Patrick Tucker have a good summary ("What Trump's Space Force Announcement Means"):
Donald Trump said Monday that he had directed the Pentagon to establish a Space Force, describing it as a sixth branch of the U.S. military. It would be the first time the Pentagon has stood up a new service since the Air Force received its independence after World War II.

Creating a standalone service for space isn't something the president can do on his own; he needs congressional authorization. But Monday's announcement (here's video, via Reuters), which follow broad endorsements of the concept by the Joint Chiefs' office and various military branches, means that Senate holdouts who were taking their cues from the Air Force are likely to bow out of the fight.

That could clear the way for a Space Force to be in the 2019 defense authorization act, says Todd Harrison, who directs the Center for Strategic and International Studies' Aerospace Security Project.

It wasn't immediately clear just what parts of the Pentagon's sprawling space endeavors would be swept into this new outfit. Most of the Navy's space-and-satellite work falls under the Space and Naval Warfare Systems Command, based in San Diego, while the Army has its Space and Missile Defense Command in Huntsville, Ala. But the bulk of the military's space efforts are handled by the Air Force — specifically Air Force Space Command at Peterson Air Force Base, Colo. — and it has been the air service that has fought hardest against the idea.

It wasn't even clear whether the new service branch would have its own secretary, putting it on par with the Army, Navy, and Air Force — or would occupy a lower tier, like the Marine Corps. Trump seemed to suggest the former. "We are going to have the Air Force and we are going to have the Space Force, separate but equal," he said, carefully enunciating the oddly infelicitous phrase.

The announcement caught some in the Pentagon by surprise. "We understand the President's guidance. Our Policy Board will begin working on this issue, which has implications for intelligence operations for the Air Force, Army, Marines and Navy. Working with Congress, this will be a deliberate process with a great deal of input from multiple stakeholders," Pentagon spokesperson Dana W. White said in a statement.

The military was in the process of evaluating the entire space force concept in terms of feasibility and structure. Deputy Defense Secretary Patrick Shanahan's office was conducting what Harrison described as a broad study due in August.

A potentially more interesting study, due in September, was to be completed by the Center for Naval Analysis. "Their job was to create a roadmap for how to create an independent service for space. They're supposed to be coming up with the plan for how to do this. They would give it to Congress to consider for next year's NDAA," said Harrison.

To some, Monday's announcement smacked of impulsiveness. "This is another example of: ready, fire, aim," said David Deptula, a retired Air Force lieutenant general who leads the Mitchell Institute for Aerospace Power Studies.
But, in fact, the idea has been circulating for nearly two decades. A report by The Atlantic's Russell Berman last August ("Does the U.S. Military Need a Space Corps?") sheds more light on the debate:
In a bipartisan vote last month, the House of Representatives approved legislation that would direct the Defense Department to build a new "space corps" within the Air Force. Its backers blame the Pentagon for failing to prioritize space security in recent years, a lapse that has allowed rivals like Russia and China the opportunity to catch up to U.S. superiority. The proposal's fate now rests in the Senate, but its most powerful foe is the military itself, which says Congress should simply send more resources rather than force it to undertake a bureaucratic overhaul during a time of war.

"The military has not done a good enough job looking after space with all its other distracting priorities," said Representative Jim Cooper, a Tennessee Democrat who has championed the idea of a space corps along with Representative Mike Rogers of Alabama, the chairman of an armed-services subcommittee in the House. "It's just not getting the attention it deserves."

Space has become as integral to military operations as it has for anyone who uses an iPhone to get directions through GPS or an up-to-the-second weather forecast. "Our military now is completely dependent on space," said Todd Harrison, director of the Aerospace Security Project at the Center for Strategic and International Studies, a Washington, D.C.-based think tank. "We can't fight without fighting through space. When we put a bomb on a target somewhere in the world, did that bomb come from space? Not physically, but the bomb would not have gotten there without our space capabilities. So it is a space-enabled bomb."

The idea for a new service devoted to space is not new, and support for it does not break down along partisan lines. It first gained currency in 2000 as a recommendation from a military-reform commission headed by Donald Rumsfeld, who was then a retired ex-defense secretary and White House chief of staff under President Gerald Ford. A year later, Rumsfeld would be recruited back to government as George W. Bush's defense secretary and set about to overhaul the bureaucracy of the Pentagon—a reform that might have included the space corps. But the attacks of September 11, 2001, and the launching of long wars in Afghanistan and Iraq sidetracked that effort.

The proposal has bubbled back up over the years, but last month was the first time it had ever passed the House as part of the National Defense Authorization Act. An amendment to create the space corps, sponsored by Rogers and Cooper, was adopted by the Armed Services Committee with the support of all but one member, Republican Representative Michael Turner of Ohio. And in a sign that the party leadership backed the idea, the House Rules Committee refused to allow a floor vote on Turner's bid to strip the space corps from the bill.

In phone interviews, Rogers and Cooper cited the emerging threat from Russia and China as the reason for the newfound political momentum. Rogers said lawmakers had received alarming classified briefings about the two countries' capabilities and said the Air Force was consistently six to eight years behind in deploying its own new capabilities. Both countries, he said, had recently gained "peer status" with the United States in space. The worry is that either country could neutralize key U.S. satellites. "They recognize they cannot take us on and it be a fair fight," Rogers told me. "But if they take our eyes and ears out, they actually have a chance to have a fair fight with the United States. We don't ever want to get into a war where we have a fair fight."

"We don't want them to be able to neutralize one of our satellites, even for 10 or 15 minutes, blinding them while they launch or while they set up to launch," Rogers continued. He wouldn't detail exactly what Russia or China could do, citing the classified briefings. "They have offensive capability, and I can't talk any more about it than to say that."

Cooper said the risk of an attack on U.S. satellites went far beyond the military. "If our satellites were attacked, we would be blinded, deaf, and impotent before we even knew what hit us," he said. "Everything from ATM machines to Zumwalt destroyers would be paralyzed."

He blamed the Air Force for lagging behind technologically, pointing out in frustration that the United States remains heavily reliant on Russian-built rockets to launch into space. "Elon Musk and Jeff Bezos have done more to give us extra launch capability than the Air Force has," Cooper said. "This is stunning."
But there's a giant command inside the Air Force devoted to space issues. If they're not doing enough, it's a function of resource allocation, not what uniform they're wearing. Unless Congress allocates more money and gives them a specific mandate, it's not obvious what a new Service would change.
Back to the Defense One report:
What would a Space Force actually do? Harrison suggested that the most useful thing would be to create a "cadre of space professionals. [It would] groom them and grow them to think space, space power, strategy, doctrine, and to develop more innovative operational concepts."

He added, "It doesn't mean that space will become more weaponized or militarized; that's happening anyway, regardless of what the United States does. The weaponization of space is being led by other countries."

In the decades before the Air Force's creation, a cadre of aviators developed airpower doctrine and strategy at the Army Air Corps Tactical School. That has not been the case this time around, said Doug Birkey, executive director for the Mitchell Institute for Aerospace Power Studies. The military has treated space airmen as technical experts providing a utility, Birkey said, largely because talking about offensive wars in space has been taboo.

Policy makers "need to think about how to use space as a national military asset, not just Verizon" — a telecom utility, Birkey said.

He said that if lawmakers create a Space Force, it's essential that space specialists in the Army, Navy, and Marine Corps also get put into the new branch.

Space has at times been seen as the Air Force's red-headed stepchild, playing second fiddle to go-fast jets. After Strategic Air Command shut down, its ICBMs were shuffled to Space Command, until the creation of Global Strike Command some 17 years later. This summer, the cyber warfighting arm of the Air Force will move from Space Command to Air Combat Command.

Air Force leaders — who have been opposed to creating a new space service — have made a number of moves that they say show they take the space mission seriously.

The concept of a standalone service for space received some top-level support under Donald Rumsfeld and in the 2000 National Defense Authorization Act. More recently, Rep. Mike Rogers, R-Ala., and Jim Cooper, D-Tenn. — the chairman and ranking member of House Armed Services Committee's strategic forces panel — pushed the House to include a Space Force amendment in its version of the 2018 NDAA. The provision was ultimately axed in negotiations with the Senate.

But today's announcement goes beyond what Rogers and Cooper sought, which was a Space Corps whose commander would answer to the Air Force Secretary, just as the Marine Corps answers to the Navy Secretary. A Space Force, however, would be independent entirely from the Air Force, potentially with its own Secretary.
These are all decisions for the Congress, which may or may not be deferential to the President. The last time we created a new service, it wasn't.
What became the National Security Act of 1947 started out as a proposal from Harry Truman to create a single Department of Defense under a single secretary, all but eliminating the Marine Corps. Instead, mostly because of the open defiance of the Navy and Marine Corps, Congress added a new service—the Air Force—along with a co-equal Secretary of Defense. After the four services failed to make things work, most famously at the Key West Conference in 1948, a 1949 Amendment was passed by Congress subordinating the three Service secretaries (Army, Navy, and Air Force) to the Secretary of Defense. Even that bill, though, was far short of what Truman envisioned.
Truman, who had served as an Army field artillery captain in World War I, was bitterly opposed to the Marine Corps as a second land army. It not only kept that status but achieved specific legal guarantees from Congress as to its future size. Eventually, its Commandant would be elevated to co-equal status with the other Joint Chiefs. It's still technically subordinate to the Department of Navy, as it lacks its own civilian secretary, but is otherwise a full service in its own right.
While Truman opposed the creation of an independent Air Force, once it became a fait accompli he, naturally, wanted it to consolidate all of the nation's military airpower. Instead, only the Army—of which the Air Force emerged—lost its airplanes. The Navy and Marine Corps successfully fought to keep their own air assets and Congress backed their efforts.
Whether the Space Force gets created is Congress' decision. So, too, is whether it gets its own civilian Secretary, seat on the Joint Chiefs, and so forth. The current Congress has certainly been more deferential to Trump than the postwar Congress was to Truman. But we have an election coming in less than five months that could significantly change that.
I don't have a strong view as to what they should do. It's not obvious to me that the current model is failing us. Or why the next step shouldn't be to consolidate all Defense Department space assets into a single Combatant Command, as we did with special operations way back in 1987. That, too, would require an Act of Congress.