Trump Announces Tariffs Against China, China Quickly Retaliates
Begun the trade wars have.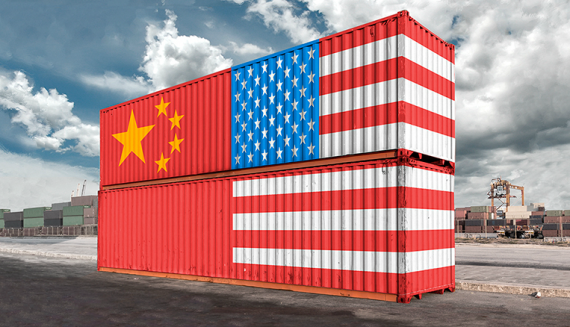 Following up on the tariffs against imported steel and aluminum that he announced several weeks ago, President Trump followed up on fulfilling his foolish trade-related economic promises late yesterday with proposed tariffs on goods imported from China:
WASHINGTON — The Trump administration said Tuesday that it will place a 25 percent tariff on Chinese products like flat-screen televisions, medical devices, aircraft parts and batteries, outlining more than 1,300 imported goods that will soon face levies as part of a sweeping trade measure aimed at penalizing China for its trade practices.

The move, which stems from a White House investigation into China's use of pressure, intimidation and theft to obtain American technologies, is likely to inflame an already-simmering trade war between the countries. On Monday, China said it would slap tariffs on 128 American products in response to a separate White House plan to tax steel and aluminum from China and other countries.

The products targeted by the White House are part of its plan to go after China's dominance in cutting-edge technologies like semiconductors, electric vehicles and advanced medical products — industries that China is pursuing dominance in as part of an industrial plan known as "Made in China 2025."

The Trump administration said that its analysts had identified products that benefit from these policies but refined the list to remove goods that were likely to cause disruptions to the United States economy or consumers.

The list of goods excludes many Chinese-made consumer products available for sale at Target or Walmart, including clothing, shoes and toys. But it will most likely increase costs for American manufacturers that depend on imported parts because it concentrates heavily on machinery and high-tech components. The tariffs will be imposed on a total of $50 billion worth of Chinese products each year.

The designation of targeted products will be followed by a comment period in which American companies can provide feedback to the Trump administration on the product choices. The administration will hold a public hearing on the submissions on May 15 in Washington, and companies will have until May 22 to file final objections.

Business groups, concerned about the effect on companies and workers, swiftly criticized the move.

"Unilaterally imposing $50 billion of new tariffs without a long-term strategy that leads to economic reforms in China will only hurt America's businesses, workers, and families," the Business Roundtable, a corporate trade group, said in a statement. "Instead, the administration should work with U.S. allies on an approach that advances meaningful reform in China without imposing significant harm on America's economy."

Jay Timmons, the president of the National Association of Manufacturers, said that American manufacturers were concerned about the trade relationship with China, including intellectual property theft, counterfeit goods and unfair subsidies, but also that tariffs were not the best response.

In a strongly worded statement on Tuesday, the Chinese Embassy in the United States condemned the tariffs. "Such unilateralistic and protectionist action has gravely violated fundamental principles and values of the W.T.O.," the statement said. "It serves neither China's interest, nor U.S. interest, even less the interest of the global economy."

The Chinese would resort to "measures of equal scale and strength against U.S. products in accordance with Chinese law," the statement said.

While many American companies say they are unfairly treated in China, they have rued the possibility of a trade war between the world's two largest economies, and the economic harm it could cause, and have begun pushing back against the White House's plans. China remains a crucial and growing market for companies like John Deere and Apple, as well as for soybean farmers and growers of other agricultural products.

Financial markets fell sharply on Monday as China imposed its own retaliatory tariffs on American products but regained most of their lost territory on Tuesday.

President Trump, who has repeatedly promised tough action on China's trade practices, said Tuesday that he intended to get along with China but that its unfair trade behavior had gone on too long. "It's not something we can live with," Mr. Trump said at the White House, adding, "I campaigned on that."

Trump advisers have criticized past administrations for allowing China to receive the benefits of global trade while continuing to break the international trade rules imposed by organizations like the World Trade Organization — a charge China denies.

But the administration has struggled to persuade its critics that the kind of tough trade measures Mr. Trump favors can alter China's behavior without tipping the world into a trade war and ultimately harming American workers and consumers. In addition to the tariffs, the White House is preparing to restrict Chinese investment in American technology and innovation, and to start a case against China at the World Trade Organization.

"The administration is rightly focused on restoring equity and fairness in our trade relationship with China," said Myron Brilliant, an executive vice president and the head of international affairs at the U.S. Chamber of Commerce. "However, imposing taxes on products used daily by American consumers and job creators is not the way to achieve those ends."
Within hours after the Trump Administration's announcement, China announced retaliatory tariffs of its own:
SHANGHAI — China hit back at the United States on Wednesday with proposed tariffs on $50 billion worth of American soybeans, cars, chemicals and other goods, in a move likely to spark fears that the countries' escalating confrontation could become an all-out trade war.

Moving with unusual speed, Chinese officials outlined plans to make it more costly to import 106 categories of American goods into China. The move came just hours after the Trump administration detailed its plan to impose tariffs on a similar value of Chinese-made aircraft parts, cars and car parts, televisions, steel and much more.

The American products come largely from Republican-dominated states, where lawmakers might be expected to have some influence with President Trump and could persuade him to back down from his latest trade demands.

"China has never succumbed to external pressure," Zhu Guangyao, vice minister of finance, said at a news briefing on Wednesday. He added, "External pressure will only make the Chinese people more focused on economic development."

Chinese retaliation for the Trump administration's latest move had been widely expected. Beijing typically responds to overseas tariffs with similar ones of its own, and Chinese officials had promised a proportional response if the Trump administration went ahead this week with the next step toward broad tariffs on Chinese goods.

But in the past, China has tended to wait days and sometimes weeks before striking back.

The tit-for-tat tariffs are part of a wider clash looming over trade between the world's two biggest economies. Stock markets around the world have taken a hit in recent weeks as Washington and Beijing have escalated their trade dispute.

Chinese officials said on Wednesday that they saw room to negotiate.

"China's attitude is clear," Mr. Zhu said. "We don't want a trade war because a trade war would hurt the interests of both countries."

Two separate rounds of tariffs are now playing out between the United States and China, one involving metals and the other involving advanced manufacturing technologies.
This announcement from China comes just a few days after Beijing had announced new tariffs on a variety of American products including wine, pork, and stainless steel pipes in retaliation for the aforementioned steel and aluminum tariffs that the Trump Administration had announced at the beginning of March. The swiftness of this announcement, which was atypical for the Chinese, would seem to indicate that the Chinese anticipated that something like what was announced yesterday was coming down the pike. At the very least this indicates that the Chinese are prepared to act swiftly in response to American trade actions, something that they generally haven't done in the past. It also indicates that, contrary to what Trump and his supporters apparently believe, imposing tariffs against China or any other nation is not going to be easy, and it's unlikely to come with some degree of pain for many sectors of the American economy.
The swiftness of the Chinese response, as well as its earlier announcement of retaliatory tariffs at the start of the week, offers a fairly quick lesson to counter the argument that the President and others who support his trade agenda have made that trade wars would be easy to win. The reality, of course, is quite different. Rather than resulting in a win for any of the participants, retaliatory trade wars like the one that these dueling announcements seem to portend, don't have winners, they only have winners. The United States economy, for example, will not benefit from either the steel and aluminum tariffs announced earlier this month or these new tariffs announced against China. In addition to the industries that have been targeted by retaliatory tariffs from China, and from other nations that will be impacted by the steel and aluminum tariffs, these tariffs will have a negative impact on American businesses that rely on imported products that will suddenly become significantly more expensive, the businesses and industries impacted by the retaliatory tariffs, and American consumers will be negatively impacted by the tariffs since it will mean that they will have to pay more for products impacted by them. Additionally, the tariffs themselves will likely have at least some impact on America's relationship with the nations that will be impacted by them. With respect to these latest rounds of tariffs, that includes both China and South Korea, who are essential players in American policy toward the Kim regime in North Korea. In other words, these tariffs will end up being bad news all around even if they do have some negligible positive benefit for some sectors of the economy that compete against foreign sources of goods in the marketplace.
In a reflection of the truth of these statements, the announcement of these tariffs has been reflected in significant drops in stock prices on Wall Street that will directly impact the retirement accounts of millions of Americans. While at least part of this drop is attributable to the fact that the market itself was due for a correction after having been constantly on the rise for the better part of a year, there's also no doubt that the President's trade policies have played a significant role in bringing stock prices down, and wiping out gains that had been made over the past several months in a matter of weeks and days. Yesterday's announcement from the White House and China's quick retaliation are already showing up in the futures markets, which indicate yet another rough day ahead for investors. This is just an early example of what we're likely to see in the economy as a whole if the President continues down this foolish road, which he seems intent on doing and which very few Republicans on Capitol Hill have spoken out against.
Again, none of this should come as a surprise. Trump made his position on international trade well-known throughout the Presidential campaign, and in fact, stretch back to long before he became a candidate for President. As long ago as the 1980s, Trump was among those who were on the bandwagon spreading the fears about trade with Japan that was common in those days, and he quickly shifted to China as a target when that came into vogue with the protectionist crowd that he was a part of. There was little economic merit, or truth, to the claims he made back then, and there's little economic merit to the policies he's adopting now. Indeed, as noted above, it's far more likely that what Trump is doing here will harm the U.S, economy and international relations than that it will strengthen the United States in any significant way.