Trump Caught on Tape Being Trump, Shocking Trump Supporters
An 11-year-old tape of the Republican nominee making misogynistic comments should surprise no one.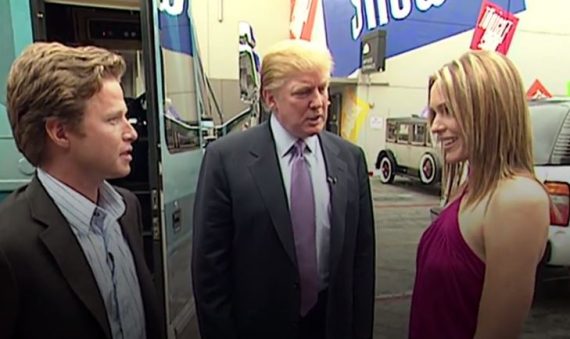 By now, anyone interested enough in American politics to be reading this has seen or read about a 2005 conversation in which the Republican nominee, Donald Trump, makes lewd comments about the ability of powerful men to have their way with women.
WaPo's David Fahrenthold reports:
Donald Trump bragged in vulgar terms about kissing, groping and trying to have sex with women during a 2005 conversation caught on a hot microphone, saying that "when you're a star, they let you do it," according to a video obtained by The Washington Post.

The video captures Trump talking with Billy Bush, then of "Access Hollywood," on a bus with the show's name written across the side. They were arriving on the set of "Days of Our Lives" to tape a segment about Trump's cameo on the soap opera.

Late Friday night, following sharp criticism by Republican leaders, Trump issued a short video statement saying, "I said it, I was wrong, and I apologize." But he also called the revelation "a distraction from the issues we are facing today." He said that his "foolish" words are much different than the words and actions of Bill Clinton, whom he accused of abusing women, and Hillary Clinton, whom he accused of having "bullied, attacked, shamed and intimidated his victims."

"I've never said I'm a perfect person, nor pretended to be someone that I'm not. I've said and done things I regret, and the words released today on this more than a decade-old video are one of them. Anyone who knows me knows these words don't reflect who I am," Trump said.

In an apparent response to Republican critics asking him to drop out of the race, he said: "We will discuss this more in the coming days. See you at the debate on Sunday."

The tape includes audio of Bush and Trump talking inside the bus, as well as audio and video once they emerge from it to begin shooting the segment.

In that audio, Trump discusses a failed attempt to seduce a woman, whose full name is not given in the video.

"I moved on her, and I failed. I'll admit it," Trump is heard saying. It was unclear when the events he was describing took place. The tape was recorded several months after he married his third wife, Melania.

"Whoa," another voice said.

"I did try and f— her. She was married," Trump says.

Trump continues: "And I moved on her very heavily. In fact, I took her out furniture shopping. She wanted to get some furniture. I said, 'I'll show you where they have some nice furniture.'"

"I moved on her like a bitch, but I couldn't get there. And she was married," Trump says. "Then all of a sudden I see her, she's now got the big phony tits and everything. She's totally changed her look."

At that point in the audio, Trump and Bush appear to notice Arianne Zucker, the actress who is waiting to escort them into the soap-opera set.

"Your girl's hot as s—, in the purple," says Bush, who's now a co-host of NBC's "Today" show.

"Whoa!" Trump says. "Whoa!"

"I've got to use some Tic Tacs, just in case I start kissing her," Trump says. "You know I'm automatically attracted to beautiful — I just start kissing them. It's like a magnet. Just kiss. I don't even wait."

"And when you're a star, they let you do it," Trump says. "You can do anything."

"Whatever you want," says another voice, apparently Bush's.

"Grab them by the p—y," Trump says. "You can do anything."
As noted in the (presumably revised) piece, several Republican officials who had previously endorsed Trump have called on him to step aside as the nominee. Many more have condemned the remarks in strong terms without (yet) pulling their endorsement.
If this ends up being the death knell in Trump's campaign for president, I'll take it. If so, however, I'm befuddled. Aside from the use of some locker room language*, there's nothing new here. Well before the campaign, we knew Trump was a serial womanizer. He's dumped two wives, trading them in for younger models. He's been on live television making crude, misogynistic remarks for over a decade. He's been confronted with those remarks in virtually every debate going back to the primaries. There's nothing even remotely surprising here.
As we've seen in recent scandals involving professional athletes abusing women, people seem to be more shocked by things they see on video or here on tape than by mere written description. But Trump has been going on Howard Stern's radio show—which is recorded in both audio and video form–making comments like this for a very long time. The vagaries of broadcast television presumably kept him from being this graphic on his various "Apprentice" stints, but one gathers that he was routinely sexist and, again, has been repeatedly called out for it in the debates.
This seems like a really weird "last straw" for a guy who has built his candidacy on unvarnished bigotry combined with obviously dangerous policy proposals and an unprecedented refusal to study the issues. Again, I'll take it.
UPDATE (1147): Mediaite's  Lindsey Ellefson reminds us of a national media report from way back in 1999:
Today, audio from 2005 leaked that showed Donald Trump casually talking about his attemptto seduce a married woman and how easy it is to "grab [women] by the p*ssy" when you're a famous guy. This has followed months and months of everyone from Megyn Kelly to Hillary Clinton to former Miss Universe Alicia Machado speaking out about how badly Trump treats women, but it turns out that he outed himself as a misogynist long ago.

In 1999, according to this article in the New York Post, he told Chris Matthews he could never run for President because of his history with women. Here is what he said:

People want me to [run for president] all the time … I don't like it. Can you imagine how controversial I'd be? You think about [Bill Clinton] and the women. How about me with the women? Can you imagine?

When Matthews joked about Monica Lewinsky by saying, "You might be close, but there's no cigar," Trump said, "They might like my women better, too."
Again, none of this is new. Not even a little bit.
Also, it's worth noting the "locker room" nature of Matthews' reaction. The norms of acceptable conversation about these matters have changed drastically over the last twenty years.
_________________
*Note: Some Trump defenders have claimed that bragging about sexual assault is just how guys talk in locker rooms. It isn't. But, certainly, the vulgar language used to describe body parts is commonplace. But even that tends to go away with maturity; it's bizarre coming from a then-59-year-old father of daughters.