Trump Claims Special Knowledge of Hacking; Will Let us Know Later
Trump's populism, personalism, and irresponsibility are on display.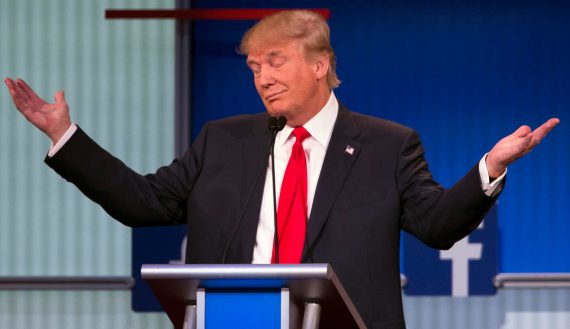 Via the NYT:  Trump Promises a Revelation on Hacking
Speaking to a handful of reporters outside his Palm Beach, Fla., club, Mar-a-Lago, Mr. Trump cast his declarations of doubt as an effort to seek the truth.

"I just want them to be sure because it's a pretty serious charge," Mr. Trump said of the intelligence agencies. "If you look at the weapons of mass destruction, that was a disaster, and they were wrong," he added, referring to intelligence cited by the George W. Bush administration to support its march to war in 2003. "So I want them to be sure," the president-elect said. "I think it's unfair if they don't know."

He added: "And I know a lot about hacking. And hacking is a very hard thing to prove. So it could be somebody else. And I also know things that other people don't know, and so they cannot be sure of the situation."

When asked what he knew that others did not, Mr. Trump demurred, saying only, "You'll find out on Tuesday or Wednesday."
(Emphasis mine).
Given that we know the president-elect is both not all that keen on getting intelligence briefings and that he had dismissed the current administration's views on this subject, what in the world would his source be?  Weirdly, this sounds like nonsense.
I noted two reactions this morning worth sharing:
First, from my friend and fellow political scientist, Greg Weeks on Twitter:
Trump Promises a Revelation on Hacking https://t.co/Zq4toijfxw sounds exactly like Maduro's promised conspiracy info that never arrives

— Greg Weeks (@GregWeeksUNCC) January 1, 2017
And from Susan Wright at Red State:
I'll just put this out there as a little morsel to ruminate on: A U.S. president-elect is asking us to doubt the media, doubt U.S. intelligence, doubt other elected officials, all while assuring us that he is the only trustworthy voice and he is the only one who can save the nation (he has said as much).

Nothing about that should make you feel comfortable.
Indeed (emphasis hers).
 As I have noted in other circumstances, this is not the behavior of a responsible elected official.
Also:  his critiques of the intelligence community vis-a-vis the Iraq invasion would have more salience if a) there was even the hint of a suggestion that he had some reform ideas in mind for improving the intelligence community, and b) if he wasn't considering John Bolton for a serious State Department position.  Really, all he is doing is simplistically using an example of intel being bad in past so that he can deflect about intel now.  That is the way children argue.
At a minimum, this is Trump's populism, personalism, and irresponsibility on display.