Trump Condemned 'The Squad' For Doing Exactly What He Does
President Trump attacked four Democratic Congresswomen for engaging in exactly the same rhetoric that the President himself has over the years.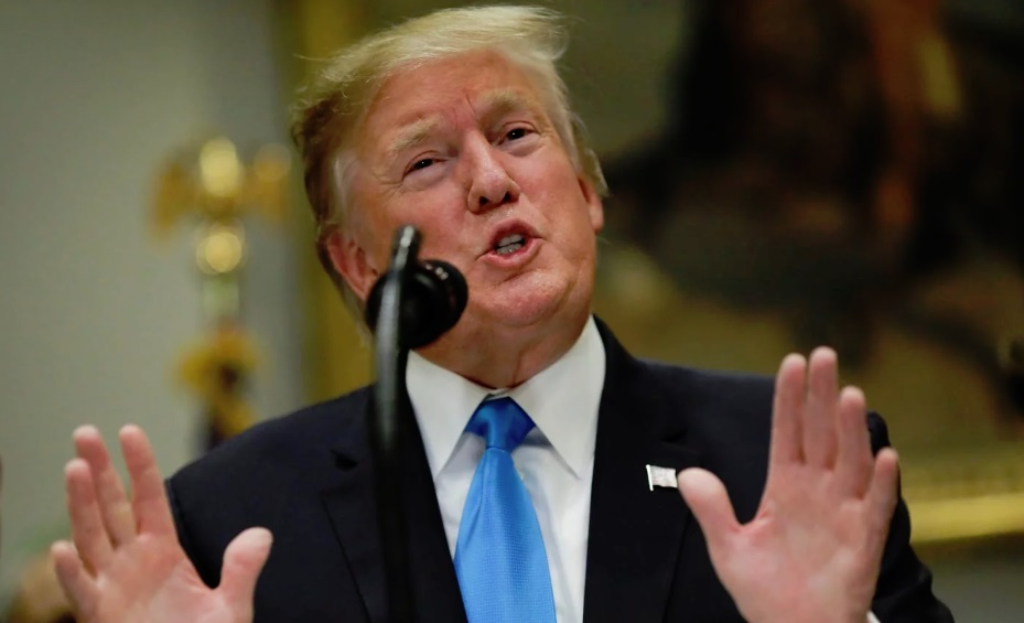 Over at The Washington Post, JM Reiger points out is demanding that people leave the country for doing something that, before he became President, he did on a regular basis:
On Friday, President Trump was asked again about his racist remarks aimed at four minority congresswomen. He again doubled down.

"I'm unhappy with the fact that a congresswoman, in this case a different congresswoman, can call our country and our people 'garbage,' " Trump said, falsely asserting that Rep. Alexandria Ocasio-Cortez (D-N.Y.) called Americans "garbage."

But with Trump, there's always a tweet.

"If we don't clean up OUR COUNTRY of the garbage soon, we are just going to do a death spiral!" Trump tweeted Sept. 17, 2013, one day after a government contractor killed 12 people at the Washington Navy Yard.

That Trump's latest controversy again centers on a paradox — in this case, defending the right to criticize the United States, but only when it suits him — is not surprising. Indeed, much of Trump's presidency is a paradox, and this week was no different.

Trump has spent years criticizing the United States, often praising foreign dictators and himself in the process, examples of which you can watch in the video above.

According to Trump, the United States has long had "stupid" leaders that the world "laughs" at. When Trump launched his presidential bid, he said the United States is "becoming a third-world country." During his inauguration, Trump condemned the condition of the country, referring to it as "American carnage."

Trump has also repeatedly questioned the idea of American exceptionalism.

"Other nations and other countries don't want to hear about American exceptionalism," Trump said on Fox News in September 2013. "They're insulted by it, and that's what [Russian President Vladimir] Putin was saying."

In his book "Crippled America," Trump wrote, "The idea of American Greatness, of our country as the leader of the free and unfree world, has vanished."
Trump's attacks on America aren't limited to these examples, of course. During his very first speech as a candidate in June 2015, Trump started out with the theme that "the American dream is dead." Throughout his campaign, he painted a picture of an America that was falling apart, on the verge of collapse, and overall sounded like a place that almost made Somalia sound like a paradise by comparison. His Inaugural Address was one of the darkest ever given, and indeed making those given by Lincoln on the eve of and during the Civil War or by Roosevelt in the midst of the Great Depression and the dawn and height of World War Two sound positively Pollyanna-ish by comparison. If one believed this rhetoric from the President, then the United States was a pretty dark and dismal place. Indeed one wonders why he bothered staying here.
This kind of hypocrisy isn't new for Trump, of course. He has frequently attacked critics and those on the other side of the political aisle for doing and saying things that he has said himself in the past. This is just another example of that hypocrisy and it deserves to be called out as such by any decent American.
Of course, I am not suggesting that Donald Trump should have left the country because he was criticizing it. Such an idea is fundamentally un-American and, to the extent that Trump is a government official, an attack on the First Amendment rights of the people that the President is attacking. Speaking out when we believe the country or its leaders is acting incorrectly is not just a protected right, it is part of the very essence of being an American. In that respect, while I may not agree with many of the policy positions of someone such as Alexandria Ocasio-Cortez or other members of the "the squad," I can honestly say that they are better Americans than Donald Trump and his supporters can ever hope to be.