Trump Considering Commuting Blago's Sentence
President Trump says he's thinking about commuting the sentenced of Rod Blagojevich, who has served seven years of the fourteen-year sentence he received for public corruption.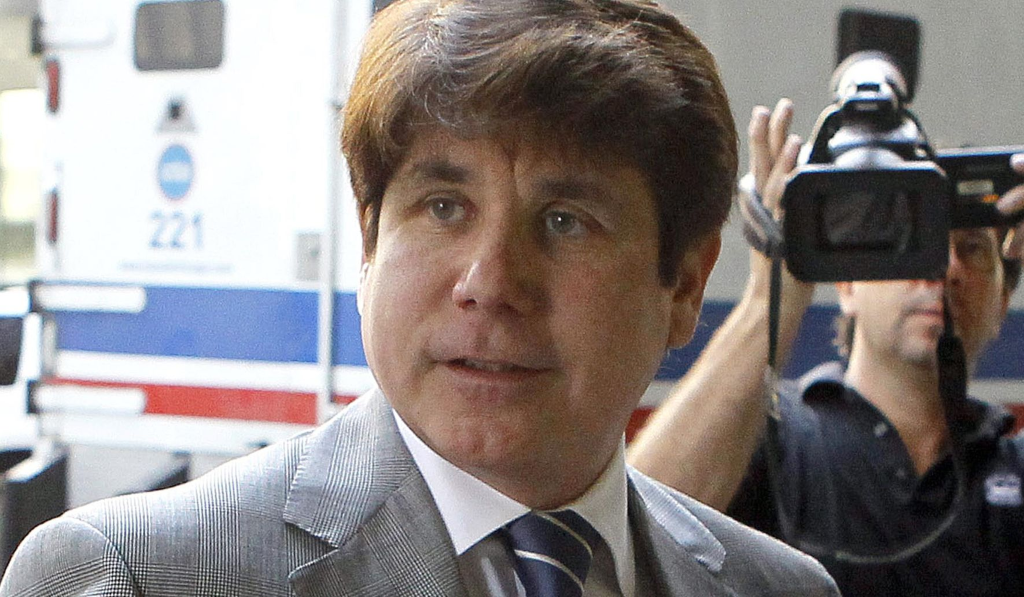 On the way back to Washington from El Paso on Wednesday, President Trump told reporters that he is likely to commute the sentence of former Illinois Governor Rod Blagojevich:
WASHINGTON — President Trump said on Wednesday night that he was "strongly considering" commuting the 14-year prison sentence of Rod R. Blagojevich, the former Illinois governor who was convicted of trying to essentially sell President Barack Obama's vacated Senate seat for personal gain.

But after a day of pushback from conservatives and the Illinois delegation of House Republicans, Mr. Trump was having second thoughts, people close to him said. On Thursday night, he said on Twitter that the matter was simply being reviewed.

White House officials had said the move could come as early as this week, but the president began to face mounting blowback given that Mr. Blagojevich's crime has long been seen as the epitome of the kind of pay-to-play that Mr. Trump has claimed he wanted to stop when he took office.

Mr. Trump disclosed his initial plans aboard Air Force One on Wednesday after a day of highly critical news coverage that focused on the reception toward the president as he traveled to the sites of mass shootings in El Paso and Dayton, Ohio, that left 31 dead.

Describing the incriminating phone call in which Mr. Blagojevich, a Democrat, was taped discussing selling the seat as mostly a minor offense, Mr. Trump told reporters that it was something "many" politicians have done.

"I thought he was treated unbelievably unfairly; he was given close to 18 years in prison," Mr. Trump said. "And a lot of people thought it was unfair, like a lot of other things — and it was the same gang, the Comey gang and all these sleaze bags that did it. And his name is Rod Blagojevich. And I'm thinking about commuting his sentence."

The men have crossed paths before. Before reporting to federal prison in 2012, Mr. Blagojevich appeared on "The Celebrity Apprentice," a spinoff of the reality TV show that Mr. Trump starred in for 14 seasons.

The president decided this week that he would commute the sentence, according to two people with knowledge of the talks, speaking on the condition of anonymity to discuss the deliberations.

Jared Kushner, the president's son-in-law and senior adviser who has internally championed pardons and commutations, had suggested Mr. Blagojevich be pardoned, according to one administration official. Another official said that Mr. Kushner had merely favored a commutation. While Mr. Kushner said it would appeal to Democrats, this official said, he pointed to some high-profile figures like the Rev. Jesse Jackson, who wrote a letter to the president supporting a commuted sentence and "a full pardon."

Other aides told Mr. Trump that a pardon would be politically unwise given the nature of Mr. Blagojevich's conviction; instead, commuting the sentence was what had been settled on, despite the lingering reservations of some aides.

In May 2018, Mr. Trump suggested that he was considering commuting Mr. Blagojevich's sentence. A month later, official paperwork was filed requesting the commutation.

Speaking on the plane on Wednesday, the president noted: "He's been in jail for seven years over a phone call where nothing happens — over a phone call which he shouldn't have said what he said, but it was braggadocio you would say. I would think that there have been many politicians — I'm not one of them, by the way — that have said a lot worse over the telephone."

Mr. Trump referred to Mr. Blagojevich's wife, Patti Blagojevich, who has personally appealed to the president on Fox News to relieve her husband's jail term.

"His wife, I think, is fantastic and I'm thinking about commuting his sentence very strongly. I think it's enough, seven years," Mr. Trump told reporters.

Despite Trump's apparent decision, House Republicans from Illinois are objecting to the idea:
House Republicans in the Illinois delegation are calling for President Trump to not commute the prison sentence of former Democratic Illinois Gov. Rod Blagojevich, who is serving 14 years on federal corruption charges.

The push comes in the wake of Trump telling reporters Wednesday he was "very strongly" considering commuting the sentence of the former "Celebrity Apprentice" contestant — who was removed from office in 2009 and convicted of multiple charges, including attempting to sell former President Obama's Senate seat — saying he believes Blagojevich "was treated unbelievably unfairly." ADVERTISEMENT

In a statement released Thursday, GOP Reps. Darin LaHood, John Shimkus, Adam Kinzinger, Rodney Davis, and Mike Bost argued commuting the former governor could further the pattern of corruption among high-ranking politicians in the state.

"It's important that we take a strong stand against pay-to-play politics, especially in Illinois where four of our last eight Governors have gone to federal prison for public corruption," they wrote.

"Commuting the sentence of Rod Blagojevich, who has a clear and documented record of egregious corruption, sets a dangerous precedent and goes against the trust voters place in elected officials. We stand by our letter and urge the President to not commute Rod Blagojevich's sentence."
That previous letter was sent in 2018 when Trump first suggested that he was considering granting clemency to Blagojevich, who has been in a Federal prison for seven years now. In part, that letter stated as follows:
"As you know, Illinois has gone through a difficult period of public corruption in the past, with several of our recent governors falling to corruption charges and convictions. This trend reached its pinnacle with the impeachment, and later criminal conviction, of former Gov. Blagojevich on 18 counts of public corruption including lying to federal agents, wire fraud, extortion, and bribery," they wrote.

"The events leading up to his impeachment, conviction and sentencing to 14 years in prison grew out of a series of actions by the former governor that showed a consistent pattern of public corruption – both within the State of Illinois and it's agencies – culminating in the ultimate act of public corruption attempting to sell a United States Senate seat."
The charges against Blagojevich are rooted, of course, in the aftermath of the 2008 election after which Illinois ended up with an empty Senate seat due to the fact that Barack Obama was elected President. As Governor, Blagojevich had the responsibility to select someone who would serve in Obama's place until a Special Election could be held according to law. Ultimately, Blagojevich ended up appointing Roland Burris to take Obama's spot, which he did until Mark Kirk was elected in 2010.
Not long after Burris was appointed, though, it became clear that Blagojevich had engaged in a vast conspiracy to essentially sell the appointment to fill Obama's seat. Most infamously, the former Governor was recorded say in reference to the appointment "I've got this thing and it's (expletive) golden, I'm not just giving it up for (expletive) nothing." Within a month after Obama had been elected President, Blagojevich was arrested and charged with over 20 counts of public corruption in relation to the appointment. By early January 2009, he was impeached by the Illinois House and, later, convicted and removed from office by the State Senate. The former Governor finally went to trial on the Federal charges in 2010 and he was convicted and sentenced to 14 years in prison. As noted, he began serving his sentence in 2012.
The fact that Trump would use his power to grant a pardon or clemency to help Blagojevich isn't entirely surprising. More so than any previous President before him, Trump has used that power to benefit people who are close to him or who are favored by political allies or others who have had the chance to lobby him one-on-one. The most prominent of these cases have been conservatives such as former Maricopa County, Arizona Joe Arpaio, former Chief of Staff to Vice-President Dich Cheny Scooter Libbey, and right-wing filmmaker Dinesh D'Souza. He has also granted pardons at the urging of celebrities such as Kim Kardashian, and while some of those cases have had merit the fact that they came about because a celebrity chose to curry favor with the President is a pretty apt demonstration of how Trump views this power.
As noted, Trump knows Blagojevich due to the fact that the former Governor appeared the ninth season of Celebrity Apprentice, which was shot and aired prior to the time that he went to trial on the Federal corruption charges. Blagojevich was "fired" from the show during the season's fourth episode but apparently had developed a good relationship with Trump. Good enough that Trump is now apparently ready to cut his Federal sentence in half.