Trump Elevating 3-Star Admiral to CNO
In a move sure to ruffle feathers, the President is bypassing all of the Navy's four-star admirals for the next service chief.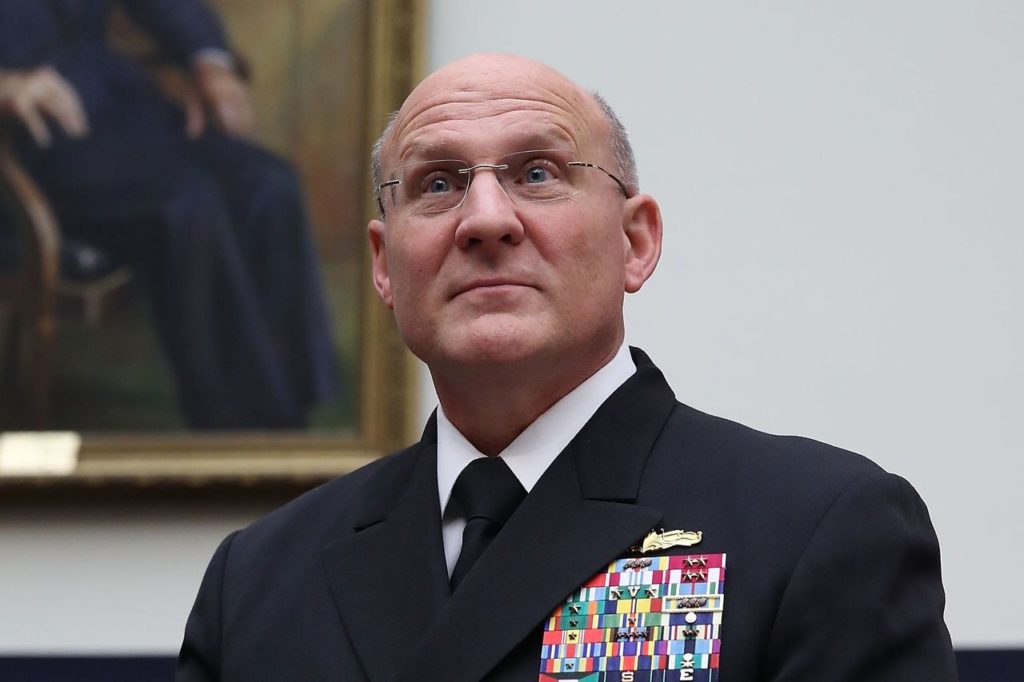 Earlier this week, Admiral Bill Moran, who had been confirmed by the Senate to be the next Chief of Naval Operations, suddenly resigned after what seems like a minor scandal. The President has nominated an unlikely successor.
A three-star surface warfare officer is set to be the Trump Administration's nominee to lead the Navy, after the previous candidate unexpectedly asked to retire, USNI News has confirmed.

On Wednesday, the White House agreed to put forward Vice Adm. Mike Gilday to be the 32nd Chief of Naval Operations, reported The Wall Street Journal. USNI News has independently confirmed the facts in the story.
Gilday, currently the director of the Joint Staff, will replace Adm. Bill Moran as the nominee to replace outgoing CNO Adm. John Richardson, who is bound by law to step down from the position by Sept. 17.

By picking Gilday, the former commander of U.S. 10th Fleet and the Navy's cyber arm, the administration is bypassing seven sitting four-star admirals in a move that is largely without recent precedent. The last time a three-star was nominated to lead the Navy was when then-Vice Adm. Elmo Zumwalt was nominated to be CNO in 1970.

A defense official knowledgeable with the selection process said Secretary of the Navy Richard V. Spencer had considered nominating current U.S. Fleet Forces Command commander Adm. Christopher Grady as the CNO nominee but instead decided to pull a candidate from the three-star pool.

"There was a determination all of the four-stars needed to stay where they are right now," a defense official told USNI News on Wednesday.

[…]

Gilday is a career surface warfare officer and 1985 U.S. Naval Academy graduate.

At sea, Gilday commanded guided-missile destroyers USS Higgins (DDG-76) and USS Benfold (DDG-65), Destroyer Squadron 7, and Carrier Strike Group 8 aboard USS Dwight D. Eisenhower (CVN-69).

As a flag officer, Gilday served as director of operations for NATO's Joint Force Command Lisbon; as chief of staff for Naval Striking and Support Forces NATO; director of operations for U.S. Cyber Command; and in his current role as director of operations for the Joint Staff. He also previously served as the executive assistant to the chairman of the Joint Chiefs of Staff and a naval aide to the White House.

—Sam LaGrone, USNI News, "Trump to Nominate Vice Adm. Mike Gilday to Lead Navy"
I don't know Gilday by reputation but he's certainly qualified to lead the Navy with such a rich array of assignments. Still, as LaGrone notes, it's unprecedented in the modern era to fill the CNO spot with someone who hasn't previously served in a four-star billet.
The closest recent precedent that comes to mind is the 2003 decision to install General Peter Schoomaker, who had retired three years earlier after serving as chief of US Special Operations Command, as Army Chief of Staff. No one had ever been recalled from the retired list for a service chief job before. There, it was rumored that then-Secretary of Defense Donald Rumsfeld had been unable to persuade two active four-star generals to take the post after his open feud with General Eric Shinseki.
I simply don't have any inside information on which to speculate as to what the reasoning is here. The proferred explanation, that none of the four-stars could be spared from their current billet, is risible.