Trump Fears Biden The Most Of All The Democratic Challengers
Not surprisingly, Donald Trump fears former Vice-President Joe Biden the most of all the Democrats currently running against him.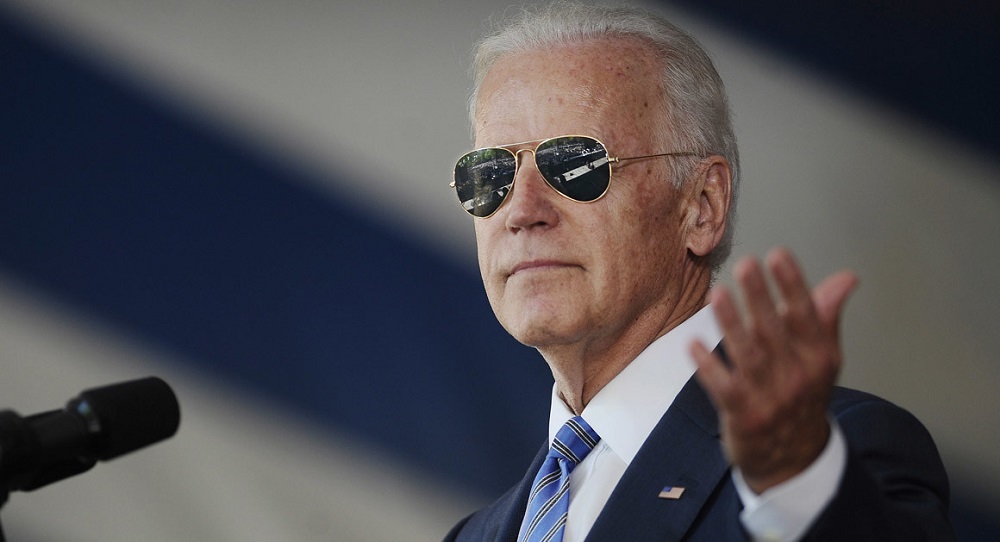 Almost immediately after former Vice-President Joe Biden entered the race for President on Thursday, President Trump began attacking him on Twitter and in other comments. and the reason why appears to be self-evident:
Hours after Joe Biden posted an online video announcing his 2020 White House bid, President Donald Trump responded on Twitter. "Welcome to the race Sleepy Joe," Trump taunted the former vice president on Thursday. "I only hope you have the intelligence, long in doubt, to wage a successful primary campaign."

Trump's insults were actually masking respect — and genuine concern about Biden's potential to win, Trump advisers say.

As early as last fall, Trump was talking privately with aides about the threat Biden posed: "How are we gonna beat Biden?" he would ask.

When reassured that the moderate Biden would never defeat several of his more liberal rivals, Trump has pushed back: "But what if he does?"


The conversations, relayed by a Republican strategist with direct knowledge of the interactions, reflect the president's assessment that Biden poses the biggest threat to his re-election, uniquely capable of competing with him in the Rust Belt states of Wisconsin, Michigan and Pennsylvania that carried him to victory in 2016.


That may also be because, of the 20 Democrats running for president, none has quite as much in common with Trump as Joe Biden.

The two share some defining traits. Trump is 72, and Biden is 76. They are generational peers who have appealed to voters with a raw, unscripted approach to politics. Both have a proven ability to win over blue-collar voters without a college education — Americans who were once solid Democrats but who have increasingly migrated to the GOP.


They share some weaknesses, too.Both are famous for talking far more often and for much longer than their aides would like. Both are prone to remarks that induce cringes even among their supporters.


Biden's official entry into the race capped two years of mudslinging between him and the president. The two senior citizens have even engaged in verbal fisticuffs, with Biden telling a crowd at the University of Miami in March 2018 that he would have "beat the hell out of Trump" if they were in high school, given the president's crude remarks about women.


Trump responded that the former vice president "would go down fast and hard, crying all the way. Don't threaten people Joe!"


Biden has been on the president's political radar for several months. Trump has long known that the former vice president, who considered a bid in 2016, was likely to run in 2020.

As long ago as March 2018, Trump was crowd-testing nicknames for Biden, asking audiences whether they preferred "Crazy Joe," "Sleepy Joe," or "One Percent Joe" — a reference, Trump said, to the percentage of primary votes Biden had captured during his failed presidential bids.


"I think he ran three times and he never had more than one percent, so we call him One Percent Joe," Trump said at a Nevada rally in October 2018. "And then remember what happened? Obama came along and took him off the trash heap and made him vice president. But he never had more than one percent."


Trump's mockery of Biden belies a belief that the former vice president is a true political threat, according to a Republican strategist close to the

Trump campaign. "The candidates he doesn't talk about, it's a signal that he doesn't take them seriously," this person said.


"We have had a number of conversations about potential challengers, and Biden has been at the top of the list because of his polling numbers," said a Republican lawmaker who talks frequently with the president. "He is seen as one of the most difficult potential challengers because of his appeal to independents and his likable style."
Members of the Trump campaign and loyal Republicans. meanwhile, are trying to push the argument that Biden is out of step with his own party and will have to be pulled to the left if he's going to win the nomination:
Inside the Trump campaign, the president's political team is counting on an increasingly liberal Democratic Party pulling Biden, a lifelong moderate, to the left during what political observers anticipate will be a bruising primary fight.

Biden, who was first elected to the Senate in 1972 at the age of 29, has appeared to acknowledge that drift of the party, telling a crowd in Delaware last month that he has the "most progressive record of anybody" running for the White House.

Tim Murtaugh, communications director for the Trump campaign, said: "It doesn't matter who comes out of the Democrat convention next year, because whoever it is will be beat up, broke, without a national operation, with a DNC that's in debt, and saddled with all of the socialist policies they will have adopted in order to win the nomination. Like the rest of them, Biden will have to embrace all of the socialist policies in order to be successful in the leftist field."

Republican operatives unaligned with the Trump campaign echoed that view.

"The positions that he held in the '70s, those are all in play. They are an affront to Republicans in 2019, never mind the Democrats, so I just don't see a lane developing for him," said Chris LaCivita, a GOP political strategist, citing Biden'scomments and positions from decades ago that are out of step with today's Democratic Party.
Here's the President's tweet about Biden's entry into the race:
While there is much to be desired about Trump's skills as a politician, his apparent assessment that Joe Biden is the greatest potential threat to his re-election is one that strikes me as being largely correct. Unlike most of the other candidates for the Democratic nomination. Biden has an appeal to the white working-class voters that helped elect the President in states such as Wisconsin, Michigan, Pennsylvania, and elsewhere in the Midwest that proved to be the difference maker in the 2016 election and which will likely prove to be decisive again in the 2020 election, If Biden can peel away enough of those voters, then he could end up bringing one or more of those states back into the Democratic column in 2020. which would be enough to provide a win in the Electoral College. Biden is also likely to have a similar appeal to voters in states like Ohio, where Trump won by a wider margin than in other parts of the Midwest. For this reason alone, Biden seems like he could be the biggest threat that Trump would face going forward.
It's also interesting to note that the this report makes clear something that the White House has never really acknowledged before, namely the fact that Trump tends to focus his attacks and demeaning monikers on the candidates he believes to be the biggest threat to him. This was apparent during the 2016 campaign for the Republican nomination, during which Trump reserved most of his demeaning attacks on candidates such as Jeb Bush, Ted Cruz. Marco Rubio, and to some extent John Kasich. If nothing else this is a significant "tell" as poker players would call it. If Trump is attacking you, it's because he fears you. In any case, we can expect the attack against Biden to continue as long as he continues to lead the Democratic field. That's good news for Biden, and a signal to the rest of us regarding what Trump is thinking.