Trump Fine With Letting His Foolish Trade War Continue Past 2020 Election
President Trump said this morning that he's fine with letting his trade war with the rest of the world continue all the way to the 2020 election.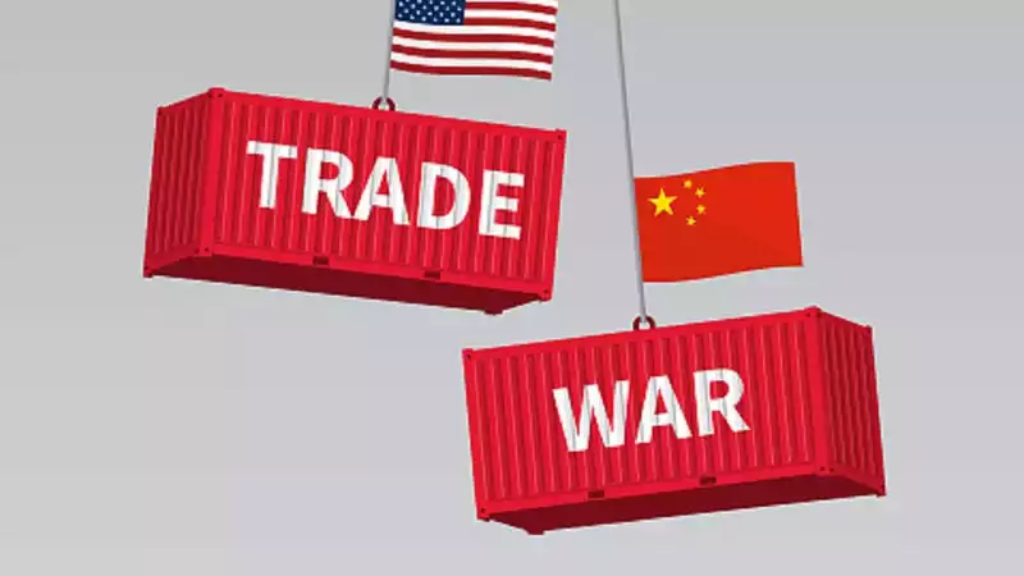 In early morning remarks that sent the financial markets into a tailspin, President Trump said today that he'd be willing to wait until after the 2020 election to strike a trade deal with China:
LONDON — President Trump signaled on Tuesday that he was in no rush to end a long trade war with China, suggesting that he could wait until after the 2020 presidential election to strike a deal and sending stock prices tumbling.

"I have no deadline," Mr. Trump told reporters during a wide-ranging 52-minute appearance in London with Jens Stoltenberg, the NATO Secretary General. "In some ways I like the idea of waiting until after the election for the China deal."

He added: "But they want to make a deal now, and we'll see whether or not the deal's going to be right, it's got to be right."

Mr. Trump's comments rattled European stock markets and sent the Dow Jones industrial average down 400 points by 10 a.m. They cast more uncertainty on an agreement he said he had made weeks ago with China's top trade envoy, Vice Premier Liu He. They announced in mid-October that they had reached a so-called Phase 1 trade agreement that would allow Chinese purchases of American agricultural goods to resume while the United States would cancel additional tariffs scheduled for Oct. 15.

But completion of the Phase 1 deal has remained elusive, and the two sides have continued to grapple over terms as an important date quickly approaches. While Mr. Trump said Tuesday that he had no deadline, he has threatened to impose another round of tariffs on more than $100 billion worth of Chinese goods on Dec. 15.

Administration officials had previously suggested that those tariffs could be canceled if the two sides concluded a trade deal. But sticking points remain — including whether Mr. Trump will remove any of the tariffs already placed on $360 billion worth of products. If he proceeds with that December round, the United States would essentially be taxing every shoe, television and laptop that China sends into the United States and risking more retaliation.

The original plan called for an agreement to be signed in mid-November by Mr. Trump and Xi Jinping, China's top leader, on the sidelines of the Asia-Pacific Economic Cooperation summit meeting in Santiago, Chile. But that meeting was canceled because of street protests over a subway fare increase in Santiago, and momentum on the trade talks has slowed since then.

The Trump administration insists that China must offer more concessions to protect intellectual property and open its markets to American companies, while China is demanding more relief from Mr. Trump's tariffs in return for such concessions.

American and Chinese officials have remained fairly optimistic that a deal will be struck before the new tariffs take effect Dec. 15, but they say the final decision will fall to Mr. Trump and Mr. Xi.

(…)

The remarks followed several moves on Monday that renewed the president's threats of a global trade war. The president announced on Twitter Monday morning that he would impose tariffs on metals from Brazil and Argentina. Later that day, his administration said it might place tariffs as high as 100 percent on $2.4 billion of French imports in response to a new French tax on American technology companies.
Those moves have reignited uncertainty in a global trade war that had appeared to be calming as the presidential election approaches. In the last several months, the Trump administration has announced a trade deal with Japan, postponed a decision to place devastating tariffs on European cars, and pushed for the ratification of its revised North American trade deal.

Many Wall Street analysts have expected the president to try to gain more bragging rights for the 2020 election by finalizing a trade pact with China by the end of the year. That timeline would also allow the administration to avoid the Dec. 15 tariff increase, which will raise the prices of smartphones and electronics and potentially anger voters.

But in his public remarks, Mr. Trump has frequently said that he is happy to further raise American tariffs, which are already at their highest point in decades. He has repeatedly welcomed the contributions of the tariffs to the government's coffers, and erroneously claimed that the levies are having no impact on American businesses.
It's possible, of course that these latest remarks could be Trump's way of playing chicken with the Chinese in advance of a deal to avert the imposition of the widespread tariffs on virtually everything imported from China that he announced over the summer and later delayed until mid-December so as not to interfere with the holiday shopping season. That isn't how Wall Street is taking the comments, though.
As I write this, the markets are down by more than 1.5% across the board, with the Dow Jones Industrial average leading the way by being down more than 400 points. Admittedly, this is after a week last week where market indices hit record highs, but the link between market performance and Trump's idiotic trade war cannot be denied. Before Trump spoke this morning, market futures for the Dow, S&P 500, and NASDAQ were all strongly positive. Within mere minutes after he finished talking trade, though, those futures turned negative to the point where the Dow opened down 300 points and kept plunging after that. This was after a day yesterday when the markets were down by roughly 200 points due to the bad manufacturing report I wrote about this morning.
We're basically at the point now where repeating the arguments against what the President is doing here is becoming redundant. Anyone who has taken a basic economics education knows that tariffs are, generally speaking, a bad idea because they end up causing more harm to the economy of the nation imposing the sanctions. We've seen plenty of evidence of this is the eighteen months since President Trump began this trade war with the imposition of tariffs on steel and aluminum that had the impact of increasing the domestic cost of those products, raising prices for manufacturers that rely on these raw materials, and eventually raising prices for consumers who buy everything from washing machines and dryers to automobiles. From there, the war expanded in a tit-for-tat manner that we've become used to at this point and has been shown to have a measurable impact on the economies of both the United States and China. Despite that, both nations appear locked in battle at this point and efforts to reach a resolution have been utterly unsuccessful.\
All of this is happening at the same time economic analysts are warning that Trump's trade war could push the world economy into recession. This is one of the factors that the Federal Reserve Board cited in its recent decision to cut interest rates, a policy it said it may continue if there is further evidence that the trade war is harming the economy. While President Trump has claimed, against all of the available evidence, that it is China and other targeted countries that are paying the tariffs that he has imposed, the reality is that the tariffs are paid by importers who pass them on to their American customers who then pass them on to American consumers. Indeed, Trump himself seemed to acknowledge this when he delayed the implementation of tariffs on consumer goods imported into the United States until nearly the end of the holiday shopping season. Originally, of course, those tariffs were supposed to go into effect on September 1st. Obviously, if the President really believed that a trade war was costless to the economy and American consumers, he would not have made a decision like this. That delay is set to expire on December 15th. If the U.S. and China are unable to reach a deal before then, then the impact on financial markets, the American economy, and the pocketbook of the average American could be quick severe.
The President is fond of saying that "trade wars are good and easy to win," As we've seen, the fact is that they are bad and everyone loses. As I've noted in the past, the arguments that these tariffs help either American industry or the American economy are nonsense. In the end, higher tariffs end up being paid by American consumers, by American businesses that depend on international trade such as the agriculture industry, and by the businesses that rely on the products that are subject to the tariffs. President Trump's arguments to the contrary notwithstanding, there is no economic benefit at all to tariffs and a heck of a lot of negative. Despite that, the Trump Administration appears committed to this ill-advised, self-destructive policy
The irony of all of this, of course, is that it may end up being the President's own obsession with tariffs that causes the economic downturn prior to the 2020 election that he obviously fears. As it is, those policies have already helped to send the manufacturing sector into a recession and it could be a very short period of time until it drags the rest of the economy with it. This is especially true since several top nations in Europe already seem to be headed toward recession and China's own growth is slowing down as it too feels the impact of the trade war. While the U.S. economy is obviously stronger than some of these other economies, we can't shield ourselves from what's happening in the rest of the world forever. And as I've said repeatedly, it is inevitable that the current period of economic expansion, which is clearly slowing down, will come to end. If that's what happens, then he will likely get what he deserves at the ballot box. But it will be the rest of us who end up paying the price for it.