Trump Fires VA Secretary, Replacing Him with Navy Admiral
Descriptions of Robby Jackson as "Trump's personal physician" mischaracterize his qualifications for the job.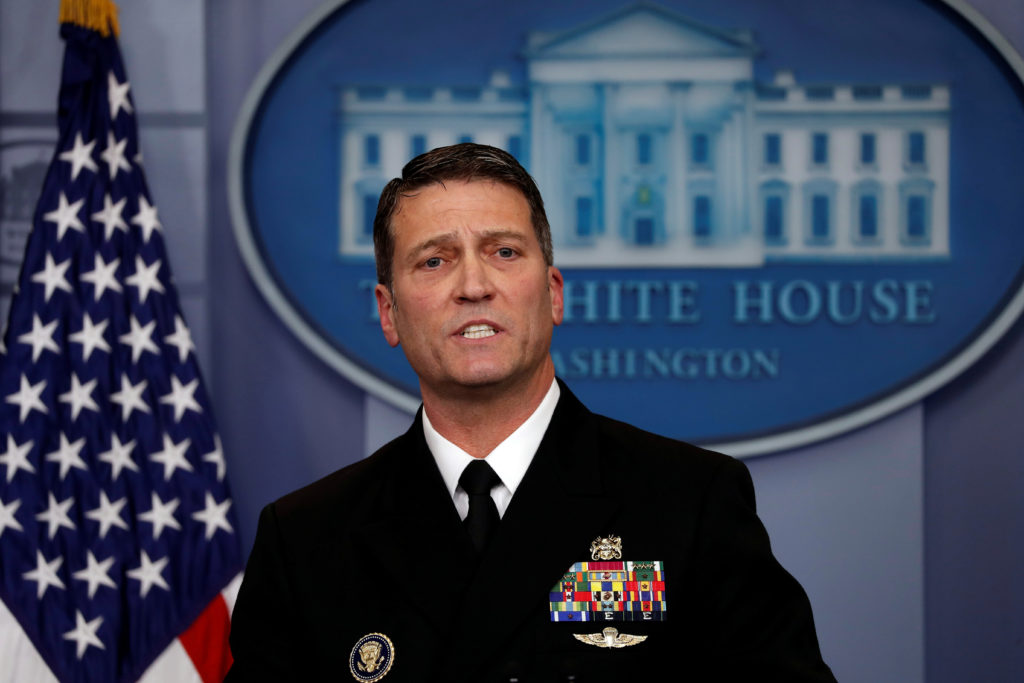 The rapid turnover in the Trump cabinet continues but I believe this one is being misframed.
The NYT headline, "Trump taps his doctor to replace Shulkin at VA, choosing personal chemistry over traditional qualifications," is typical. But, like presumably most people, that conjured in my mind Trump appointing his personal physician from New York that he'd known for several decades. Not at all:
President Trump fired his embattled Veterans Affairs secretary Wednesday and tapped as his replacement atop the chronically mismanaged agency the president's personal physician, who gained prominence with his effusive praise of the 71-year-old's physical and mental health.

The ouster of Veterans Affairs Secretary David Shulkin, who has been mired in scandal over his charging taxpayers for luxury travel expenses and the infighting among his senior aides, had been widely expected and was made official at 5:31 p.m. by presidential tweet.

Trump said he would nominate Ronny L. Jackson, 50, an active-duty rear admiral in the Navy who has served for the past three administrations as a White House physician.

A biography released by the White House shows Jackson is credentialed and experienced in medicine but has no background in management. He nonetheless will be charged with delivering on one of Trump's signature campaign promises: to fix the federal government's second-largest bureaucracy.

VA, which employs 360,000 people and has a $186 billion annual budget, serves a growing population of veterans in need and is suffering from a shortage of doctors, nurses and mental health experts.

As a career military officer, Jackson has been apolitical, and his views on a range of hot-button issues affecting VA — including proposals to privatize care — are not publicly known.

Trump prizes relationships and loyalty over traditional qualifications, and he quickly developed personal chemistry with Jackson. The boss admires the man he calls "The Doc," according to aides, and cheered Jackson's on-camera performance in the press briefing room in January, where he delivered the results of Trump's annual physical as "very, very good" and "excellent."

"Some people have just great genes," Jackson said. "I told the president that if he had a healthier diet over the last 20 years, he might live to be 200 years old. . . . He has incredibly good genes, and it's just the way God made him."

At a time when Trump's critics questioned his mental fitness, based in part on accounts in the book "Fire and Fury," Jackson effectively backed up Trump's claims of being a "very stable genius," telling reporters that he received a perfect score on a cognitive exam.

"He's very sharp, and he's very articulate when he speaks to me, and I've never known him to repeat himself around me," Jackson said. "I've found no reason whatsoever to think the president has any issues whatsoever with his thought process."

Trump praised Jackson in a statement Wednesday: "Admiral Jackson is highly trained and qualified and as a service member himself, he has seen firsthand the tremendous sacrifice our veterans make and has a deep appreciation for the debt our great country owes them."
USA Today ("5 things to know about VA nominee Ronny Jackson") adds:
Jackson went into active naval service in 1995 after getting his medical degree from University of Texas Medical Branch. He went on to become the honor graduate of the Navy's Undersea Medical Officer Program in Groton, Conn., before getting more credentials in emergency medicine. During Operation Iraqi Freedom he served as a emergency doctor specializing in resuscitating troops in Iraq.

[…]

The Pentagon announced Friday that Jackson had been nominated to be promoted to rear admiral (upper half) from rear admiral (lower half). The nomination, which Secretary of Defense Jim Mattis announced, would give Jackson his second star and a bigger paycheck.

[…]

Jackson has served both Democrat and Republican administrations and draws praise from each side.

When Jackson got some criticism for appearing a bit too enthusiastic about Trump's physical condition after his exam in January, Dan Pfeiffer, a former senior adviser to Obama, jumped to his defense via Twitter:
Dr. Jackson is a phenomenal doctor and a really great guy. He and his team took great care of all of us for many years

— Dan Pfeiffer (@danpfeiffer) January 16, 2018
On Wednesday, Alyssas Mastromonaco, former Obama deputy chief of staff, tweeted "there is no one better than ronny."
there is no one better than ronny. no one. he is a saint and patriot. https://t.co/rMTFZTdP2s

— alyssa mastromonaco (@AlyssaMastro44) January 16, 2018
Jackson told reporters at a briefing after the president's physical the same thing your doctor probably says to you. He said the 71-year-old, 239-pound president could use more exercise and a better diet that is lower in fat and carbohydrates. Trump, who is known to eat junk food and to avoid exercise beyond golf, is overweight and has set a "reasonable goal" of losing 10 to 15 pounds in the coming year and developing a regular fitness routine, Jackson said.

"He's more enthusiastic about the diet part than the exercise part," Jackson added.
So, Jackson isn't a Trump crony. He's a well-respected career Navy man who has served in a very high profile post through three administrations (an Obama holdover!). While his assessment of Trump's mental health differs from my own, I have no reason to doubt his integrity; I'm sure Trump is passing the standard tests.
Is he traditionally qualified to run the VA? Maybe.
Of those, only Peake is demonstrably better qualified to run the Department of Veterans Affairs. Shulkin, McDonald, Shinseki, and even Nicholson had better management credentials than Jackson but none of them are physicians.
A relatively young Navy admiral with a distinguished career in military medicine would have significant credibility with the veterans the agency serves. And having a rapport with the President is always extremely helpful for a cabinet secretary, especially on from a less visible department. That's especially true with this President.