Trump Gaining Black and Hispanic Voters
Some surprising poll numbers.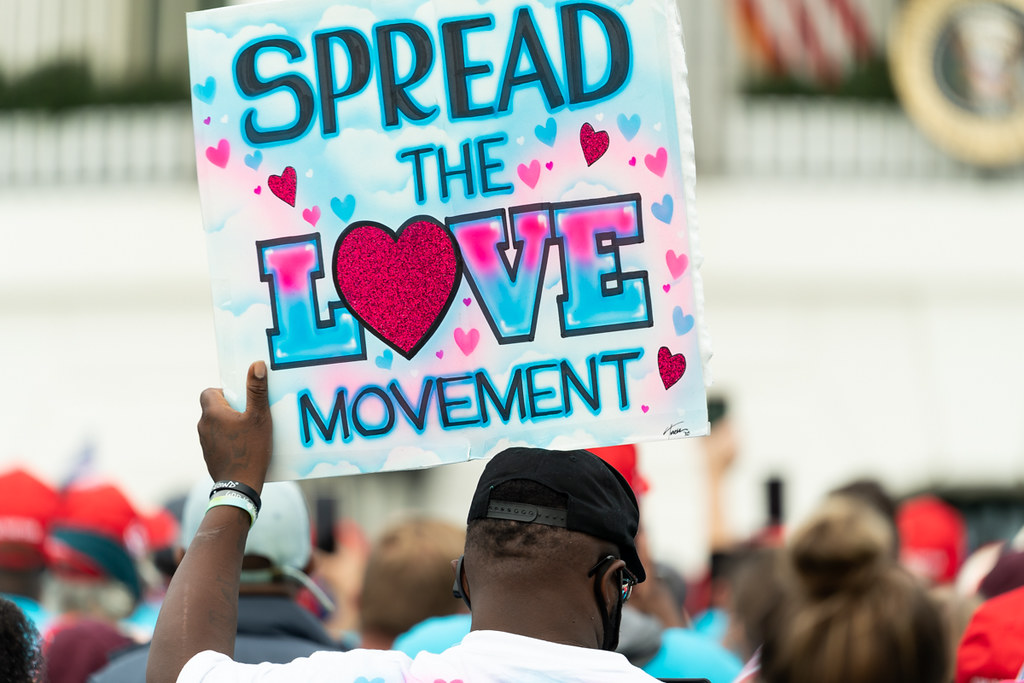 When I saw the FiveThirtyEight headline "Trump Is Losing Ground With White Voters But Gaining Among Black And Hispanic Americans," I was expecting to find a case of modest regression to the mean. After all, Blacks have historically voted so overwhelmingly for Democrats that some gain by Republicans is almost inevitable. But something else seems to be going on.
First, though, I hasten to point out that the first part of the headline is far more important: Joe Biden's margin with white voters is significantly stronger than Hillary Clinton's and whites make up 70ish percent of voters. Thus, he's very likely to win the election. Still, given that President Trump has doubled down on white nationalism as the basis of his appeal, the second part is for more interesting.
Trump has also gained real ground among nonwhite voters. To be clear, he still trails Biden considerably with these groups, but in UCLA Nationscape's polling over the past month, he was down by 39 points with these voters, a double-digit improvement from his 53-point deficit in 2016.

While older Black voters look as if they'll vote for Biden by margins similar to Clinton's in 2016, Trump's support among young Black voters (18 to 44) has jumped from around 10 percent in 2016 to 21 percent in UCLA Nationscape's polling. Black voters remain an overwhelmingly Democratic-leaning constituency, but a notable reduction in their support could still be a problem for Biden.

Notably, young Black voters don't seem to feel as negatively about Trump as older Black Americans do. For instance, an early-July African American Research Collaborative poll of battleground states found that 35 percent of 18-to-29-year-old Black adults agreed that although they didn't always like Trump's policies, they liked his strong demeanor and defiance of the establishment. Conversely, just 10 percent of those 60 and older said the same.
Graphically, it looks like this: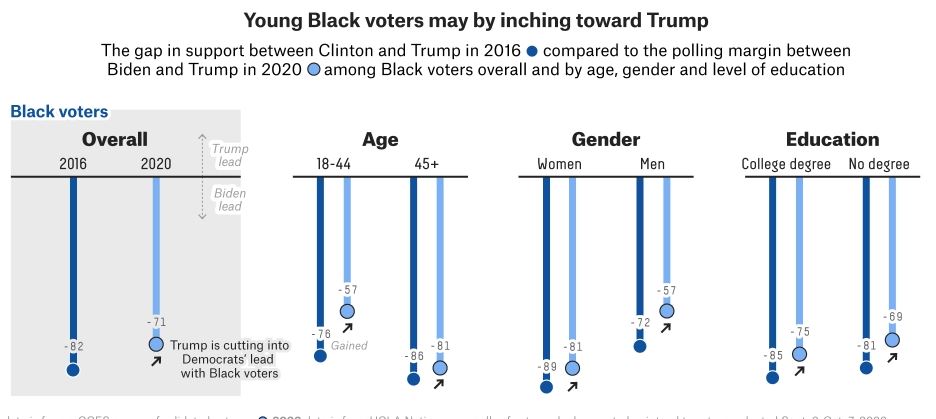 We're seeing much the same with Hispanics:
It's a similar story with younger Hispanic Americans, a group where Trump has also made gains. According to UCLA Nationscape's polling, Trump is attracting 35 percent of Hispanic voters under age 45, up from the 22 percent who backed him four years ago in the CCES data.

Most notably, even though Trump stands to gain with nonwhite voters across the board, his support seems to have risen the most among Hispanic voters with a four-year college degree. We don't want to overstate the influence of this group — they make up about 2 percent of the population age 25 and older nationwide — but they are disproportionately concentrated in one especially vital swing state: Florida. In fact, 24 percent of Hispanic Floridians have a college degree, compared to 16 percent of Hispanic adults nationally.4 So even if Trump isn't doing as well among older white voters, his gains among Hispanic voters, including highly educated ones, could offer a path to victory in the Sunshine State.
Visually:

Moreover,
One last point on where Trump has made gains among Black and Hispanic voters: He has done particularly well with Black and Hispanic men, which might speak to how his campaign has actively courted them. For instance, the Republican National Convention featured a number of Black men as speakers this year. And Politico talked with more than 20 Democratic strategists, lawmakers, pollsters and activists who explained that many Black and Latino men are open to supporting Trump as they think the Democratic Party has taken them for granted. The same can't be said of Black and Hispanic women, though, and the gender gap among nonwhite voters is shaping up to be even bigger than it was in 2016. Ninety percent of Black women supported Biden in UCLA Nationscape polling — unsurprising, as this group is arguably the most staunchly Democratic demographic in the electorate — whereas less than 80 percent of Black men did the same. And among Hispanic voters, 64 percent of women backed Biden compared to 57 percent of men.
The analysts caution that the 2016 and 2020 numbers aren't precisely comparable, in that the former surveyed those who actually voted and the latter those expected to vote. Still, the size and direction of the moves strike me as nontrivial.
I find the whole thing befuddling, as it's hard to conceive of a woman or person of color who wouldn't find Trump personally repugnant. It just goes to show how incredibly complex the human psyche can be.
Additionally, it points again to the fact that racism doesn't explain everything. There was doubtless a strong racial element to both the rise of the Tea Party and the nomination and subsequent election of Donald Trump. But we're seeing some of the same frustrations that fueled those movements at work here, I think.