Trump Has Reportedly Decided To Remove National Security Adviser H.R. McMaster
H.R. McMaster appears to be on the way out as National Security Adviser. The important question is, who replaces him?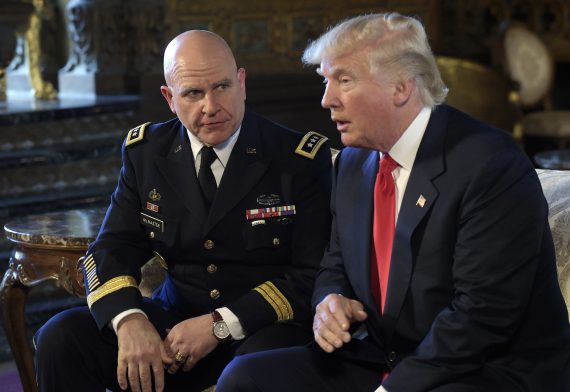 The Washington Post is reporting that President Trump has decided to dismiss his National Security Adviser, Lt. General H.R. McMaster:
President Trump has decided to remove H.R. McMaster as his national security adviser and is actively discussing potential replacements, according to five people with knowledge of the plans, preparing to deliver yet another jolt to the senior ranks of his administration.

Trump is now comfortable with ousting McMaster, with whom he never personally gelled, but is willing to take time executing the move because he wants to ensure both that the three-star Army general is not humiliated and that there is a strong successor lined up, these people said.

The turbulence is part of a broader potential shake-up under consideration by Trump that is likely to include senior officials at the White House, where staffers are gripped by fear and un­certainty as they await the next move from an impulsive president who enjoys stoking conflict.

For all of the evident disorder, Trump feels emboldened, advisers said — buoyed by what he views as triumphant decisions last week to impose tariffs on steel and aluminum and to agree to meet with North Korean leader Kim Jong Un. The president is enjoying the process of assessing his team and making changes, tightening his inner circle to those he considers survivors and who respect his unconventional style, one senior White House official said.

White House press secretary Sarah Huckabee Sanders pushed back late Thursday on Twitter: "Just spoke @POTUS and Gen H.R. McMaster. Contrary to reports they have a good working relationship and there are no changes at the NSC."

Before The Washington Post report was published, a White House spokesperson checked with several senior White House officials and did not dispute that the president had made a decision. White House Chief of Staff John F. Kelly — who has personally been eager to see McMaster go —has also told White House staff in recent days that Trump had made up his mind about ousting McMaster.

Just days ago, Trump used Twitter to fire Rex Tillerson, the secretary of state whom he disliked, and moved to install his close ally, CIA Director Mike Pompeo, in the job. On Wednesday, he named conservative TV analyst Larry Kudlow to replace his top economic adviser, Gary Cohn, who quit over trade disagreements.

And on Thursday, Trump signaled that more personnel moves were likely. "There will always be change," the president told reporters. "And I think you want to see change. I want to also see different ideas."

This portrait of the Trump administration in turmoil is based on interviews with 19 presidential advisers and administration officials, many of whom spoke on the condition of anonymity to offer candid perspectives.

The mood inside the White House in recent days has verged on mania, as Trump increasingly keeps his own counsel and senior aides struggle to determine the gradations between rumor and truth. At times, they say, they are anxious and nervous, wondering what each new headline may mean for them personally.

But in other moments, they appear almost as characters in an absurdist farce — openly joking about whose career might end with the next presidential tweet. White House officials have begun betting about which staffer will be ousted next, though few, if any, have much reliable information about what is actually going on.

Several candidates have emerged as possible McMaster replacements, including John Bolton, a former U.S. ambassador to the United Nations, and Keith Kellogg, the chief of staff of the National Security Council.

Kellogg travels with Trump on many domestic trips, in part because the president likes his company and thinks he is fun. Bolton has met with Trump several times and often agrees with the president's instincts. Trump also thinks Bolton, who regularly praises the president on Fox News Channel, is good on television.

Some in the White House have been reluctant to oust McMaster from his national security perch until he has a promotion to four-star rank or other comfortable landing spot. They are eager to show that someone can serve in the Trump administration without suffering severe damage to their reputation.

There has been a death watch for McMaster for several weeks. After NBC reported on March 1 that Trump was preparing to replace him, the White House dismissed that report as "fake news" — but over the past 48 hours, officials told The Post that Trump has now made a clear decision and the replacement search is more active.
This isn't the first report that McMaster may be on the way out. Such reports began to circulate at the end of February and have only become more likely. At the time, it was reported that tensions between Trump and his National Security Adviser had flared in recent months, principally over issues such as the statements that McMaster made acknowledging that the Russians did indeed interfere in the 2016 elections, something that the President still has not fully acknowledged publicly notwithstanding the fact that his own intelligence chiefs have done so and that the recent indictments from Special Counsel Robert Mueller have made readily apparent. It also appears that much like Secretary of State Rex Tillerson, McMaster has not been fully on board with some of the recent decisions the President has made, such as the decertification of Iranian compliance with the Joint Comprehensive Plan of Action agreed to by the United States and five other major world powers in 2015.
It was just over a year ago that McMaster was named Trump's National Security Adviser after Michael Flynn was forced to resign in the wake of the revelation that he had lied to Vice-President Pence and other members of the Trump transition team regarding his contacts with the Russian Ambassador to the United States prior to Inauguration Day. McMaster remained and still remains on active duty with the U.S. military, making him the first active duty officer to hold the position of National Security Adviser since Colin Powell served in that position during the final years of the Reagan Administration. That fact appears to be at least part of the reason why there hasn't been any formal announcement of McMaster's since it would be necessary to find some kind of active duty assignment for McMaster if he decided to stay in the military. In Powell's case, of course, he went on to become Chairman of the Joint Chiefs of Staff under George H.W. Bush, a position which he served in during the Persian Gulf War. That isn't really an option for McMaster, though, since that position is filled and there don't appear to be many other command positions that he could be assigned to without it being seen as a demotion. Of course, McMaster could decide to retire, which would solve that particular issue, but until those details are ironed out it looks as though McMaster will remain in place for now. His days appeared to be numbered, though.
In light of the dismissal earlier this week of Secretary of State Rex Tillerson earlier this week, the news of the departure of McMaster should be particularly troubling to those hoping that the President will follow something resembling a rational foreign policy. For the most part, Trump has been guided during most of this first year of his term by a triumvirate of advisers that included both Tillerson and McMaster along with Secretary of Defense James Mattis. With Tillerson gone and apparently ready to be replaced by C.I.A. Director Mike Pompeo, and McMaster apparently on the way as well, that triumvirate is now down to one person, albeit one that Trump does appear to give a fairly high degree of deference to, at least for the moment.
Perhaps of most concern, though, is the prospect of who ends up replacing McMaster. At this point, the top two choices appear to be Keith Kellogg, a Retired Army Lt. General who currently serves as Executive Secretary and Chief of Staff to the National Security Council and John Bolton, who served as U.S. Ambassador to the United Nations under President George W. Bush. I can't say that I know much of anything about Kellogg, but his time in the military suggests that he'd be similar to Mattis and McMaster in his temperament and in the advice that he would likely give to the President. Bolton, on the other hand, is, unfortunately, an all too well-known commodity. He has long been considered one of the strongest hawks on the right, and his appointment as U.N. Ambassador was controversial enough that President Bush was forced to utilize a recess appointment to put him in office since it was clear he could not be confirmed even while Republicans still controlled the Senate prior to the 2006 elections. On that note, it's worth noting that the post of National Security Adviser is a White House Staff position akin to Chief of Staff and therefore does not require Senate confirmation.
During the past decade, Bolton has been a consistent advocate for a harder line against Iran, including advocating military action, and was a harsh critic of the JCPOA both while it was being negotiated and after it went into effect. Notwithstanding earlier reports that he had been frozen out of the White House by Chief of Staff John Kelly among others, there have been several reports in recent months that Bolton has been meeting and talking to President Trump quite frequently, and he has been spotted at the White House by reporters, although it's not been clear who he's been meeting or why. For that and other reasons, reports have indicated that Bolton is the leading candidate to replace McMaster, something that has been rumored as far back as January. If that happens, then it looks like James Mattis will be the last voice of reason on foreign policy in the Trump Administration, and one wonders how that will impact his ability to hold the President back from impulses that are best avoided in perhaps the most important part of a President's job.