Trump Impeachment Likely, Removal Thinkable
For the first time, it's conceivable that Republicans will turn against the President.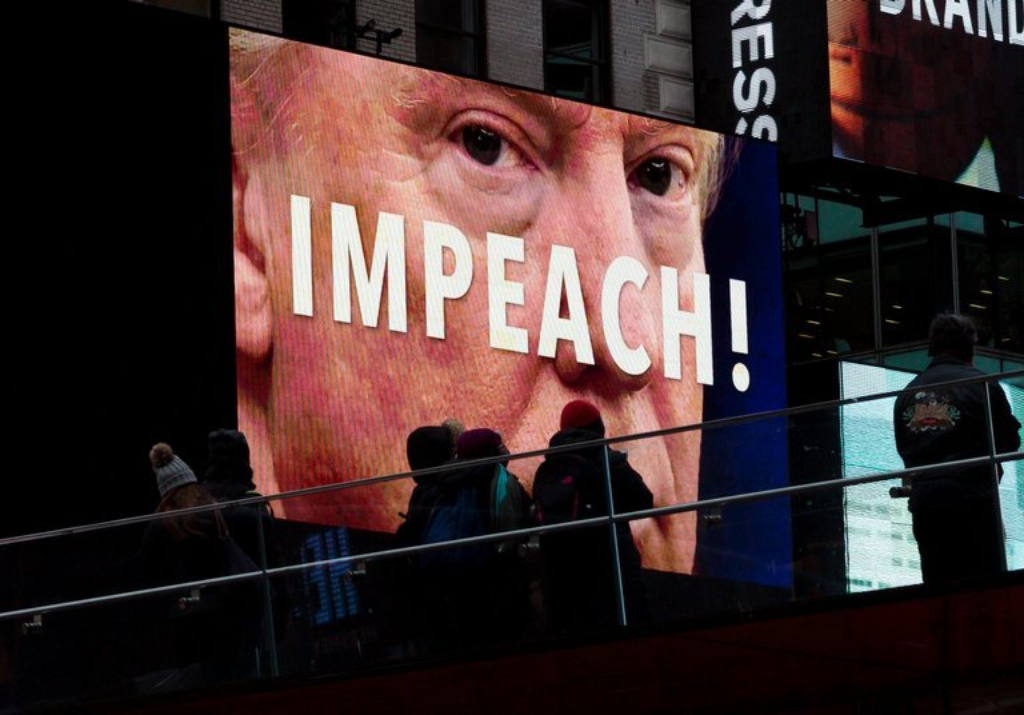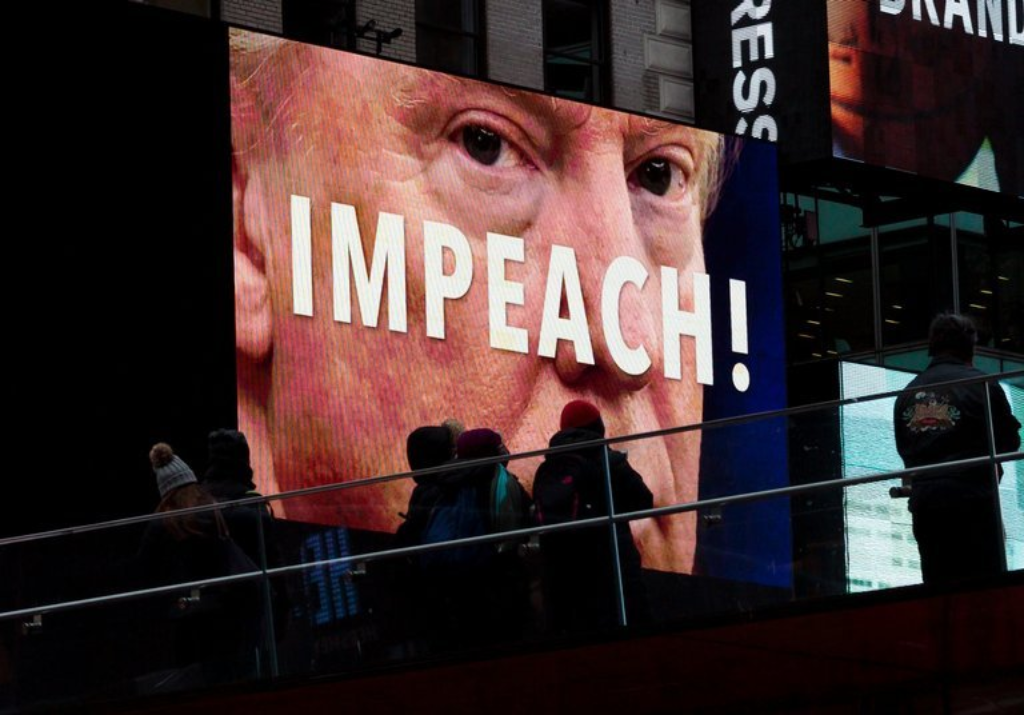 The rapidly-unfolding story of President Trump's attempts to get his Ukrainian counterpart to investigate a potential 2020 rival has done what millions of dollars and two-plus years of the Mueller investigation could not: galvanize Republicans against him.
WaPo's Greg Miller reports on the extraordinary work done by the whistleblower:
From the moment he learned about President Trump's attempts to extract political dirt on former vice president Joe Biden from the newly elected leader of Ukraine on July 25, the CIA officer behind the whistleblower report moved swiftly behind the scenes to assemble material from at least a half-dozen highly placed — and equally dismayed — U.S. officials.

He wove their accounts with other painstakingly gathered material on everything from the intervention of Trump's personal lawyer Rudolph W. Giuliani in the U.S.-Ukraine relationship to alleged efforts by American diplomats sent to Kiev and attorneys in the Office of the White House Counsel to contain or suppress the accruing damage.

On Aug. 12, he delivered his document — a nine-page version of which was made public on Thursday — to the intelligence community's inspector general, triggering an almost immediate clash between the executive branch and Congress.

[…]

"In the course of my official duties," the whistleblower writes in the first sentence of his complaint, he learned that "the President of the United States is using the power of his office to solicit interference from a foreign country in the 2020 U.S. election."

The file goes on to bolster that contention with specific language that matches the since-released White House summary of Trump's call with the Ukrainian president and points to other potential witnesses and grave allegations.

—"Whistleblower painstakingly gathered material and almost single-handedly set impeachment in motion"
I'm not sure this phone call is even in my top five reasons to be outraged by Trump's corrupt use of his office but it's perhaps the easiest to follow. It's a discrete action, committed by Trump directly, and not only captured on video but admitted to by Trump and his latest incompetent fixer, Rudy Giuliani.
The tide seems to have quickly turned. Several new polls show a significant swing towards public support for impeachment.
Voters are now evenly split on whether Congress should begin impeachment proceedings against President Donald Trump, a marked increase in support for impeachment, according to a new POLITICO/Morning Consult poll.

The poll, which began after House Speaker Nancy Pelosi announced her support for impeachment proceedings on Tuesday, shows 43 percent of voters think Congress should begin the process of impeachment, while an equal number of poll respondents say Congress shouldn't begin impeachment proceedings. Another 13 percent of voters are undecided.

[…]

Support for impeachment is up 7 points from the previous poll, which was conducted last Friday through Sunday. In that survey, only 36 percent of voters supported starting impeachment proceedings, while 49 percent opposed them.

Among Democratic voters, support for impeachment proceedings has increased 13 points, from 66 percent in the previous poll, to 79 percent now.

But, according to Morning Consult vice president Tyler Sinclair, support has also ticked up among other voters.

"As more information has emerged about whistleblower allegations against President Trump, support for impeachment proceedings has grown to its highest point since the beginning of the summer," Sinclair said. "This week's news cycle had a significant impact on Republicans and independents, giving credibility to Democrats' impeachment inquiry. Up from 5 percent last week, 10 percent of Republicans now support beginning impeachment proceedings, while support among independents has reached 39 percent."

—"Support for impeachment jumps in new poll"
We see similar results in fresh polling by NPR:
Americans are split, 49%-46%, on whether they approve of Democrats' impeachment inquiry into President Trump, and independents at this point are not on board, a new NPR/PBS NewsHour/Marist Poll finds.

[…]

Americans are also split on whether the impeachment inquiry is a serious matter (50%) or just politics (48%) and whether it's worth going through with if the Senate doesn't convict and Trump gets to stay in office. By a 2-point margin, 49%-47%, they say it's not worth it.

Important for Democrats, half of independents disapprove (50%) of the impeachment inquiry and don't think it's worth it if the Senate doesn't convict (52%). People who live in the suburbs, whom Democrats relied on for support in the 2018 midterms to take back the House, are largely split on each of those questions.

On the impeachment inquiry, 48% of those living in the suburbs approve, while 49% disapprove. And on whether it's worth it, they divide evenly, 49%-49%.

—"Poll: Americans Split on House Impeachment Inquiry"
Business Insider has similar numbers. Ditto YouGov. The latter is interesting because it asks the question slightly differently, finding that "55 percent of Americans said they would support impeachment if it's confirmed that Trump did suspend aid in order to convince Ukrainian officials to investigate" [emphasis mine]. Given that this seems to have subsequently been confirmed, it's bad news for the President. And, asked that way, a much larger chunk of self-identified Republicans—a group that excludes those of us who've already left the party out of disgust over Trump—are prepared to jump ship:
In this survey, which was conducted before Speaker Pelosi announced the impeachment inquiry, Democrats (76%) were especially likely to say that they would support impeachment if it turns out that Trump did suspend military aid to Ukraine to push them to investigate. About half (51%) of independents and nearly one-third (32%) of Republicans agree.

A larger number of Republicans (49%) say they would oppose impeachment. Three in 10 independents and 13 percent of Democrats would also oppose the move. Overall, about one quarter (26%) of the country would oppose Trump's impeachment if he did do what he has been accused of. One in five (19%) doesn't know whether they would support or oppose impeachment in this case.

—"Most Americans support impeachment if Trump pressured Ukraine"
Granting that people who still identify as Republican at this point are likely to be very hard to persuade even with the evidence right in front of them, this is nonetheless a sea change.
We're seeing signs that this is also impacting Senate Republicans, who would ultimately have to vote in substantial numbers to remove Trump from office.
Former Arizona Sen. Jeff Flake made a bold claim on Thursday when he said "at least 35" GOP senators would privately vote for President Trump's impeachment.

Appearing at the 2019 Texas Tribune Festival, Flake, a frequent critic of the president, offered his own reaction and predicted that close to three dozen Republican senators would back impeachment.

"I heard someone say if there were a private vote there would be 30 Republican votes. That's not true," Flake said during a Q&A. "There would be at least 35."

—Fox News, "Jeff Flake says 'at least 35' Republican senators would privately vote to impeach Trump"
Granting that impeachment would require public voting and that claiming something in private takes zero courage, this should be a worrisome sign for Trump. One imagines that a large number of Senate Republicans have chafed at having to carry his water for so long and would welcome the change to get rid of him if they believe they won't be punished by voters for so doing.
Already, two Republican governors—granted, representing very blue states—have said the impeachment inquiry is warranted.
Given that the polling predates the release of the whistleblower report, the audio of Trump's conversation, testimony before Congress yesterday, and other developments in this fast-moving story, I think these polls likely understate the trouble Trump is in.
Nancy Pelosi, who has steadfastly opposed impeachment hearings as political suicide for her party has reversed course. She is nothing if not a shrewd vote-counter. I suspect impeachment is a foregone conclusion.
I still believe removal is an uphill fight and ultimately unlikely. But things are moving fast in that direction.
Ironically, a major obstacle to that outcome is that Vice President Mike Pence may well be implicated in the same scandal. While I still have enough optimism in our system and my erstwhile co-partisans to think it possible that they would do the right thing if the outcome were President Pence and a chance at a non-Trump nominee in 2020, there's simply no way they would vote to hand the White House to Nancy Pelosi—which is what would happen if both Pence and Trump were removed, owing to a bizarre line of succession.