Trump Impeachment Trial Underway
And now the real farce begins.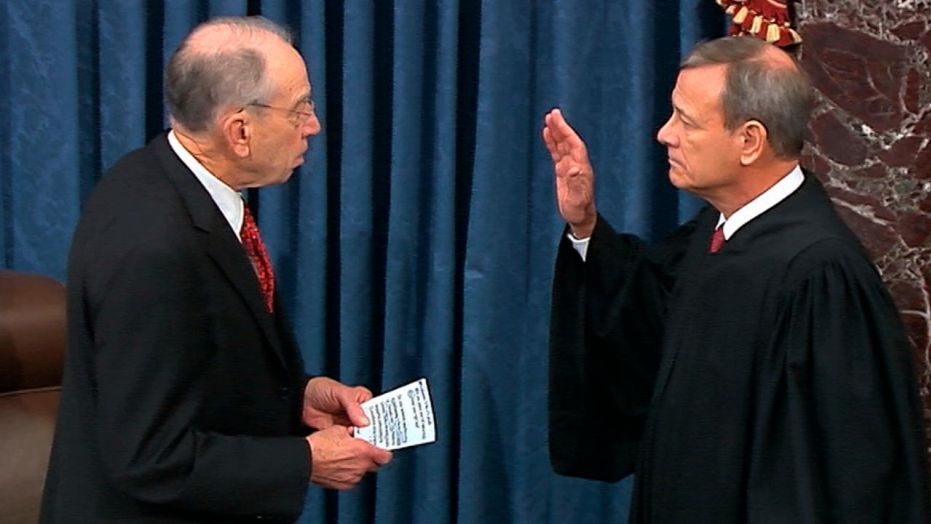 For the third time in history, and the second in the last quarter-century, the United States Senate has been sworn in as a "jury" to rule on the impeachment of the President. This time, the outcome seems a foregone conclusion.
Still, this seems a moment worthy of commemoration. WaPo ("Impeachment trial live updates: Historic impeachment trial of Trump begins in the Senate"):
The historic impeachment trial of President Trump got underway Thursday with the swearing in of senators and the presentation of the two charges of abuse of power and obstruction of Congress.

John G. Roberts Jr., chief justice of the United States, was sworn in to preside over the trial, which is focused on Trump's conduct toward Ukraine. Senate Majority Leader Mitch McConnell (R-Ky.) has said the trial will proceed "in earnest" next week.

Fallout also continued Thursday from new allegations by Lev Parnas, a former associate of Trump's personal lawyer Rudolph W. Giuliani, that Trump knew of his efforts to dig up dirt in Ukraine that could benefit Trump politically. The impeachment charges center on the allegation that Trump withheld military aid and a White House meeting to pressure Ukraine to investigate his political rivals, including former vice president Joe Biden.
That Trump abused the power of his office in the Ukraine affair and then again to stymie Congress in its investigation is not in serious dispute. But it's virtually inconceivable that any Republican Senators will vote to convict—let alone enough to provide the sixty votes needed to remove Trump from office. Thus, we're almost certainly in store for a farce.
One thing that struck me is how many in the press and the Democratic caucus are calling the Senate a "jury" in the case. I recall from the impeachment trial of President Bill Clinton that Democratic Senators vehemently objected to House Republican trial managers referring to them by that label, ultimately asking then-Chief Justice William Rehnquist to rule that they were not in fact a jury. Which he did.
Impeachment is inherently a political process and Senators are within their rights to refuse to vote to remove a President even if they believe him technically guilty of the charges. Indeed, quite a few Senators (including at least one or two Republicans) said as much during the Clinton trial: he was guilty but the charges didn't merit removing him from office.
One could, I suppose, make the argument that the Ukraine affair falls into that category. Alas, I'm not seeing many Republicans make that argument. Rather, they're simply defending Trump because he's of their party. That's unconscionable but it will only matter politically if it results in a backlash at the ballot box. I'm skeptical it will.