Trump Infects America
One man's fecklessness has gotten untold people sick.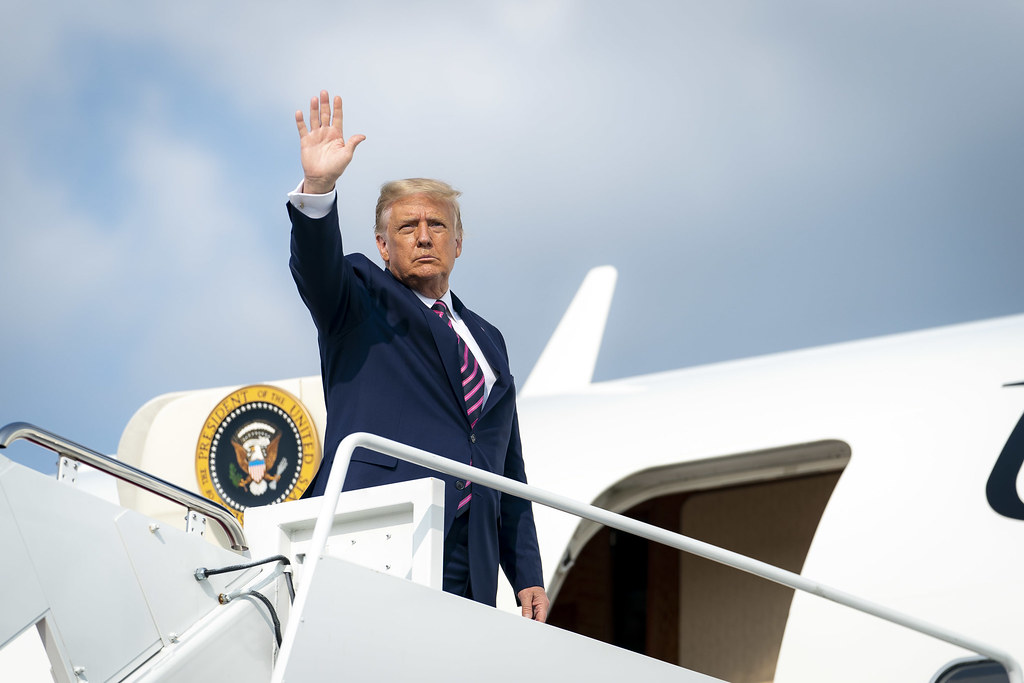 President Trump has been taken to Walter Reed hospital, where he is expected to remain for "several days" and administered a "cocktail" of drugs, including a "promising" experimental one. While his critics have rightly chided him for his irresponsible rhetoric downplaying the virus in the months leading up to his own infection, the sheer recklessness of the days leading up to that event are shocking even by his standards.
Washington Post reporters Philip Rucker, Josh Dawsey, Ashley Parker and Robert Costa detail "How the coronavirus spread in Trump's White House."
The ceremony in the White House Rose Garden last Saturday was a triumphal flashback to the Before Times — before public health guidelines restricted mass gatherings, before people were urged to wear masks and socially distance.

President Trump and first lady Melania Trump welcomed more than 150 guests as the president formally introduced Judge Amy Coney Barrett, his nominee for the Supreme Court. A handful of Republican senators were there, including Mike Lee of Utah, who hugged and mingled with guests. So was Kellyanne Conway, the recently departed senior counselor to the president, as well as the Rev. John I. Jenkins, the president of the University of Notre Dame, who left his Indiana campus where a coronavirus outbreak had recently occurred to celebrate an alumna's nomination.

[…]

Attendees were so confident that the contagion would not invade their seemingly safe space at the White House that, according to Jenkins, after guests tested negative that day they were instructed they no longer needed to cover their faces. The no-mask mantra applied indoors as well. Cabinet members, senators, Barrett family members and others mixed unencumbered at tightly packed, indoor receptions in the White House's Diplomatic Room and Cabinet Room.

Five days later, that feeling of invincibility was cruelly punctured. On Thursday, counselor to the president Hope Hicks, who reported feeling symptoms during a trip with the president to Minnesota on Wednesday, tested positive for the virus. Early Friday morning, Trump announced that he and the first lady also had tested positive and had begun isolating inside the White House residence.

On Friday, Lee, Conway and Jenkins announced that they, too, had tested positive, as did Sen. Thom Tillis (R-N.C.), who was at the ceremony, and Republican National Committee Chairwoman Ronna McDaniel, who had recently spent time with the president, including at an indoor fundraiser last week. At least three journalists who had been at White House events in the past week also reported testing positive on Friday. And White House Chief of Staff Mark Meadows said he was bracing for additional infections among administration officials.
So, through sheer idiocy, announcing the nomination of a Supreme Court justice became a superspreader event. (Barrett herself was infected "earlier this year," probably in association with teaching in-person at Notre Dame, but has reportedly "fully recovered.")
Additionally, NBC's David K. Li reports, "11 positive coronavirus tests traced to presidential debate, Cleveland officials say."
At least 11 positive coronavirus tests can be traced to members of the media or organizers of this week's presidential debate in Cleveland, city and clinic officials said Friday.

[…]

"In total, at this time, we are aware of 11 cases stemming from pre-debate planning and set-up, with the majority of cases occurring among out of state residents," the city said. "At this time, though that could change, no City residents appear to have contracted the virus as a result of this event."

The Cleveland Clinic later Friday clarified that "the 11 people who tested positive never accessed the debate hall."

"These individuals were either members of the media or were scheduled to work logistics/set-up in the days prior to the event," Clinic said Friday night. "Individuals did not receive credentials or tickets to enter the debate hall until they had a negative test, and all were advised to isolate while they awaited their test results."

[…]

Ohio House Minority Leader Emilia Strong Sykes said she personally witnessed members of the president's entourage declining masks from health care providers — from the Cleveland Clinic — inside the hall at Case Western Reserve University.

"I am frustrated today as I worry now about my own health and the health of so many others who were present that evening like journalists, support staff, Cleveland Clinic professionals, and many others who could have potentially been exposed," Sykes said in a statement on Friday.

[…]

Some attendees, who wore masks Tuesday night, said they were livid when maskless spectators strolled into the hall.

Kristin Urquiza, who lost her dad to Covid-19 and was a guest of the Biden campaign on Tuesday, said she was wearing a mask — but was stunned to see no one in Trump's entourage in a facial covering.

"But when I looked over to the right-hand side, not a single person on the Trump side, including the Trump family, Melania Trump, the Trump children, were wearing a mask," Urquiza told MSNBC's "Live with Ayman Mohyeldin." "And I remember thinking to myself, and this was just when the debate stated, 'Oh. My. Goodness. Isn't anybody going to regulate on these people wearing a mask?' And nobody did."

U.S. Rep. Tim Ryan, D-Ohio, said Trump's wife entered the hall just ahead of him but he kept a safe social distance away. But he too was amazed to see so many people without masks at the debate.

"And they walk in without masks, it was really a level of arrogance you rarely see," Ryan told MSNBC.
New York's Olivia Nuzzi, whose headline I shamelessly stole for this blog post, begins with this apt description:
"At the best of times, Trumpworld operates with all the strategic direction of a chicken with its head cut off," a senior Republican official told me. "Right now, they're operating like a chicken with its head cut off, lit on fire, and thrown off a cliff."
Before offering this brutal assessment:
It goes without saying that this was avoidable. While it's true that even the most cautious person could be unlucky and could contract the virus despite going to great lengths to avoid it, President Trump was, proudly, very much not that.

He has never taken this pandemic seriously, not even as his advisers warned him that he should, not even as bodies piled up in hospitals in his hometown, as the death ticker recorded hundreds and then thousands and then hundreds of thousands of dead Americans.

The world listened as the president cast doubt on the very notion that the virus was something to fear, as he undermined his own public-health officials, as he contradicted their advice with what his gut instinct told him about the science he did not understand, free-associating about sunlight and disinfectants and hydroxychloroquine. We observed the president violating the medical recommendations that his administration had offered the public. He rarely wore a face mask; he traveled needlessly, including to parts of the country where the virus was spiking; he met at close range with large groups of people, few of them wearing protective gear, either.

The most powerful man in the world is, under ordinary circumstances, also the most protected. He is guarded with snipers and bomb-sniffing dogs. Anyplace he goes, any room he'll set foot in, is swept by security. Any person he's expected to meet is scanned for weapons. His food is tested for contamination. He is so well cared for by doctors that they might as well be monitoring his heart's every beat. That he is now infected by COVID-19 is a testament not to the strength of the virus, not to the failures of his White House staff, but to his carelessness. How can you protect someone who refuses to be protected?

He risked not only his own health but the health of others around him. This was true before his diagnosis. In June, he insisted on holding an indoor rally in Tulsa, which led to swelling numbers of infections in the city. At least one guest at that event, Herman Cain, would later die from the virus after spending time on a ventilator in Georgia. Trump escaped without harm, but he couldn't help but push his luck. After his closest adviser, Hope Hicks, showed signs that she had COVID-19, forcing her to isolate on the flight back from a MAGA rally, the president and other members of his staff made the decision to travel to Bedminster, New Jersey, anyway, where he hosted a fundraiser and met with his supporters. When Hicks tested positive, she worried about others around her who might be infected, too, but the White House sought to keep that information from the public. Without Jennifer Jacobs, a dogged Bloomberg reporter who broke the story about Hicks's illness, the world might still be in the dark about the sickness sweeping through the West Wing and the highest levels of our government. And then there are the indirect effects of the president's actions, the ripples through society that threaten to touch each one of us. A Trump campaign volunteer who refuses to wear a face mask on principle and who believes the media has overblown the threat of the virus told me the president's diagnosis didn't make her nervous at all. "I don't deny the virus is out there," she said. "I'm just crossing my fingers and going for the herd immunity."

We do not yet know the extent of the damage in Washington. Much of this is not a function of the strange way the virus spreads from person to person, but of the unethical way the president governs without transparency. For instance, it's not possible to compile a complete list of people the president has come into contact with over the last two weeks because the Trump administration refuses to release visitor logs for the White House. Multiple attendees at the Rose Garden event for Trump's nominee for the Supreme Court, Amy Coney Barrett (who herself recovered from the virus this summer), have already announced that they've since gotten sick. Multiple reporters in the White House press pool have tested positive for the virus today, according to the White House Correspondents' Association. We do not yet know how many White House officials will contract it, whether the virus will rip through Capitol Hill, or how far this threatens the presidential line of succession.

The Democratic nominee, Joe Biden, and his running mate, Kamala Harris, both announced that they had tested negative for the virus today. But viewers who suffered through Tuesday's presidential debate in Cleveland will recall watching as the president shouted at Biden across the stage, in an enclosed space, for 90 minutes. Although the Cleveland Clinic mandated that all guests within the perimeter of the debate wear face coverings, the president's family members ignored that warning and declined to accept the masks offered to them by organizers. For months, the Biden campaign has been preoccupied with protecting him from exposure to the virus, worried not only for his health, but about the optics if he were to get sick, which would confirm the attacks Trump has hurled at him for being old and weak. His "basement campaign" has been a source of mockery from his opponents, who never acknowledge why he's stuck at home like much of the rest of the country. But with a general election under way, the Biden campaign could not protect its candidate from exposure to the president. Not completely. We cannot yet be sure that Biden is safe or that the people around him are safe. At this point, we can't really be sure of anything.

And so the discourse descends into chaos, with QAnon and deep-state kooks on one side and even the most intelligent and reasonable people trafficking in conspiracy theories on the other. Can you blame anyone? This is the result of five years of lies and distortions and alternative facts. With 32 days left before Election Day, whatever confidence remained in our system has been further undermined by this colossal display of idiocy. The Republic collapses not with a bang but with a million stupid decisions by the most powerful people.
She's not wrong.