Trump is What Republicans Accused Obama of Being
Tom Nichols draws a contrast between Republican criticisms of the last president and their defense of this one.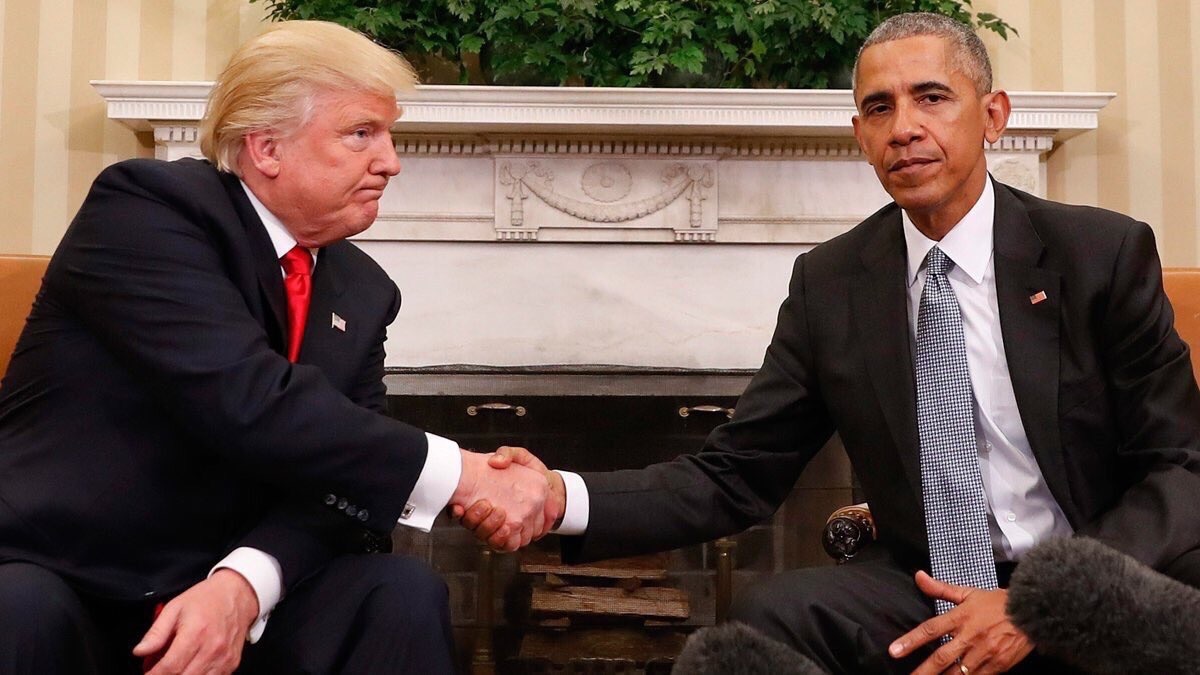 Naval War College professor Tom Nichols, a longtime Republican, argues in a WaPo op-ed "Trump is everything Republicans said Obama was."
Remember when Republicans feared the bungling diplomacy of a vain, inexperienced president and vowed to stop him before he destroyed our security? In 2014, Senate Republican leader Mitch McConnell (Ky.) warned that President Barack Obama was "inflexibly clinging to campaign promises." If the novice president expected Congress to "stand idly by and do nothing while he cuts a bad deal," House Speaker John A. Boehner (Ohio) said a year later, he and his party had two words for Obama: "Hell no!"

"Our allies don't trust us; our enemies don't fear us; and the world doesn't know where America stands," went a 2015 presidential campaign ad for Sen. Marco Rubio (Fla.). And one Republican foreign policy analyst even wrote that negotiations — with Iran, not North Korea — have "become humiliating, not least because our diplomatic body language is telegraphing an eagerness for a deal — any deal — with such clumsy obviousness that only the dumbest opponent could fail to notice it."

I'm fairly sure I'm quoting that last one correctly, because I wrote it, back in early 2015. And I think I was right: I remain deeply skeptical about the way the Iran deal was negotiated. But compared with the unconscionable mess that President Trump just left behind at his Singapore "summit" with Kim Jong Un, Obama's long and arduous discussions with Iran look like Klemens von Metternich convening the Congress of Vienna.

When it comes to foreign affairs — when it comes to everything, really — Trump is weighed down by inexperience, bedeviled by vanity and hobbled by impulsiveness. He's a celebrity playing at president.

He's everything, in other words, that Republicans feared Obama would be.

Going all the way back to the 2008 presidential race, Republicans were certain that Obama would be more attuned to the needs of America's worst enemies than willing to discuss the shared interests of America's best friends; this captures the destructive arc of Trump's actions from last week's Group of Seven meeting in Quebec to the spectacle in Singapore.

Republicans were scathing about Obama's immense (and obvious) self-regard. But Trump has shown himself to be beyond any of the GOP's worst nightmares about Obama. A political narcissist transfixed by his own image and utterly addicted to television coverage, Trump is unwilling to be briefed, incapable of being educated and has now blundered into a summit with a monster in exactly the way Republicans were once certain Obama would do if a camera was pointed at him.
There's more but you get the point.
Tom's absolutely right here.
As frustrated as I was with John McCain's selection of the neophyte Sarah Palin as his running mate—which I noted on Day 1 undermined his campaign's entire rationale—I justified voting for him partly because Obama was so unprepared for the office. I believe his many missteps over the first several months vindicated that judgment. Yet, unlike Trump, Obama was keenly aware of what he didn't know and made a commendable effort to surround himself with seasoned hands and to pour himself into study to make up for lost time.
And, yes, I thought Obama a little too impressed with himself in the early going, especially in his "I won, get over it" mindset. While it's quite probable that Mitch McConnell and company would have worked to undermine him regardless, I believe that attitude really cost him early on. But, again, even Obama didn't think he alone had all the answers. He surrounded himself by a staff and followed something resembling a process for governing. Trump? Not so much.
My longstanding view of Obama's foreign policy was that his actual policy instincts were quite good but that he frequently undermined himself with over-ambitious marketing and generally poor messaging. (Ironic, given that his skills as a communicator were what got him to where he was as soon as he did.) But Trump starts with lousy instincts and compounds that with his hyper-frenetic governance-by-tweet style.
As Tom notes, those who criticized Obama then are mostly praising Trump now. To be sure, some of that is just the nature of partisanship, especially in today's media environment. But some of it is just pure delusion. Under seige from an expert commentariat constantly hammering at Trump's every misstep, his supporters have dug in, refusing to see who he is. Worse, they have convinced themselves that it's really just part of some master plan.