Trump Justice Department Tells Remaining U.S. Attorneys To Clean Out Their Desks
An unusual, if not unexpected, mass firing at the Justice Department on Friday afternoon.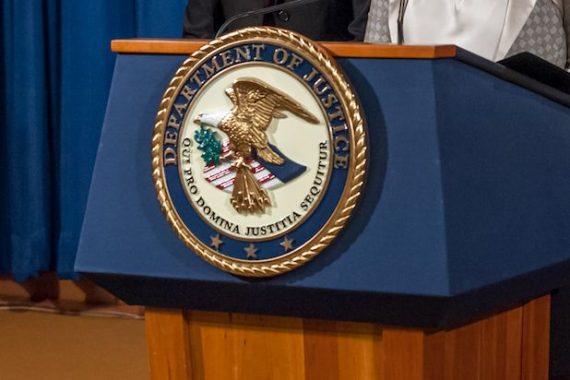 Late Friday afternoon, the Trump Administration Justice Department sent letters to all forty-six of the remaining Obama Era United States Attorneys telling them that their services would no longer be necessary:
WASHINGTON — The Trump administration moved on Friday to sweep away most of the remaining vestiges of Obama administration prosecutors at the Justice Department, ordering 46 holdover United States attorneys to tender their resignations immediately — including Preet Bharara, the United States attorney in Manhattan.

The firings were a surprise — especially for Mr. Bharara, who has a reputation for prosecuting public corruption cases and for investigating insider trading. In November, Mr. Bharara met with then President-elect Donald J. Trump at Trump Tower in Manhattan and told reporters afterward that both Mr. Trump and Jeff Sessions, who is now the attorney general, had asked him about staying on, which the prosecutor said he expected to do.

But on Friday, Mr. Bharara was among federal prosecutors who received a call from Dana Boente, the acting deputy attorney general, instructing him to resign, according to a person familiar with the matter. As of Friday evening, though some of the prosecutors had publicly announced their resignations, Mr. Bharara had not. A spokesman for Mr. Bharara declined to comment.

Sarah Isgur Flores, a Justice Department spokeswoman, said in an email that all remaining holdover United States attorneys had been asked to resign, leaving their deputy United States attorneys, who are career officials, in place in an acting capacity.

"As was the case in prior transitions, many of the United States Attorneys nominated by the previous administration already have left the Department of Justice," she said in the email. "The Attorney General has now asked the remaining 46 presidentially appointed U.S. Attorneys to tender their resignations in order to ensure a uniform transition."

The abrupt order came after two weeks of increasing calls from Mr. Trump's allies outside the government to oust appointees from President Barack Obama's administration. Mr. Trump has been angered by a series of reports based on leaked information from a sprawling bureaucracy, as well as from his own West Wing.

Several officials said the firings had been planned before Friday.

But the calls from the acting deputy attorney general arose a day after Sean Hannity, the Fox News commentator who is a strong supporter of President Trump, said on his evening show that Mr. Trump needed to "purge" Obama holdovers from the federal government. Mr. Hannity portrayed them as "saboteurs" from the "deep state" who were leaking secrets to hurt Mr. Trump. It also came the same week that government watchdogs wrote to Mr. Bharara and urged him to investigate whether Mr. Trump had violated the emoluments clause of the Constitution, which bars federal officials from taking payments from foreign governments.

In Mr. Hannity's monologue, he highlighted the fact that the Clinton administration had told all 93 United States attorneys to resign soon after he took office in 1993, and that "nobody blinked an eye," but he said it became a scandal when the George W. Bush administration fired several top prosecutors midway through his second term.

Several Democratic members of Congress said they only heard that the United States attorneys from their states were being immediately let go shortly before the Friday afternoon statement from the Justice Department. One senator, speaking on the condition of anonymity to protect the identity of the United States attorney in that state, said that an Obama-appointed prosecutor had been instructed to vacate the office by the end of the day.

Although it was not clear whether all were given the same instructions, that United States attorney was not the only one told to clear out by the close of business. The abrupt nature of the dismissals distinguished Mr. Trump's mass firing from Mr. Clinton's, because the prosecutors in 1993 were not summarily told to clear out their offices.

Michael D. McKay, who was the United States attorney in Seattle under the George Bush administration, recalled that even though he had already made plans to leave, he nevertheless stayed on for about three weeks beyond a request by then-Attorney General Janet Reno for all of the holdover prosecutors to resign. He also recalled at least one colleague who was in the midst of a major investigation and was kept on to finish it.

"I'm confident it wasn't on the same day," he said, adding: "While there was a wholesale 'Good to see you, thanks for your service, and now please leave,' people were kept on on a case-by-case basis depending on the situation."

Two United States attorneys survived the firings: Mr. Boente, the top prosecutor for the Eastern District of Virginia, who is serving as acting deputy attorney general, and Rod Rosenstein, the top prosecutor in Baltimore, whom Mr. Trump has nominated to be deputy attorney general.

"The president called Dana Boente and Rod Rosenstein tonight to inform them that he has declined to accept their resignation, and they will remain in their current positions," said Peter Carr, a Justice Department spokesman.

It remains possible that Mr. Trump and Mr. Sessions could put others on that list later.
There's nothing either unusual or improper in the fact that the Trump Administration would seek to replace the United States Attorneys with their own appointees. The position is a political rather than civil service position, and Presidents and their Attorneys General typically seek to staff the 93 districts around the country that have a U.S. Attorney with people that they have confidence in rather than people who may have been more loyal to the previous Administration or to the President's opponent in the General Election. Even if they aren't explicitly political, the people who serve in these positions know that their jobs are dependent on the outcome of election and, no doubt, the fact that Donald Trump won the Presidency rather than Hillary Clinton was a signal to all of them that they could very well be asked to hand in their resignations at the very least. The fact that only 46 people were dismissed last night makes this point since it's clear from that number that 45 of the 93 serving U.S. Attorneys had already moved on or handed in their resignations. As noted, the only two who are staying on for the moment are Dana Boente and Rod Rosenstein, the U.S. Attorneys for the Eastern District of Virginia and Maryland respectively, both of whom are filling temporary positions in the Justice Department in addition to their regular tasks. What is somewhat unusual is that the mass nature of the dismissal and the fact that it is apparently immediate for most if not all of the U.S. Attorneys on the list. Usually, the dismissals occur on a staggered basis or the incumbent is asked to stay until his successor is selected and confirmed by the Senate. This is especially true of the incumbent in question is currently in the middle of investigations that are considered a top priority so that the integrity and organization of the investigation isn't compromised. This is what happened in 1993 when the Clinton Administration dismissed all 93 U.S. Attorneys not only after taking office. In reality, many of those attorneys ended up staying on for several months afterward until their successors were able to take office. In this case, that doesn't seem to be happening, although there may be isolated cases other than Boente and Rosenstein where the White House decides not to accept a resignation or even reappoints the same U.S. Attorney to the position.
The one dismissal that seems to be surprising and even disappointing people on both sides of the political aisle is the fact that the list of people let go includes the U.S. Attorney for the Southern District of New York, Preet Bharara. Formerly legal counsel to New York Senator Charles Schumer,  Bharara had been serving as U.S. Attorney for the area that covers much of New York City, including, perhaps most importantly, the borough of Manhattan since 2009 to acclaim from both sides of the political aisle. During that time, Bharara has earned a reputation as a relentless prosecutor on a wide variety of issues, but he's earned most of his fame due to his concentration on political corruption in New York State Government. In recent years, he's successfully prosecuted the top-serving Republican and Democrat in the New York State Legislature and has slowly been making his way through associates to New York Governor Andrew Cuomo who have long been rumored to be tied into corrupt practices. Many have speculated that he was ultimately attempting to build a case against the Governor himself, although Bharara has of course been silent on that question. Additionally, Bharara has been rumored to be investigating the Clinton Foundation and its dealings while Hillary Clinton was serving as Secretary of State. He's also been mentioned as a potential candidate for Mayor of New York in a challenge to the increasingly unpopular incumbent Bill DeBlasio, although Bharara has never really exhibited political ambition in the way that one of his predecessors as U.S. Attorney, one Rudy Giuliani.
As Jazz Shaw notes, letting Bharara go seems like a huge, unforced error:
Bharara has achieved deservedly legendary status in the law enforcement community and you can read the many remarkable stories of his exploits which have been covered here in the past. Replacing him would be a Herculean task in this era of political partisanship and cronyism. Donald Trump has spoken frequently and passionately, both on the campaign trail and in the early weeks of his presidency, about the need to "drain the swamp" in government and restore the trust of the voters and their elected leadership. When it comes to matters such as this, Preet Bharara is an industrial strength suction pump who could turn the Florida Everglades into a desert in under a day. He has no friends in the political establishment from either party. The most powerful elected leaders in the region absolutely dread the thought of hearing his footsteps approaching their office.

It's worth reminding everyone at this juncture that Bharara was the man who took down the most powerful Democrat in New York State, Sheldon Silver, and followed that up with a conviction of New York's top Republican, Dean Skelos. Both of those men currently face the prospect of very possibly dying behind bars. He currently has investigations underway into the affairs of the Clinton Foundation's offices in New York City, the mayor of the Big Apple and the Governor himself. (He has already indicted several members of the Governor's inner circle.)

(…)

Who will take up these daunting challenges if Preet Bharara is sent to the bench? I understand that there is some concern over the general attitude demonstrated by President Trump when it comes to walking back any decisions that he makes. A reversal of course might, in the minds of some of his advisers, be seen as an admission of error or a failure of some sort. That should not be the case here. This was a completely normal policy of sweeping out old political appointees when a new administration comes to town, and it could be readily explained that Bharara simply was caught up in that initial activity when the original intention was to exempt them him it. Conversely, taking a player like Bharara off the board now would send a signal of bowing to political pressure and protecting well-heeled bureaucrats who have been playing fast and loose with the taxpayers' money and campaign funds.
Perhaps Bharara will ultimately be asked to say on or reappointed to his old position. Even if that seems like a reversal on Trump's part, which is obviously contrary to his character, it seems like it would be a wise decision. While most of these U.S. Attorneys are easily replaceable, and those who have been dismissed will see their duties temporarily taken over by equally competent deputies, Bharara has been a one of a kind prosecutor who has done some important work and it would be unfortunate if all that goes for naught.
Update: The story didn't end without a little drama. This morning it was announced that Bharara had refused to submit his letter of resignation so ,he was fired:
HOLDOVER: Bharara is not submitting his resignation, according to several ppl briefed – WH not responding to what they'll do next.

— Maggie Haberman (@maggieNYT) March 11, 2017
Acting deputy Attorney General Dana Boente just called US Attorney Preet Bharara and told him President Trump was firing him.

— Jake Tapper (@jaketapper) March 11, 2017
I did not resign. Moments ago I was fired. Being the US Attorney in SDNY will forever be the greatest honor of my professional life.

— Preet Bharara (@PreetBharara) March 11, 2017
I'm honestly not sure what Bharara's point was here. This was a fight he could not win.